Cal U's fresh take on food
AVI is taking steps to provide the best for every student, including listening to feedback and concerns, adding new menu items, and more.
One of the main staples in a college student life is food. At Cal U, dining services are provided by AVI Foodsystems. AVI is taking steps to accommodate students, including listening to feedback and concerns, adding new menu items, and more.
As students prepare for each semester, they can decide which Meal Plan to get including 19, 14, or 10 meals per week for resident students or the 75 or 40 block plans for commuter students. More meal plan information can be found here.
With COVID restrictions, you have the option to have more dine-in or more take-outs. The current meal plan has been causing some confusion is the Unlimited Meal Plan.
To clarify the confusion, With the Unlimited meal plan, students can unlimitedly dine in at the Gold Rush each day with meal swipes being used in 20-minute intervals. However, students have eight meals per week to use at any of the food locations on campus or to take-out meals at the Gold Rush. These eight meals refresh every Sunday. Many students may have been unaware of the limited number of take-outs with this plan until the COVID restrictions were lifted and dine-in resumed as previous.
With various students utilizing the dining services, a Survey is released each semester and reviewed by AVI. These responses are reviewed to see what can be offered to improve the dining experience for the students. When speaking with AVI Foodsystems Marketing Specialist, Briana Hendriksen she said that "Students have been asking for classic comfort food meals like mac and cheese and mashed potato bowls – all of those staple items Vulcans love to see." Now Chef Jennifer Richmond is working on being able to offer them throughout the semester to accommodate students.
 "We try to offer a little more variety, so hopefully it is being noticed and we are hoping the student body realizes we are trying to make changes and we do hear them," said Resident Director of AVI Services, Greg McGranahan.
Based on these surveys, student favorites have been brought back, such as Stir Fry Friday. During breakfast, students can build their own sandwiches or omelet.
"Several students want to see more diversity in the food; starting this semester, Adventures in Food has been implemented," said Hendriksen. Each month we will be holding at least one event that features a new type of cuisine and recipes in collaboration with either another organization or with our culinary team, McGranahan stated.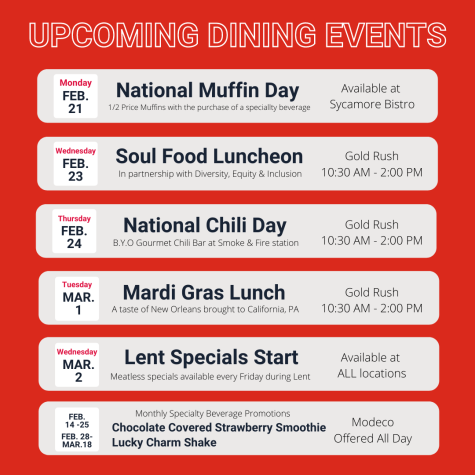 A new addition this semester is Café Plus, which is a once-a-month feature. It is an upcharge meal that costs a meal swipe and an additional amount of money that will vary based on the item and can be paid using dine dollars, shop dollars, or credit/debit card. With Café Plus, a student receives one ticket to enjoy the specialty item while also eating anything else within the Gold Rush.
If students begin to utilize the weekly view of the Gold Rush menu via the AVI website, they are able to set their health preferences. Nutritional information and allergen icons are available on menu boards at all dining locations for those who have a dietary preference or restriction.
As college students tend to have questions, you can email [email protected]. Or you can text the Manager program at 724.202.0960, you should receive a response within 30 minutes to an hour. With this, AVI is able to provide a fresh take on food for students. If anyone has questions or concerns about their Meal Plan, they should check out AVI's website.