Cal U hosts first "Meet and Treat" event
Students flocked in the cool autumn air as Cal U hosted its first Meet and Treat Event for students.
On Oct. 28, students were invited to walk around campus from 6 to 8 p.m., visiting tables representing many of the university's clubs and organizations. Many tables had interactive activities or handouts for passing students and a sign-up sheet for new possible recruits.
The event covered about half of campus, leading students from the Natali Student Center to the Convocation Center and looping them back up towards the Quad.
Darrek Harshberger, a representative of the Rainbow Alliance, also worked with others, such as commuter services, to help put together the event.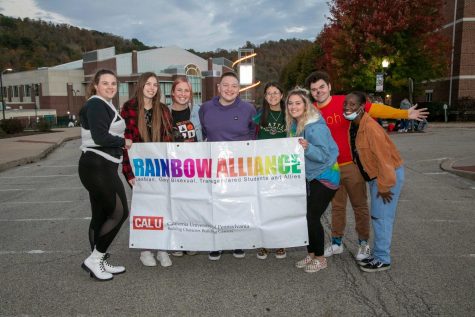 "For our first time, I think the turnout has been absolutely amazing. It's kind of insane how this is our first time and we've had 48 clubs sign up for it. We started with 200 bags, and I think we're down to less than 50 left," said Harshberger.
With the ongoing COVID-19 pandemic, Harshberger said some events are difficult to pull off, especially larger ones. Despite this, he and the other organizers of the event have worked to provide students with a way of building community.
"I definitely think that some students are struggling to find clubs and get out of their dorms," he said. "Some clubs don't have many active participants, but this gives them an opportunity to get some new members and really put themselves out there."
Students were given bags and went from table to table, participating in little games, watching demonstrations, or asking questions to the representatives.
One such table was the Geology club, whose table had paint and two buckets of rocks. Students were allowed to take a rock and paint it if they wanted to. Ireland Killen, one of the club representatives, appeared excited to share information about the club to passerby.
"We go on camping trips; we have game nights," said Killen. "It's just a good opportunity for geology majors, and other majors, to just get together"
Almost an hour after the sun had set, tables were still up and running. Killen said there was some good engagement from students at the event.
"We have a lot of people stopping by and painting rocks, and some signups. I think this would be a good event for next year," said Killen.
Allison Call, a representative for the University Marching Band and the Vulcan Gaming Club, ran one of the tables closer to the Convocation Center. She is currently running again for Cal U Band President, which only band members can vote for.
"The University Band is where we go and support our football team and events," said Call. "Then we also have Pep Band, Jazz Band, and multiple forms of ensembles that allow us to pursue playing instruments at a college level for fun and enjoyment."
Call said she was collaborating as a representative for the Vulcan Gaming Club, which was having an ongoing event at the time.
"There's a lot of band kids that go to the Gaming Club events The Vulcan Gaming Club's main pull is 'Super Smash Bros.' tournaments, but they also have board games and VR," she said. "Their main thing is to just have a fun outlet for people to relax and have fun playing games."
Call said the event was a good way to help clubs get their name out to students, pointing out the Vulcan Gaming Club event just inside the Convocation Center.
"Its good to draw interest with events like this. People are like: 'Oh wow, I didn't even know Cal U had a gaming club,'" said Call.
Harshberger says he is looking forward to what comes next year, as well are many other clubs.
He plans on doing this as long as he is here and as long as Rainbow Alliance is.
"Next year, I want to see every club signed up. We started out with a goal of 20 clubs and services, and I think my goal next year is going to be way bigger than this," said Harshberger .