A spooky night for friends and gamers
A costume contest and multiple gaming competitions take place at a club sponsored Halloween party.
On Oct.28, the Vulcan Gaming Club hosted the Vulcan Halloween Night Costume. The Halloween party was hosted in the south wing of the Convocation Center, from 5 to 11 p.m. The Gaming Event was hosted before students left campus for Halloween weekend.
  In response Jessica Galla, social media manager of the Vulcan Gaming Club and organizer of the event, said "the gaming club is just somewhere you can come find people who like the same kind of games as you do, tabletop, Dungeons and Dragons, and Magic the Gathering, and hang out and play together."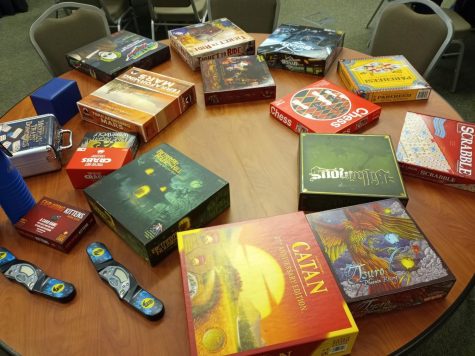 The Vulcan Halloween Night had free admission, but was only open to students. Around 10 p.m. Galla estimated 75 students came to roll the dice or to.
 "We wanted as many people as possible, because we'd know people would still be on campus, especially on Halloween weekend," Michael Singer, acting club president, said.        
The gaming tournament featured a bracketed competition of Super Smash Bros. Ultimate started at 7 p.m. Cal U students had free admission to the tournament, but out of state students and students not from Cal U had to pay a $10 entry fee. Cash prizes were awarded to the top three winners of the tournament. The prizes were collected in a cash pot, where the entry fees and a $100 bonus from the Vulcan Gaming Club were added.
  "So then when the winners are decided, first place gets 55% of the pot, second place gets 25% of the pot, third place gets 20% and fourth place gets 15%," Galla said.  "So, first place is guaranteed at least a $55 prize."
 Singer said the second gaming tournament was a bracket, just like the Smash Bros. tournament, but they're mystery games.
 "The games were pre-selected but you don't know what you're playing until it's announced, " Singer said. "Everybody on the same level bracket is playing the same game, but you don't know what will come next, be it on PlayStation or a Nintendo Wii."
Contestants of the costume contest would pay a $2 entry fee and have a polaroid taken of them. Their picture was placed in a corresponding bucket for voters to identify who they were voting for. Singer said, it's like a Chinese auction style. Upon entering the party, everybody gets four tickets; they distribute how they see fit.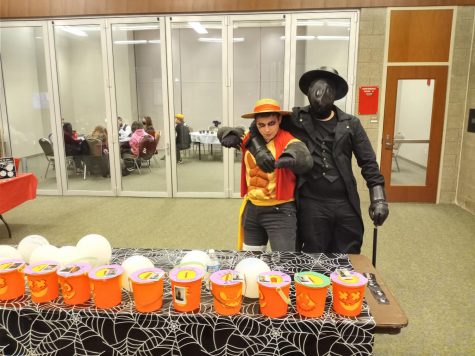 First place winner of the contest was awarded a $20 gift card, second place got a $15 gift card, and third place got a $10 gift card. Drawing for the costume contest was at 10 p.m. Galla said they wanted to make sure they got everybody in with all the votes.
 "We have VR, a lot of the games being played were Phasma phobia," Galla said. "Board games like crabs, one-night werewolves, checkers and UNO. In the back we had card games, like Commander and Magic the Gathering. And two one-shot Dungeon and Dragon games that were Halloween themed."
 The Vulcan Gaming Club has been planning Thursday night's events since September. In that time, Galla said, they posted on all of their social media accounts, posting print outs of the event's schedule in Natalie and putting ads on the cycling TVs near the Gold Rush cafeteria.
  Galla said they wouldn't be able to do this if they didn't have everybody's help.
  "We are a friendly group of gamers, there isn't a bad soul among us," Singer said. "Even if you don't come to the meetings, the events are open to everybody." 
Club meetings are generally  at 11 p.m. on Thursday in room 333 in Natali Student Center.