Cal U theater program stages "Dear Edwina" for spring musical
People have questions; "Dear Edwina" has answers.
The musical, performed by students in Cal U's theater program and scheduled to be streamed April 23-25, explores the joys of growing up, through the eyes of 13-year-old Edwina Spoonapple.
Showtimes are 7 p.m. April 23-24 and 2 p.m. April 24-25. Cost for the "Dear Edwina" stream is $5 plus a processing fee. Visit https://www.showtix4u.com/event-details/50844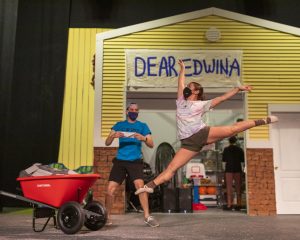 The show, which is suitable for adults and children, will be recorded and streamed through ShowTix4U as part of the Dear Edwina licensing agreement. Audiences have not yet returned to watch student productions in Steele Hall, but students have rehearsed in person during the spring semester, while following COVID-19 safety protocols.
In her quest to be chosen for the Kalamazoo Advice-a-Palooza Festival, Edwina tackles the world's problems from the family garage when a talent scout from the convention visits her town. Musical numbers tackle everything from birthday party etiquette to proper table settings.
"We wanted something happy and light," said Dr. Michele Pagen, Cal U theater professor and Dear Edwina director. "When we got the students together for the first read-through, they were laughing — some of them very, very hard — at the funny things. I wanted us to do something meaningful and also something that made our hearts happy.
"There's just such an air of positivity, because we are doing what our hearts need to do," Pagen said.