Happy Horror Days to all and to all a Good Fright!
'Twas the night before the holidays and all through the Estate, monsters and ghouls were all lying in wait. A shriek in the shadows grabs my attention and what do I see emerge from the dark? The Grinch, Santa Claws, and many more at Haunted Hills Estate Scream Park!
That is right, HHESP is back again, voted by the Travel Channel as one of its top scariest Christmas haunted houses in 2019. The Estate had this to say.
Christmas Fear Comes To Western PA
Uniontown, PA – (December 1, 2020) Christmas looks very different this season for many families, and a popular Western Pennsylvania attraction will be offering a unique event for those looking to get in the holiday spirit.
Haunted Hills Estate Scream Park in Uniontown will be opening "Happy Horror Days," an extensive and unique haunted Christmas experience, for two weekends in December.
The Park, which has produced this event for two years prior, will be outfitting two of its haunted houses once again with outrageous holiday décor, brand new scenes and special effects, and new, festively fearful creatures.
This has become a very popular experience for the area, being named as one of the "Top 10 Christmas Haunted Houses in the USA" by the Travel Channel in 2019. Thrill seekers can expect to find killer elves, Christmas clowns, Krampus, dark Christmas creatures, and of course, an evil Santa.
Whereas other haunted attractions in the area have decided to downscale or cancel their haunted Christmas events outright, Haunted Hills Estate Scream Park will be offering two full-length attractions for the holiday event.
"It's been a tough year for both the general public and the entertainment industry," says Aidan P. Finnegan, the event's Marketing Director.
"But, as Western Pennsylvania's premiere horror entertainment venue, we believe it's our duty to provide the public with a safe and entertaining event, especially in times like these when we all need to laugh and scream the most. With Happy Horror Days, we offer an unconventional, and scary, yet fun and safe way for local families and horror fans to celebrate the holidays."
The event features two individual Christmas-themed Haunted Houses; one being "Christmas After Dark," a two – floor maze of scenes and scenarios where figures of Christmas folklore and demented versions of popular Christmas characters materialize.
Across the park's Midway area, visitors can also explore "Attack of the Clown Elves," a gory interpretation of Santa's Workshop, filled with evil elves and terrifying clowns. Detailed sets, strategic lighting, chilling sound effects, terrifying costumes, and the addition of new elements not seen by the public during the park's Halloween event further set the stage before live actors strike for the kill.
To comply with COVID regulations, the Park has reduced their capacity, restructured the attractions so scare actors are at a greater distance from visitors, and has employed a team that periodically sanitizes high-touch surfaces in the area and the attractions. The park also performs temperature checks before visitors are allowed to enter, and requires masks be worn at all times by staff and visitors.
"Think of all the memories you had as a child around this time of year…hot cocoa, Christmas lights, snowmen, Santa coming down the chimney. We've turned Christmas nostalgia completely on its head.
Some stuff is a little sick, but there's definitely a Tongue-In-Cheek element, and it's all part of the fun," says Finnegan.
"Happy Horror Days" will be open December 11, 12, 18, and 19. Admission to the event is only $20 per person and tickets can be purchased either at the event or via their website, HauntedHillsEstate.com
Haunted Hills Estate Scream Park is located at 236 Rolling Hills Estate Road, Uniontown, Pa., 15401.
Leave a Comment
About the Contributor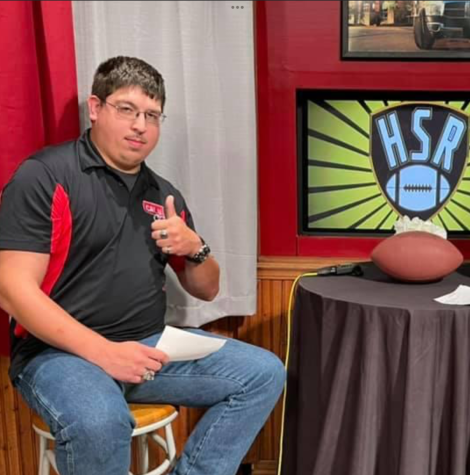 Jonathan Sakaguchi, Sports Editor
Jonathan (Jonny) has been a staff writer for the Cal Times for a few years. Jonny, a senior this year, a member of  CUTV and WCAL where he also serves...