Infection rates rise to April's numbers
The Pennsylvania Department of Health warns of an increase in coronavirus cases among college-aged adults: 19-24-year-olds.
In a press release on Oct. 28, the Pennsylvania Department of Health said that the daily increase in coronavirus cases was similar to the number of cases back in April 2020. Of the people infected, 19-24-year-olds represented 14% of the total confirmed cases in Pennsylvania. According to the Department of Health, the confirmed cases in October for young adults is higher than it was back in April. In southwestern Pennsylvania, 19 to 24-year-olds represented 5% of all confirmed coronavirus cases in April. The number for October has more than doubled to a total of 12%.
"The age group for 19 to 24-year-olds has certainly increased since the beginning of the pandemic," said Maggi Mumma, deputy press secretary for the Pennsylvania Department of Health's press office. "Although it is difficult to speculate off of why a particular group of individuals would be increasing more than others, we know this virus is transferred as people may not be wearing masks, gathering often which all spreads germs and increases the likelihood of transmitting the disease."
Mumma stressed that no one is immune to this virus. In addition to following the protocol of increased hygiene and mask-wearing, Mumma recommended a new way to stay informed during the pandemic.
"Another tool we added to our COVID-19 response is the COVID Alert PA app," said Mumma. "All Pennsylvanians over the age of 18 are encouraged to download as it can and will help to identify and notify anyone who has come in contact with an individual that was later confirmed positive for COVID-19. In addition, it provides a COVID-19 symptom checker and data dashboard right in the palm of your hand."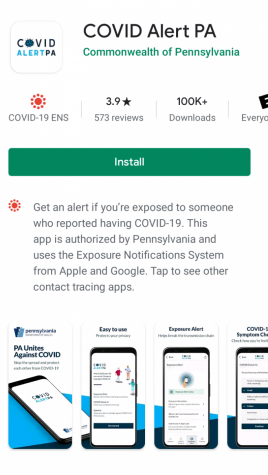 California University of Pennsylvania senior, Jacob Brown, said that he feels safe living at Vulcan Village this semester, despite the rise in COVID cases among young adults.
"If there have been any cases, I haven't heard anything," said Brown. "I haven't received any emails from Vulcan about COVID cases either, so I think Vulcan is clean."
Brown said that Vulcan Village requires mask-wearing throughout the lobby, which is the only place, beside the fitness center, that is open to residents.
"They require us to wear a mask when we go to the administrative building inside the clubhouse, but as far as I can tell they only let us in the lobby," said Brown. "I had computer problems a week ago and had to talk to a tech guy through the door because I wasn't allowed in."
In addition to mask-wearing and restricting certain areas, Brown said that Vulcan does not allow more than ten people in one apartment. Despite this, students continue to have parties.
"Every once in a while I get emails from Vulcan about parties happening here," said Brown. "The emails say that if anyone hosts parties or gatherings of more than 10 people in one apartment it will result in 'a dismissal from Vulcan Village and a forfeiture of housing charges.'"