Gen Z looking for presidential election to be a "step in the right direction"
As Nov. 3 approaches, young voters are concerned about issues like social justice, healthcare and climate change.
In a historic 2020 election, young voters hold much political power over deciding America's next president. One in 10 eligible voters are members of Generation Z, born after 1996, according to Pew Research Center. Unable to vote in 2016, many college students are eager to cast a ballot in their first presidential election.
The Issues
Cal U freshman, Miranda Palmer, 18, said, "it is both terrifying and empowering" being a first-time voter in the Joe Biden/Donald Trump election.
"As we know, rulings such as same-sex marriage equality and affordable healthcare, which have been life-changing to many people, are at risk of being repealed," Palmer said. "It is scary knowing it is possible many people would lose these things, things that should never be in question if Trump were to be reelected."
Along with marriage equality and healthcare, Palmer said young voters are concerned about climate change, "uniquely so compared to older generations because we understand we still have a lot of life left and not a lot of a healthy planet if things do not change."
Also voting with climate change in mind is sophomore Roshini Sanakkayala, 20. Other concerns she cited include human rights and the economy as the pandemic has made it "especially hard to find jobs."
"The world is on literal fire," she said. "Even in the 21st century Black people are still fighting for equality and women are still being oppressed and being told what they can or cannot do with their own bodies."
"One issue that really played into my vote was the Black Lives Matter movement," said 21-year-old sophomore Levon Huges. "Being biracial and half-Black, I saw after the first debate that only one candidate was really taking the recent protests in factor."
The Candidates
Yet, young voters also feel strongly about not just the platforms run on, but the integrity of the candidates running.
"My vote is more on character than it is politics because my opinion on actual politics is undecided for the most part, but what I am decided on is basic human rights," said Hughes.
Senior Andrew Elsenheimer, 22, who cited climate change, healthcare, women's reproductive rights and gun control as issues he is voting on, said he is voting for Joe Biden based on "how good of a person the candidates are."
"America has become a laughingstock to the whole world for multiple reasons, but I feel the biggest is because of Donald Trump," Elsenheimer said. "We need a leader who acts like a professional, not a child."
Yet even Biden doesn't seem to satisfy some in terms of policy. Palmer referred to the "Settle for Biden" movement as "many of us know the only viable option is to get Trump out of office."
"Democratic young voters have acknowledged that we won't see the exact policy and change we want in the next four years, but rather are prepared to support a step in the right direction of a future we desire," Palmer said.
"I want a president who wants to move us into the future, not one who's looking to take us back into the past," Elsenheimer said. "Now, I will say that Biden's policy isn't as revolutionary or liberal as I'd like but at least it's a step in the right direction."
The Voters
It's no surprise that the youth vote is looking at issues such as social justice and equality, especially after a summer of protests and political awakenings and the growing diversity of America's make up. Surveys by Pew Research Center conducted in fall 2018 found "Gen Zers are progressive and pro-government, most see the country's growing racial and ethnic diversity as a good thing." Historically, voter participation among young people has been low. The U.S. Census Bureau found under 50% of eligible voters ages 18-29 cast a ballot in both the 2012 and 2016 elections.
However, Tufts University reported that as of Oct. 21, more than 3 million people ages 18-29 have already voted early or absentee "including more than 2 million in 14 key states that may well decide the presidency and control of the Senate."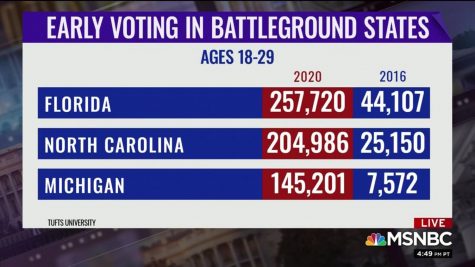 So while the election is already historic due to the candidates, Gen Z is also projected to historically define themselves within the election.
"I can tell that our nation is on the verge of long due change, and Gen Z will eventually succeed as young voters become the majority in coming years, so it's very inspiring to know our generation will be making the first steps by voting for change and equality this November," said Palmer."
*We reached out to both the Cal U College Democrats and the Cal U College Republicans for statements but received none at the time of publication.
About the Contributors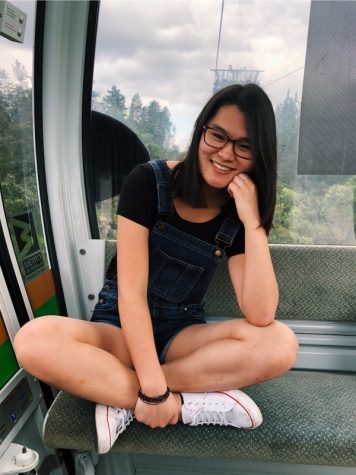 Hannah Wyman, News Editor
Hannah Wyman is a junior at California University of Pennsylvania majoring in English with a concentration in Journalism and minors in Women's Studies...