Combatting Zoom fatigue during an online semester
Cal U hosts webinar to help students who seek solutions to a surplus of screen time.
While Zoom enables students to learn remotely this semester at California University of Pennsylvania, there are downsides to the new classroom environment – Zoom fatigue. 
"We as humans, tend to get social cues from other people," said Jayna Bonfini, assistant professor and counselor in the counseling center at Cal U. "We're trying to notice things like how someone is expressing their mouth or moving their eyes or what their body language is. In real time, it is much easier to attend to these stimuli than it is on Zoom." 
At 10 a.m. on Oct. 9, Cal U hosted a webinar titled "Balancing Act 2020: The Struggle is Real." The webinar was sponsored by Cal U's president's commission for the status of women, the department of health and human service professions, the women's studies department, the women's center, the counseling center, the criminal justice and psychology department and the department of education.  
Bonfini's portion of the webinar, "Burning Bright, Not Out," discussed why Zoom is exhausting and ways to deal with the fatigue. 
"Zoom basically smothers you with audio cues and social cues," said Bonfini. "Even a slight delay in video can really put our senses into overdrive, as we try to make sense of all this information."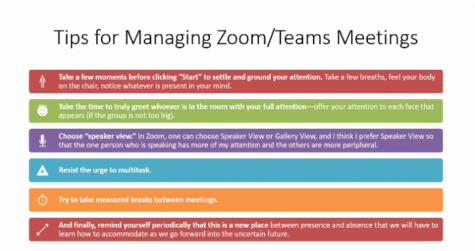 Several students attending Zoom classes at Cal U say they are feeling fatigued after a  day of online learning. 
"Yes, sitting in front of the screen all day drains me," said Mariah Demus, a sophomore studying special education at Cal U. "I cope with the fatigue by trying to get more rest. I also am very into aromatherapy and other natural things for relaxation." 
Combatting exhaustion through napping is the way that Morgan Kulha, a Cal U student studying secondary education in English, also fights the fatigue. 
"I sometimes try to find time to nap, if it is even possible," said Kulha. "If not, I usually drink a lot of energy drinks." 
Back-to-back classes are the main source of fatigue for Cal U sophomore, Brooke Bennet. 
"In between classes I try to get up and move," said Bennett. "Just standing up and stretching from sitting for a long period, helps."   
While online learning is not ideal, Bonfini said that there are ways to cope with Zoom and the fatigue it causes. 
"When you're on Zoom, it might be helpful to do things like just choose speaker view," said Bonfini. "So, whoever is speaking, that's what you are looking at." 
Bonfini also recommended against multitasking, such as checking your phone or your email while on Zoom. 
"It takes your attention off of your present task," said Bonfini. "There's no just quick attention breaks." 
Another tip that Bonfini said was to take a step back and remind yourself that this is a new experience that everyone is having to deal with and learn from. 
"If we spend our time being busy and frantic, we're not spending our time doing things that matter," said Bonfini.