Virtual service and friendship with Gamma Sigma Sigma  
Members of GSS share what their sorority has been up to this semester.
Clubs and organizations at California University of Pennsylvania are all adapting to the changes brought onto them by COVID-19. Organizations that tend to do several service projects each semester are seeing fewer opportunities since everything is virtual. However, Gamma Sigma Sigma, a national service sorority, is doing everything they can to fill this semester with several service opportunities while also keeping their friendship bonds tight.  
Gamma Sigma Sigma, commonly known as GSS on campus, is an organization that focuses on service, leadership and equality. Despite what comes to mind when hearing the word "sorority," it is gender inclusive. The organization plans a wide arrangement of service activities each semester including visiting veteran's homes, participating in Cal U's Relay For Life event and planning events to raise money for their philanthropies. During a normal semester, members are required to achieve 25 service hours. This semester, that number has been lowered to 15 since there are not as many opportunities.  
"Personally, service is a very large part of my life," Hannah Cook, service vice president, said. "This position has deepened my love for service even more than before."  
Cook said that the organization's service committee has done an incredible job planning new ways to execute some of their previous projects into virtual ones.  
"We are in the process of working out the details to hopefully still host our paint and sip. More details are still to come, but we are working hard to adapt as much as we can to host the event via Zoom," said Cook. "A lot of our other smaller projects were able to be adapted to a virtual format as well." 
However, some of their larger events were not able to be changed into online formats.  
"Unfortunately, we were unable to have our annual Bowl for Babies event that supports March of Dimes," Cook said. "We typically would do this event at a bowling alley and donate the proceeds, but this was a project that was going to be too difficult to do virtually, so we made the decision to postpone it to a later semester."  
Another event that was canceled was Spirit Day. This event brings some of the local chapters together to complete service projects and to meet new people. Member Zach Smith was looking forward to attending, but COVID-19 had ruined his plans.  
"Last semester, I was going to have the opportunity to go to my first Spirit Day. It seemed like it would be super fun, but it was canceled because of coronavirus," said Smith. "It had been planned for the fall, but unfortunately the virus did not improve by then." 
Besides the changes in service projects, the organization's membership process has also been modified. Kylie Graham, membership vice president, was in charge of planning this semester's recruitment events. She also hosts weekly bonding events for the new members over Zoom where they have the opportunity to learn information about GSS. 
"The online semester definitely made recruitment challenging," Graham said. "It was difficult to get the word out to potential new members, but social media was a large proponent in spreading information about GSS and our recruitment period."  
The organization was still able to welcome 3 new members this semester. 
GSS, just like other sororities, participates in assigning bigs and littles. Although they are unable to bond with the new members in person, they are incorporating ways for them to build connections virtually.  
"Bigs and littles are going on virtual dates this semester, and then ranking who they connected with the best before we have our virtual big/little reveal with the whole chapter," Graham said. "We figured the dates would be more personal than a random pairing and allow for a closer connection while being virtual."  
Krista Wentz, GSS President, misses spending time with the organization's members whether they are attending a meeting in the same room or working on service projects together.  
"We continue with our chapter meetings on Monday nights over Zoom. We're trying our best to make this semester as normal as possible," said Wentz.  
Wentz was voted as the chapter's president in fall 2019 and has been handling all of the obstacles thrown in the organization's way since the beginning of the pandemic.  
"This position is not what I thought it would be due to the pandemic, but I could not be more honored to have been voted into the position," Wentz said. "I try my best to still make meetings the most fun they can be."  
Diane Hasbrouck, GSS's advisor, is proud of all the hard work members are putting into this semester.  
"This is an amazing group of servant leaders that are passionate about GSS," said Hasbrouck. "Everything is a little different, but the group is making changes while staying true to who they are as an organization."  
Although COVID-19 did cause GSS to make some adaptations to the way they operate, some members can agree that most of their processes have remained the same with the exception of them being online.  
"The pandemic has basically had an impact on all of our daily lives," said Cook. "I think we are all trying to make the most out of an unfortunate situation and stay positive even though we can't be together in person." 
About the Contributor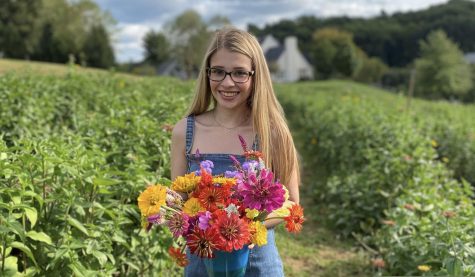 Kaitlyn Collins, Staff Writer
Kaitlyn Collins is a junior at California University of Pennsylvania majoring in Communication Studies with a Radio/Tv concentration and a minor in Journalism....