Unmasked: Why certain Cal U statues are now wearing masks
Statues on campus are wearing face masks to help show the importance of wearing masks to prevent the spread of COVID-19.
Recently, face masks have appeared on certain statues around Cal U's campus. The Vulcan statue, which stands in the Quad, and the statue of Robert Eberly, located outside of the Manderino Library, are both geared up in giant face masks that cover their mouths and noses. The red color of the masks stand out greatly against the statues' dark color, and they say "Cal U" in bold, black letters.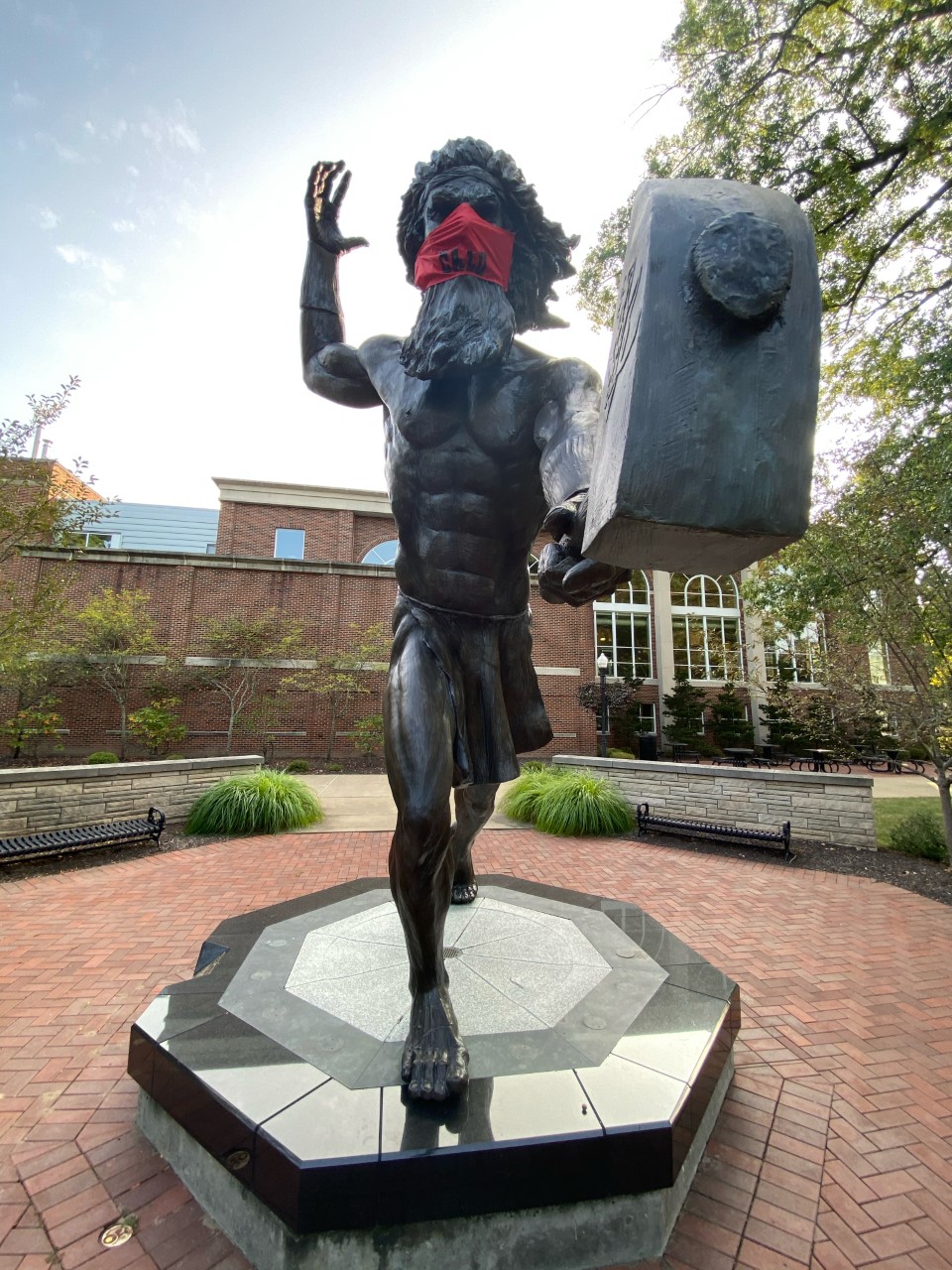 Because the university is working remotely this semester, these statues are not being viewed by nearly as many people as usual. However, the Manderino Library is allowing Cal U students, faculty and staff to use their resources with a limit of 75 people, this number includes library staff. People accessing the library will have the opportunity to see the Eberly statue. Prospective Cal U students and their families are still able to be present on campus for tours, but with safety guidelines which will allow them to see the statues.  
Responsible for creating these masks is Cal U's theater department costume shop supervisor, Joni Farquhar.  
"I was contacted by Christine Kindl, vice president for Communications and Marketing, on behalf of President Jones, inquiring if I could make masks for the Vulcan and possibly the Eberly statues," Farquhar said. Kindl and Jones shared this idea because they thought it would show that "all should be diligent and wear a mask, even the Vulcan."
"I think they wanted to show a little humor during these stressful times," she said. Farquhar said the feedback has been very positive.  
Farquhar needed to make sure the masks would be just right. Farquhar said she walked over to each statue and took pictures of them with her iPhone at different angles.  
"I downloaded the pictures, printed them and marked the measurements that I needed to construct the mask," Farquhar said. "I was told to contact Walter "Wally" Balla, manager of Campus Services, to assist me in getting the measurements."  
Once the measurements were taken care of, the next step for Farquhar was to begin constructing the masks. She began creating a pattern for both of the statues.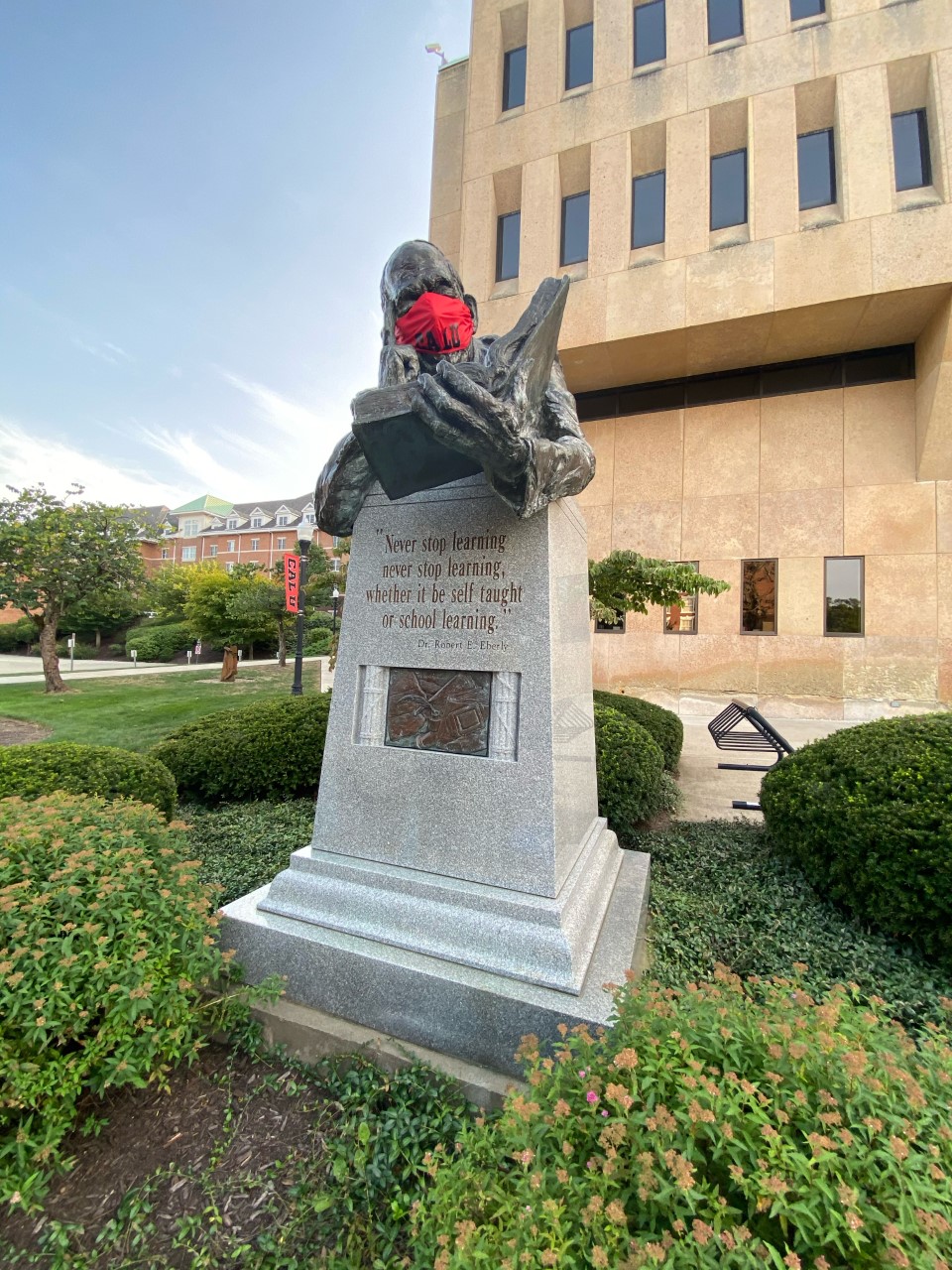 "The next steps were to purchase a fabric that could withstand the weather, cut the pattern out, sew it and attach the strapping that would hold them in place," said Farquhar. When they were completed she contacted Balla who gave her instructions on how they should be secured, and then he placed them on the statues. 
Besides making face masks for the statues on campus, Farquhar said she was contacted by Ben Wise, fire safety specialist, in April about making face masks for the university.  
"I have lost count but have made approximately 2,000 (or so)," she said. "In June, I was contacted by Jamison Roth, director of Recreational Services, to make masks for our mascot, Blaze, which I did." 
Like the statues, Blaze, faculty and staff are also showing diligence during this pandemic. 
"It's funny that at least once a week I post on my Facebook site 'Mask up!' 'Over the nose is where it goes!' 'Be safe!' 'Stay healthy!' and I'm the person selected to help make the statement here at Cal U." 
About the Contributor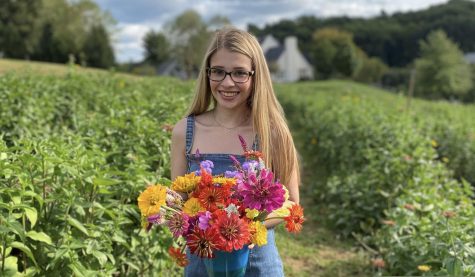 Kaitlyn Collins, Staff Writer
Kaitlyn Collins is a junior at California University of Pennsylvania majoring in Communication Studies with a Radio/Tv concentration and a minor in Journalism....