Can you dig it? Dr. Marc Henshaw, a.k.a. "The Archeology Dude," talks about unique field experiences in U.S. and abroad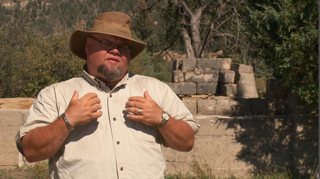 Dr. Marc Henshaw, an instructor in Cal U's department of History, Politics, Society and Law, and a 1998 graduate of California University of Pennsylvania,  has followed an interesting career path in the field of archeology.
In this edition of CUTV's "Cal U Connections," recorded May 21, 2020,  Dr. Henshaw talks with host Gary M. Smith about his unique experiences in the field and in the classroom.
Students who are interested in pursuing a career in anthropology and archeology are encouraged to watch this episode.
A brief description of Dr. Henshaw's academic and professional career appears in IMDB, Internet Movie Database:
"Dr. Henshaw has over 17 years of professional experience beginning as a field archaeologist to eventually his own consulting firm. Marc received his master's degree in archaeology from Western Michigan University. His thesis entitled The Steamboat Industry in Brownsville, Pennsylvania: An Ethnohistorical Perspective on the Economic Change in the Monongahela Valley was a continuation of research into the steamboat industry of western Pennsylvania started while he was an undergraduate at California University of Pennsylvania. His research focused on boat building and the many related industries such as foundries, boat yards, saw mills, and included an analysis of the influx of emigrant labor necessary to support these trades in their expansion westward. Dr. Henshaw's dissertation focused on an examination of the laborers who worked on steamships and the accompanying degrees of rank and class status conferred on the captains who piloted these boats. Through oral histories and archaeological excavations, Dr. Henshaw created one of the most comprehensive and detailed examinations of steamboat operations from the point of view of the workers in his dissertation, Hog chains and Mark Twains: A study of labor history, archaeology, and industrial ethnography of the Steamboat Era of the Monongahela Valley 1811-1950. His knowledge of steamboat construction and engineering, research into steamboat excavation methodologies, and expertise in the broader cultural context of the steamboat industry places him well into the role of historic research for the show Diggers."