California Borough spring cleanup underway May 6 – 18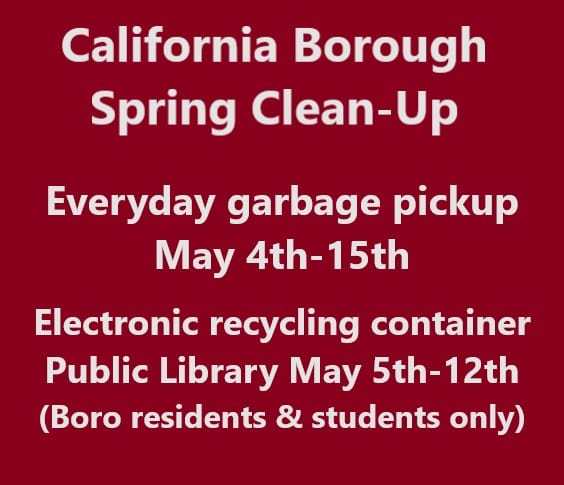 California Borough is helping Cal U students clean house before they leave their off-campus rentals for summer break.
Daily garbage pickup will be available from Monday, May 6, through Saturday, May 18, and a bin will be placed at the library so students can recycle unwanted electronic items.
The schedule gives students time to discard unwanted items as they clean out their off-campus rentals during the week prior to Commencement. Borough landlords also can utilize the service as their student renters depart.
Cal U faculty and staff are reminded that the service is intended for Cal U students and borough residents only.
Message from County Hauling:
Cardboard will need to be placed in trash bags for collection given concerns related to the transmittal of the virus via cardboard.
All waste must be bagged and no loose trash will be collected.
Please do not approach the drivers. We are working hard to limit driver exposure to individuals within our company to limit the risk of them getting sick and ensuring they can continue to collect waste. Residents approaching the drivers drastically increases the risk of infection.