Dan + Shay and the Future of Concerts at Cal U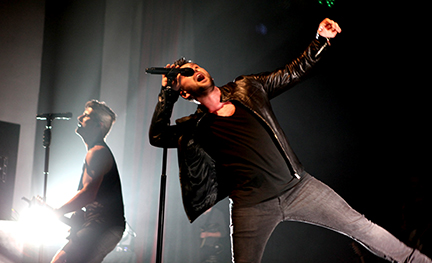 For several months, students around California University of Pennsylvania were witnesses to several marketing ploys from the Student Activities Board and Underground Café. These advertising ideas were used in order to promote a big concert event coming to Cal U's campus. On April 10, country artist Canaan Smith and country duo Dan + Shay played in front of 472 fans inside Steele Theatre.
     The pre show festivities began way before the country music stars took the stage. SAB and Underground hosted a pre show party on third street starting at 4 p.m. Activities included Kan Jam, Cornhole, a root beer keg, a blue carpet and a step and repeat, featuring the SAB and Underground Café logos, that students could take pictures in front of. The success of the events leading up to the main event left all executive board members of SAB and Underground with smiles on their faces.
    "I think I was overwhelmed with how amazing and smooth the entire day went," said Lindsey Leonard, Student Advisor of SAB and Underground Café. "I think that overall the stressfulness went with the preparation prior, but honestly all expectations were reached way over what I thought they'd be."
     Starting at 7 p.m., students, faculty and staff began filling Steele Theatre. Many items were given away at the door including blue glow sticks, headphones and sunglasses. Starting at 8 p.m., it was show time for the first performer.
     Country artist Canaan Smith has been on tour with Dan + Shay since the "Where It All Began" tour began on Feb. 28 in Knoxville, Tn. The country star is most well known for his hit single "Love You Like That," which reached number one on Sirius XM's The Highway Hot 45 Countdown, an honor that Smith feels very good about.
     "It's cool as crap, man," said Smith. "Just watching it climb like it did is amazing. That is what we all hope for as artists that it goes to the top. I definitely am not taking it for granted and it just makes me want every song here after to do the same thing."
     Throughout his career, Smith has had many different musical influences that come primarily from what his father would listen to when he was growing up. Artists such as George Strait, George Jones, Rage against the Machine and 90's pop rock were some of the artists and genres in which Smith was influenced by. Though he loved all types of music growing up in Virginia, Smith held a special place in his heart for writing and performing country music.
     "The reason country music is what I want to do is because it is an avenue for story telling like no other format," said Smith. "It is important to me that my songs mean something and that they tell honest stories about what I've been through and what I've observed."
       Smith performed for a packed Steele Theatre crowd for about an hour, with much of the crowd singing along to each song he performed. The highlight of his performance was at the end of his set when he performed a touching tribute to his brother, who had passed away in a car accident when he was a child.
       Following the emotional and exciting performance by Canaan Smith and a short intermission afterwards, Dan + Shay took the stage to the sound of screams and cheers.
       The duo of Dan + Shay consists of Dan Smyers, a Wexford native and North Allegheny High School graduate, and Shay Mooney, two songwriters who have taken their talents and used it to become two of the best up and coming musicians' country music has to offer. In 2012, their debut single "19 you + me" was featured on country radio stations. The duo released their first album "Where it all began" in April of 2014, with the albums second single "Show you off" debuting on country radio in May of 2014.
       Throughout their set, both members of the duo interacted with the fans and played some of their original songs as well as some covers including "Anyway you want it" by Journey, "Pour Some Sugar on Me" by Def Leppard and "Thinking Out Loud" by Ed Sheeran.
       As a part of their tour, the duo played at Stage AE in Pittsburgh the day before their performance at Cal U. The opportunity to play in different cities and encounter an atmosphere like the one they experienced inside Steele Theatre is something they continuously look forward to.
      "It was incredible to play in a city that you've never been to and you don't expect anyone to see you and you get there and there's already a line forming," said Smyers. "It's an incredible feeling and people say you get used to it but you never do."
       Following the concert, both artists met with fans who purchased products at their merchandise stand in a private meet and greet to end the night of festivities.
       The event hosted by the Student Activities Board and Underground Café was an instant hit for everyone that was in attendance. The future possibility of bigger concerts at the University could become more of a reality with the success of the first big concert sponsored by these two clubs
       "I think that every person on both eboards would like to graduate leaving a legacy and I think that this can be exactly that," said Leonard. "I think that this is setting a foundation for future years to come and that this is just the beginning."
About the Writer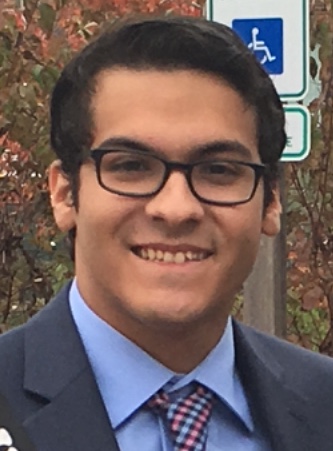 Jose Negron, Editor in Chief
Jose Negron has been involved with the Cal Times since his first semester of his freshman year in the fall of 2012. He served as Sports Editor for two...