Focused on home: Maj. Robert Prah, Jr.'s bid to represent Pennsylvania's 58th Legislative District
The journey from volunteer firefighter to Cal U's director for Military and Veteran's affairs to recent run for political office.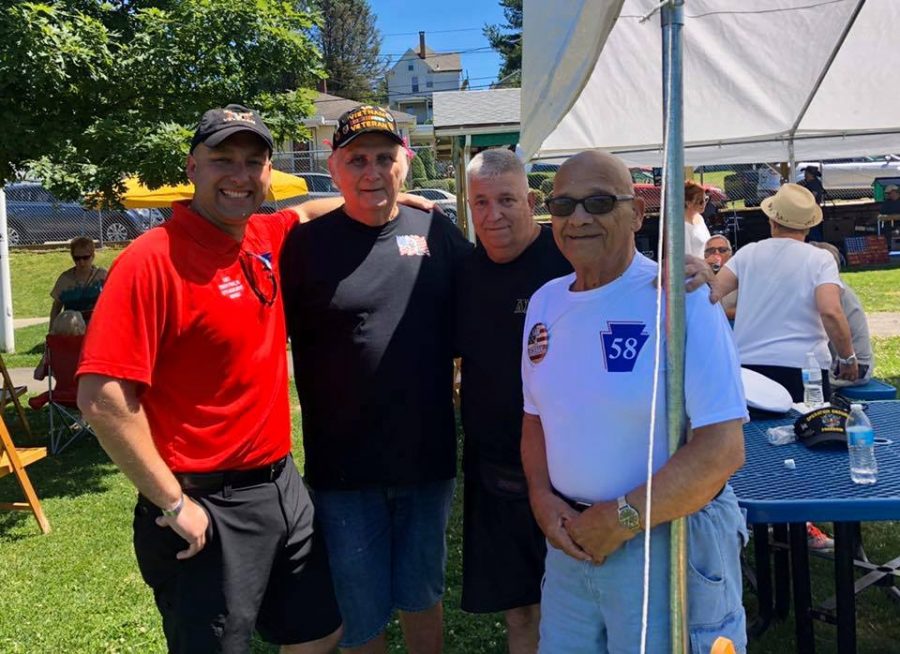 In a small town, everyone knows each other. It also gives an opportunity for certain individuals to serve their communities in a multitude of ways. A young man, with an eager-eyed smile that will stick with him through adulthood, can go from junior firefighter at the age of 14 to canvassing doors to be a state politician of the district he grew up in. This gateway into service has been a non-stop trajectory where he would eventually serve in the military, and as California University of Pennsylvania's director for Military and Veteran's affairs. He continues to serve and hopes this transition into state politics will allow for even greater impact on his district.
Maj. Robert Prah, Jr. is seeking to represent his hometown of 58th District of the Pennsylvania House of Representatives for the Democratic party by using his experience, familiarity with the communities he grew up around and a focused grass-roots campaign to focus on the issues of his neighbors and constituents. Though the March 17 special election for the seat didn't go in his favor, Prah is optimistic and excited about his prospects in early November when the seat will once again be contested in a general election. Until then, he will continue to serve as the director for Veteran and Military affairs at Cal U, an institution only 16 miles from where he grew up.
Like many of those who grow up in rural Southwestern Pennsylvania, Prah, a native of Smithon, went through his early years being involved in a lot of things and getting to know everyone in a town with fewer than 600 people.
"Growing up in a small town, you get to cross paths with a lot of people and learn their strengths and weaknesses," said Prah reflecting on the effect of his hometown on his career and life. "In my hometown of about 500 people, firemen are also a part of the council or a volunteer at the American Legion, so you get to work and grow with these people in a lot of different areas."
Prah was no stranger to this "man-of-many-hats" lifestyle growing up. While attending Yough Senior High School, he was a multiple-sport athlete in football, basketball, baseball and soccer. Though an involved student-athlete, it was Prah's desire to serve that kept fueling him through his career. He joined the local fire department as a junior firefighter at 14, and when he graduated high school, he decided joining the U.S. Army would be the best place to pursue that altruistic desire.
On what prompted Prah to join the military, he stated, "I didn't join the military because of any specific conflict; I just wanted to serve my country, and also get financial assistance for college."
Now, two decades after his decision to join, the trajectory of Prah's career and life has been dominated by his commitment to the Army, as well as his community. After graduating from basic training, Prah enrolled at California University of Pennsylvania in 2002 with a criminal justice major but remained active in military life by joining the Army ROTC program.
It was during this undergraduate career that Prah first became involved in local politics. When he was a senior at Cal U, Prah was approached to fill a vacant position for the Smithton Borough Council. That small-town connection and Prah's early life ambitions opened a gateway into local and state politics as he would eventually leave this council position to effectively run for the mayor of Smithton. Though already an enlisted military personnel, Prah couldn't pass on this open opportunity to serve his hometown with a fortunate homecoming.
Smithton wasn't the only homecoming for Prah though. After leaving Smithton again for active duty, Prah was hired as the director of Military and Veteran Affairs at his alma mater. As director, Prah helps students like himself, veterans or active military members who decide to pursue higher education opportunities at Cal U.
His fellow colleague and Navy veteran, Kristen Majocha, who serves as the Dean of Liberal Arts at Cal U, recognizes the impact that Prah's service has had both as an educator and a veteran herself.
"He is the go-to person for veteran students. Although his title doesn't 'advocate,' that is exactly what Maj. Prah is, serving these students who must adjust to a completely different experience than their fellow students," said Majocha.
It was from this leadership role that Prah took an unpaid leave-of-absence to run for the Pennsylvania House of Representatives seat for District 58 that unexpectedly came open when its former Republican incumbent, Justin Walsh, resigned from the position.
Knowing that the district had recently swung Republican, Prah and his campaign manager, Sawyer Neale, wanted to build a strong grassroots campaign, focused on the local issues that mattered to constituents in the district.
"This was one of the best campaigns that I have ever had the opportunity to work on," said Neale, who serves the central area of Pennsylvania as the Member and Candidate Services manager for the Pennsylvania House Democratic Campaign Committee. "We were able to put together a large grass-roots coalition of organized labor, in a campaign where nearly every odd felt stacked against us. Rob's commitment to local issues made this campaign possible, and we felt like we worked hard for every vote we got."
Regarding those issues, Prah's wants to distinguish himself from the dividing politics on the national level by focusing on issues he's passionate about and has experience in that are beneficial to all of his district, regardless of party. For Prah these issues were ones he had been personally exposed to his whole life such as veteran's affairs, education, labor, opioids and suicide.
"You know most people have about one or two issues that mean an especially important amount to them," said Prah. "So, as a candidate, I decided to focus on the four or five issues that were very near and dear to me. If you choose an issue to throw on your website or discuss that you aren't passionate about or able to speak intelligently on, you begin to lose credibility."
Prah also believes that state politics is a much different sector than that of the national level. Issues with national prominence that often serve as partisan dividers, such as abortion and gun control, make up a very small percentage of what a member of Pennsylvania state politics deals with.
"As a state rep., you are dealing with renaming roads, work on the budget, helping senior citizens with rebate qualms, so those are the issues we wanted to focus on in our campaign," said Prah. "We are supposed to be representatives of the people, so if you start putting those national partisan issues on your website or on your shirt, you might further that divide for your own district."
Even with the large grassroots campaign that Prah and Neale put together, turnout at the special election was lower than expected in key areas, which his campaign believes was a reason for his defeat. Prah and his campaign believe that both the unusual timing of the election in addition to the outbreak of COVID-19, impacted turnout in these areas for key demographics such as the elderly.
Prah is running unopposed in the Democratic primary race for the District 58 seat, so he will again be running for the seat in a general election in November. Looking at the results of the election, he and his campaign believe that remaining focused on home, and the issues that affect it, is the best path forward. Until then, Prah is back at Cal U in his director position, helping to get the university through the current pandemic and its fallout.
Reflecting on that and the pandemic in general, Prah is grateful people are staying safe, and just like in any crisis, Prah believes that moving forward the country and the state needs to selflessly develop help for the people who need it, reaffirming his prioritization of his own local community over national party lines.
"You can't put personal or partisan agendas over helping the people who need it. Whether it be here at home, across the country or the world, we need to take each day at a time and get help into the hands of those who need it."
This story is made possible through the Cal Times' collaboration with Dr. Anthony Carlisle's "Feature Writing" journalism course in the department of English, spring semester 2020.
UPDATE:    On April 28, 2020,  Maj. Prah announced the suspension of his 2020 campaign for the Pa. House of Representatives' 58th Legislative District.  "While my name will still appear on the June primary and November general election ballots, I am suspending my campaign operations," he said.