At Cal U, data science expertise earns digital badges from SAS®
California University of Pennsylvania professor says web-enabled images 'convey competence' to future employers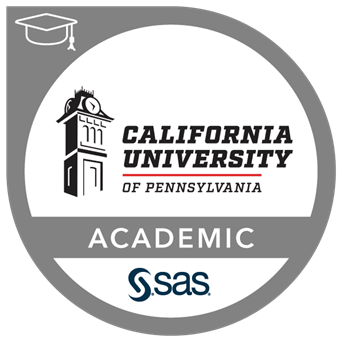 Students who complete programs in statistics and data science at California University of Pennsylvania can earn digital badges from SAS®, a leading developer of analytics software and solutions.
Cal U has partnered with SAS to develop 100% online programs that build expertise in SAS analytics, one of the most valuable career-focused skills in today's job market, according to a recent study by PayScale and Money magazine.
Students in Cal U's B.S. in Statistics and Data Science program can earn the SAS badge for Statistical Analysis. The credential signals their expertise in using data to create meaningful visualizations, test hypotheses, conduct analyses and create predictions.
SAS-verified badges also are awarded for successful completion of Cal U's graduate or undergraduate certificate programs in SAS Data Science. Students in these programs manipulate real-world data utilizing the same SAS software found in 80,000 workplaces in Pennsylvania and around the world.
"Digital badges are an easy, portable way to convey competence in multiple skills with one image," says Dr. Melissa Sovak, professor of data science at Cal U.
"They can quickly be added to a variety of settings to express one's capabilities and expertise in a succinct, nonverbal way. One little badge can convey a wealth of information to potential employers, industry partners and colleagues."
Students who earn the digital badges may use them in their email signatures, online resumes and social media profiles. SAS notes that its badges contain "verified metadata that describes your qualifications and the process required to earn them." Badge-holders control how and where the credentials are made public.
Cal U's undergraduate data science program was the first in the United States to offer the SAS Data Science Certificate.
Both the undergraduate and graduate-level certificates can be completed either in conjunction with a Cal U degree program or as a standalone credential. Students can earn a certificate online in just three terms, or in one summer session.
To learn more about all of Cal U's academic programs, visit www.calu.edu/academics.