It's all about love! Cal U couples tell surprise engagement stories and share V-Day plans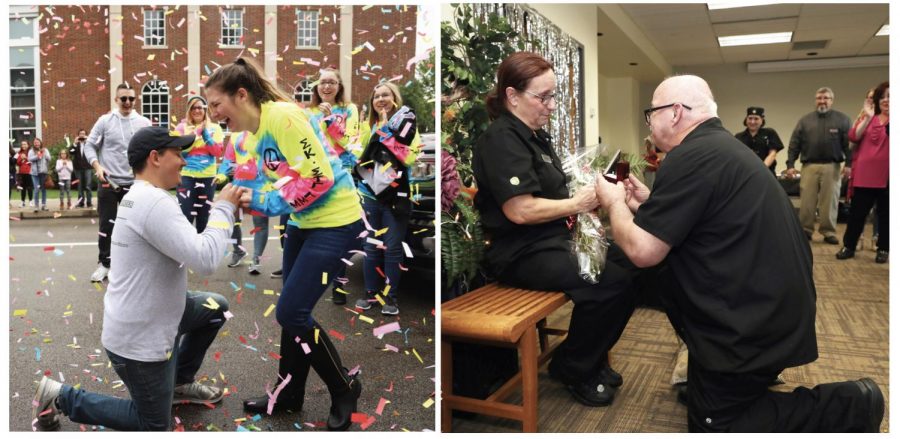 One day, Nick Bishop walked McKenna Ferris to her class in Morgan Hall from Duda Hall. The same thing happened the following day. And the day after. And the day after that until it became an essential part of both of their weeks.
Three years later, amid Cal U's annual Homecoming parade, Bishop got down on one knee in the same path he and Ferris used to walk as sophomores and proposed.
Today, senior history major Nick Bishop, 24, and senior general education major Mckenna Ferris, 22, remember the day of their engagement fondly. Both active members in Greek life, Bishop knew that asking Ferris to marry him surrounded by Sigma Kappa and Alpha Kappa Lambda in the middle of the parade was the perfect setting.
"She doesn't really like big, over the top things," said Bishop. "So, I'm like 'perfect.' This is gonna be the most excessive, over the top thing I can do."
McKenna agreed that Homecoming was undoubtedly the perfect timing for the proposal.
"It fits us well," Ferris said. "I think that having it bring together our two groups and everyone else around us really was just something special for us. They always joke 'you're the golden couple, you're the Greek power couple' and I think to have it happen in the middle of one of the bigger Greek events we do in the fall just really hit home for that."
Despite a picture-perfect proposal, Bishop remembers a lot of intricate collaboration and planning leading up to the big day. Not only did he coordinate with different on-campus groups, he also had to pick out the order of the floats the morning of the parade.
As no stranger to Homecoming parades, Ferris found it odd when her friend suggested they walk near the back of the float until passing Johnson Hall where Ferris was urged to the front. Ferris remembers asking Bishop what he was doing as he knelt on one knee in front of her. It was then when Bishop popped the question.
"I know confetti fell but at that point I just kind of blacked out," said Ferris. "I can't really remember what went down. It was like 'oh, okay' and the next thing you know I was like 'what just happened?' And that was that."
Now, the two find it fun being engaged. With a wedding date set in September of 2022, Ferris is living out her childhood dreams as she plans for the big day.
"I love weddings and now I don't have to hypothesize 'oh, when I get married, if I get married,'" explained Ferris. "It's like, "no, I want this at my wedding" and I can pick out what I want… all my dreams of a little girl are coming to life and it's fun to see that and it's fun to share it with everyone else."
Bishop also finds it exciting being engaged and planning for the future.
"Both of our families are eventually going to be there that day," said Bishop. "Everyone's going to meet each other and we're all going to have a really good time. I think I'm really excited for that actually to happen."
However, Bishop and Ferris are not the only couple on Cal U's campus to put a ring on it this past semester. On November 26, during an employee potluck, Joe Hepple, 61, of Belle Vernon surprised his best friend and girlfriend Beth Ann Bentz, 60, of Star Junction by proposing.
Although the two AVI food service staff members have only been dating for the past year, Bentz called Hepple her best friend of several years.
"We were best friends, we were friends for so many years," said Bentz. "It's good to be friends and best friends first before you start dating."
Hepple and Bentz met through work at Cal U 10 years ago. Bentz began working in catering and recalled one of the first times she went to Gold Rush to pick up food.
"I remember walking into the kitchen and he was cooking and he was the first one who stood right out, his smile and his personality," said Bentz. "I said boy, he's really a nice guy.' Everyone else was not awake in the morning, but he was all chipper and smiling and nice personality. I actually think it was love at first sight."
A few years later, six years ago, Bentz spotted a glass plaque while at the drugstore that made her think of Hepple immediately. The plaque read 'If I had a flower for every time you made me smile, I'd have enough flowers for eternity.' She later gifted her finding to Hepple for Christmas because he "always, always made me smile."
According to Hepple, and unbeknownst to Bentz, he had been thinking about proposing for three years. He even saved up for three years with his overtime money to buy a ring. Hepple figured that Thanksgiving, surrounded by their friends would make for the perfect moment. He came up with a plan for a potluck lunch for all the employees. All the workers and the AVI management became involved and helped keep the proposal a secret from Bentz.
On the last day before Thanksgiving break, room 206 of Natali was decorated for lunch. Hepple explained how he hid with flowers and ring in the room, waiting for Bentz. Once he heard the beginning notes of Van Morrison's "Tupelo Honey," Hepple walked from around the corner to a surprised Bentz and proposed. There were tears, there was shock, but most of all, there was happiness.
"A lot of people said, 'why didn't he propose and take you out to dinner?'" said Bentz. "I said, 'This is the best place to do it because it's where we met.""
"[Cal U] is where we met and we felt so comfortable," added Hepple. "Everybody here has been so good to both of us. The staff from Cal U has been very, very nice to both of us. We wanted to do it here and be somewhere special."
Hepple expressed his gratitude for all the help he received from management and Cal U staff. He said that he and Bentz are also grateful for the congratulations and well wishes they both have gotten from students. Though there is no set wedding date, there are plans for a honeymoon in Jamaica.
In terms of the near future, Hepple and Bentz plan to embrace Valentine's Day wholeheartedly. Hepple said he is taking his fiancé out for dinner and gambling. Essentially, the couple agree that Valentine's Day is just a special day to spend with the person you love.
"I think it's a day you can express your love to someone that you love," said Bentz. "You should treat every day like it's your last day… We're blessed to have each other. I feel like God brought us together… He's always there for me, no matter what, he's always there."
Even Ferris who sees Valentine's Day as a "Hallmark holiday" enjoys having time to spend with Bishop. She questions why there is a certain day to show someone you love them.
"I love you all year round and you know that so why do I need a special day to go out and buy you this big, extravagant gift?" said Ferris. "I think that's always been my view on that but with him, it's fun to just go out and do something. It's the perfect excuse… it's a good way to go do something and to purposely set aside the day for us."
For those currently in relationships, Ferris encourages couples to take it day by day and never go to bed angry as everyone is human and every relationship has a little bit of arguing.
"Honestly, I think that's for everybody, your mom, your dad, your siblings," she said. "Never go to bed angry because the you wake up and you're grumbly because you woke up and you're still angry. But then also tomorrow's no guarantee. I just don't understand going to bed angry and then waking up, I wouldn't want my last memory to be angry with someone. Always fix it."
For those looking for love, both Ferris and Bishop agree that one should patiently wait and let love happen naturally.
"Especially in college… there are so many people here," said Bishop. "If you're out here just trying to look for your Cinderella or your knight in shining armor equivalent, that's hard. I think it just naturally comes to you and that's when you know when it's the right person. "
Hepple and Bentz recommend being open minded. The pair said one should work every day to make the other person happy. Like any couple, Hepple and Bentz have faced obstacles and issues, yet they talked and worked through it all.
"When you have two people working on stuff, it's a lot easier than just one person," said Hepple. "It takes two. You both got to give it all for it to work. That's all we ask for, we don't ask for money or anything like that, we just want happiness. And to spend the rest of our lives together."
Like the college seniors, Hepple and Betz also believe in the power of patience.
"Take your time, and you'll know when it's the right time, said Hepple. "Have trust in each other. If it's made to be, that person will wait for you."
In fact, Bentz said that Hepple had waited for her.
"I told her I'd wait forever, however long it would take, I'd wait," said Hepple. "And it worked, it turned out beautifully… We just started seeing each other but we'd always loved each other. But it just came on so fast, I said 'you know, now's the time.'
"In your heart you know when you have the right person," Hepple concluded.
"He's always had a place in my heart," Bentz proclaimed.
About the Contributors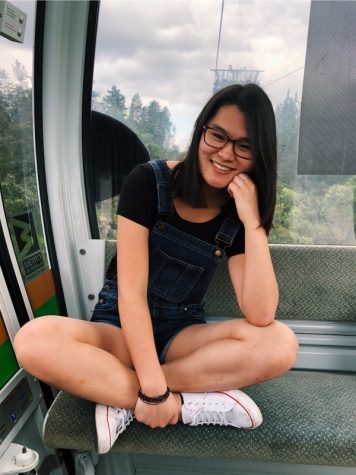 Hannah Wyman, News Editor
Hannah Wyman is a junior at California University of Pennsylvania majoring in English with a concentration in Journalism and minors in Women's Studies...