When in doubt, lift it out
Cal U student Nick Reyes uses fitness for more than just physical growth
Ever since his father died in the fifth grade, Nick Reyes was an angry kid. He began exhibiting anger problems throughout middle-school and frequently got into trouble.
Now, at age 21 and a senior at California University of Pennsylvania, Reyes' anger has subsided, and he attributes that to his outlet and motivator: fitness.
"I used to run around the neighborhood when I got really mad," Reyes said, reminiscing about a sixth grade memory.
He attributes that as his initial interest in fitness. He identified that his impulsive anger caused him to engage in some sort of physical activity until he exhausted himself. Additionally, he felt insecure about himself. He viewed himself as a "scrawny kid" and never felt satisfied with himself. This manifested into misbehavior in school.
"I got at least 21 suspensions while in middle school," Reyes said. It wasn't until the 8th grade where he discovered his interest in sports which tunred into a fascination with weight lifting. To Reyes, lifting was crucial because "that's what I thought I needed to do."
Reye's high-school career was filled with athletics. His freshman year consisted of football, while the remainder of high-school was dominated by track, which he did in every season. His anger and delinquency stopped as Reyes found a new outlet to focus on.
"Once I did that, shit straightened out," said Reyes.
But while he pursued athletics, Reyes eventually learned that weight lifting was his true passion. For him, it was almost transactional. He started lifting heavily because of the stress and anger relief he got with pushing himself harder. Lifting provides the cathartic experience that helps him with his emotional turmoil.
"I just have the most confidence when I'm in the weight room. My anxiety is just gone. I feel like the man," Reyes explained.
According to an article published by The New York Times, after analyzing from 30 different research studies, consistent resistance training anywhere from two to five days a week helped men and women, regardless of age, stave off depression and decrease its symptoms. Meanwhile, the Substance Abuse and Mental Health Services Association, an agency within the U.S Department of Health and Human Services that leads public health efforts to advance the behavioral health of the nation, anger tends to be a symptom of depression and often manifests itself more often than sadness or melancholy.
While Reyes says he still has anger problems, he knows it diminished significantly, and he notices how he is more lighthearted and carefree now that he been weightlifting for so long.
Luke Cordle, Reyes' roomate for the past two years, sees how he is a driven person, a hardworking student and a true friend.
"He is very outgoing, and always willing to help whenever help is needed," Cordle said.
Since he first came to Cal U, Reyes wanted to use his interest in fitness to help fellow students. He joined the Health and Fitness Club in 2017, but the club was soon dissolved due to lack of membership activity. However, Reyes started the club again in 2018 and became the new founder and president. Reyes said the club attracted a lot of attention initially, with 42 members in the first month of its inception.
The club allowed Reyes to pursue an interest in weightlifting instruction and fitness training. Reyes said he identified two kinds of people who joined the club: people who love to work-out, and people wanting to learn how to work-out. Reyes explained the enjoyment he gets from teaching another person how to lift in one-on-one sessions.
"It's definitely something I could see myself doing for the rest of my life.
"Nick is extremely motivational." Cordle said, while reflecting on a time Reyes was teaching him how to lift,
"You have to be hard on people when at the gym to properly motivate them to go beyond what they are capable of. Nick was a great trainer for that reason."
In 2019, however, the Health and Fitness Club at Cal U was dissolved again, but not for lack of effort on Reyes part. He said, "no one wanted to participate" and everyone who showed the initial interest wasn't involved in the club. Not enough members wanted to participate in club activities, such as planned workouts and fitness lectures. There was a lack of communication and, eventually, people seemed to vanish.
"I see less and less people coming into the weight-room, anymore," Reyes said. He believes there is a significant lack of interest in fitness that stems from multiple factors, such as a shift in societal views and a higher-level of social anxiety, keep people away from the gym. "We are going in the wrong direction," Reyes said.
Regardless of societal views of the failures of club members, Reyes focuses all his energy into fitness. He transformed an outlet and motivator into a way of life and future career. He hoped to open a gym when he graduates, before he begins implementing unique ideas he has to create something the fitness world has never seen before. Reyes declined to share these ideas.
"I'm focused on what I want to do for the rest of my life," Reyes said.
About the Writer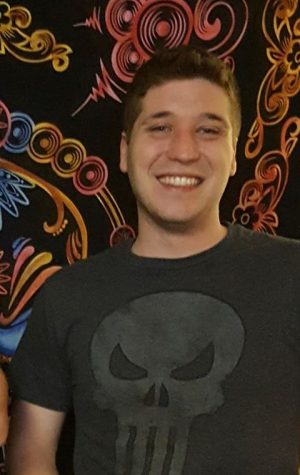 James Rudolph, News Editor
James Rudolph is originally from Pittsburgh and graduated from Central Catholic High School in 2011. From there, he went to Temple University and studied...