Where Are They Now?
Taylor Barta, class of 2019, follows his dreams into the world of graphic design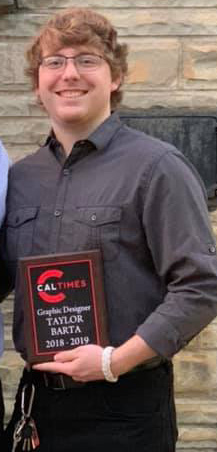 Growing up, I always put a focus on my education and improving my skills to be successful in the graphics and art field. Discovering Cal U early on in my educational career put me further towards achieving my goal of finding success in a graphics production job. I was first introduced to CalTimes by one of my professors, Mrs. Susan Urbine. She was so gracious and recommended me for the Graphic Design position for CalTimes after my second semester of classes with her. I never would've guessed that working for the school newspaper would teach me so much and open so many doors. Being a part of a professional, office-like environment tested both my individual skills for designing for deadlines, and working with a team to construct amazing layouts and an overall pleasant looking newspaper.
I was blessed to work with some amazing people and we were all able to learn a lot from each other. The entire media suite, WCAL (radio), CUTV (television) and CalTimes(newspaper) is a massive, cohesive unite that that I was able to be a part of in its entirety. I learned from the radio how to be myself and express my thoughts and love for entertainment in a professional manner, I learned from CUTV how much teamwork is necessary to accomplish even the most minor tasks sometimes and finally from CalTimes, I learned how important time management and organization is to succeed in a professional environment.
I was lucky enough to spend 3 wonderful years in and around the media suite. If it wasn't for the connections I made, I wouldn't have had the amazing college experience I did and be in the position I am now. Post-graduation, I took a 4-month break from any and all worries and spent the summer in New Jersey with my family. I got to surf in amazing conditions and even a few Hurricane swells, making that summer one of the most memorable ever. What made it even better was getting a call from two Cal U alumna and owners of a print production company, Peelz TM. They specialize in the design and print production of stickers, wraps and decals for diabetes medical equipment. They were reaching out to newly graduated CalU Alumni for a new position with them. I was pumped at the opportunity to work for a small company who was looking to upgrade and begin expansion. The call went amazing and we scheduled an interview. Being my usual self, I completely overprepared for their chillax vibe and environment, but it must have worked for me. I heard back from them fairly hastily and since October of this year, I've been working there as a Print Production Manager and I couldn't be more pleased. We all talk about Cal U often and the memories of teachers, events and clubs. I attribute an immense amount of my success to the media suite. Without everyone there, students and staff alike, I don't know if I would've found this success on my own. Thank you, Cal U!
Besides the new job, I continue my love for entertainment and plan on hosting many reunion shows for my old WCAL radio show, The Chill Session, very soon. Most of my free time I invest in going to Yu-Gi-Oh card tournaments 3-4 times a week. I've actually earned my invitation to compete in the National tournament this year and I'm pumped for that. I will continue being the optimistic, nerdy, surfer kid who can't help but sing along to songs that I love. I am blessed with where I am and can't imagine what this world still has in store for me.
Finally, I want to wish the new staff of the Cal Times good luck for this semester and for many semesters to come. Keep journalism alive and kick some serious butt!
About the Writer
Taylor Barta, Graphic Designer
What's going on? Taylor Barta here. I'm the Graphic Designer at the Cal Times.

Creativity is one of my specialties and success is my goal. I'm a senior...