20 Must-Watch Horror Movies for Halloween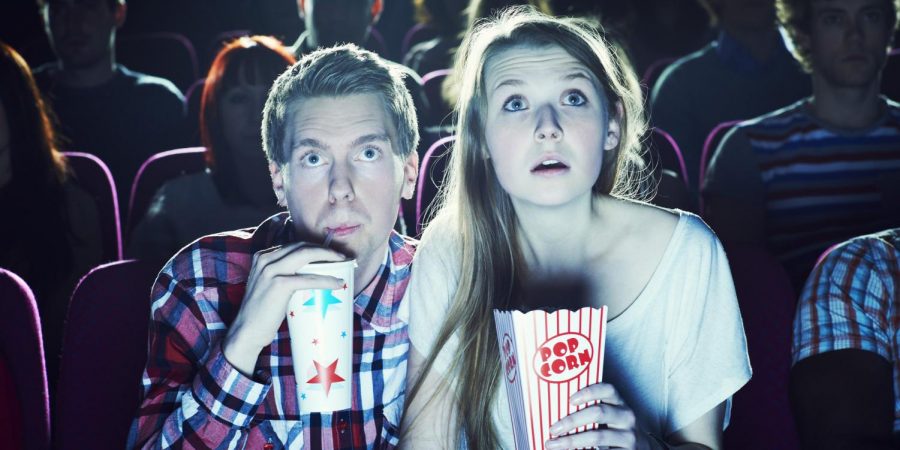 Evan Peffer, Staff Writer
September 25, 2019
1.
Psycho
(1960)
A true classic, this movie is seen as the turning point into modern horror, turning the genre into what we know it to be today. 
Where to watch:
Amazon
2.
Texas
Chain
Saw
Massacre
(1974)

The true first slasher movie, this film sparked a turning point in the horror genre. This franchise contains eight movies, so you can fill up a whole week's worth of movies if you'd like.
Where to watch:
Shudder
3.
Suspiria
(1977)

Follow a group of girls in a boarding school with witches. Amazing color-blocked lighting design makes this beautiful to watch.
4.
Halloween
(1978)
With 11 movies spanning five continuities, this franchise might be one of the most convoluted of them all. The original is by far one of the most quintessential horror movies for any fan of the genre to watch.
Where to watch:
Shudder
5.
Evil
Dead
(1981)
If you're looking for something completely off the wall with goofy 80's gore and humor, the original is the movie for you. The remake, on the other hand, is straight-forward terrifying and good if you're looking for some real scares.
Where to watch:
Hulu
6.
The
Thing
(1982)
Following a group of workers at a base in the Arctic, an unknown lifeform starts to assimilate them into its own. With an ambiguous ending, you'll never truly know what happened.
Where to watch:
Starz
7.
A
Nightmare
on
Elm
Street
(1984)
One of the most iconic slashers of the 80's, this franchise is about Freddy Krueger, a child killer who hunts teens in their dreams. Considered one of the big three in horror, there's no real escape. You can't stay awake forever.
Where to watch:
Amazon
8.
Re-Animator
(1985)

Another good movie for someone less interested in real scares, this movie follows two medical students trying to cure death. Performances with the perfect amount of camp make this movie and its sequels hilarious and good for watch parties.
Where to watch:
Shudder
9.
The
Fly
(1986)

A pinnicle of practical effects, this is a go-to film for body-horror. Watch Jeff Goldblum transform into a human/fly mutant creature and feel your skin crawl with every second.
Where to watch:
Amazon
10.
Pet
Sematary
(1989)
This film focuses on grief and its effect on a simple small-town family as they deal with the concept of death and some hints of the supernatural. 
Where to watch:
Amazon
11.
Scream
(1996)
Another turning point of horror, this franchise satirizes the slasher horror tropes of the 80's and early 90's. This movie is the beginning of the funny/meta horror trend that gained steam in the 2000's.
Where to watch:
Netflix
12.
Cabin
Fever
(2003)

Another standard in the realm of body horror, this film follows a group of friends staying in a cabin where they pick up a flesh-eating bacteria from some contaminated water. You're guaranteed to cringe.
Where to watch:
HBO
Go/Now
13.
Saw
(2004)

Taking the slasher genre to a new high, this franchise is about a slasher who doesn't technically kill his victims. He instead places people who he feels don't respect their life into 'games' where they are able to survive-but for a price. 
Where to watch:
Showtime
14.
The
Mist
(2007)

This movie probably contains one of the saddest endings in all of horror. A group of citizens of a small town in Maine get trapped in a grocery store while a mist engulfs the town. They must watch their backs though, because there are monstrous things in the mist that nobody can imagine.
Where to watch:
Amazon
15.
1408
(2007)

In my opinion, this is one of the absolute best Stephen King adaptations ever made. Watch as a horror travel author grapples with his own baggage over his dead daughter and ruined marriage all while battling a hotel room where nobody lasts more than an hour.
Where to watch:
Amazon
16.
Trick
'r
Treat
(2009) 
This is less of a straightforward movie, and more of a series of smaller scenes all centered around Sam, a little boy who is trying to save Halloween by teaching a lesson to anyone who disrespects the holiday and its culture.
Where to watch:
Amazon
17.
Paranormal
Activity
(2009)

The most popular found-footage horror movies since Blair Witch, you follow a couple battling a demonic possession. This is one franchise where the sequels are better.
Where to watch:
Starz
18.
Case
39
(2010) 
Criminally underrated, this movie follows a social worker who fosters a little girl from one of her cases. Thinking the parents were the problem, she doesn't realize the real villain until it's too late.
Where to watch:
Hulu
19.
Cabin
in
the
Woods
(2012)

The perfect film for any fan of the genre. Whether you are tired of worn-out clichés and want to make fun of them, or want to see how many references you can spot, this is one of the best done horror-comedies ever made.
Where to watch:
Amazon
20.
Hush
(2016)

With only two characters for the majority of the movie, it's a cat-and-mouse game where the protagonist is deaf. This new character trait adds a nice twist, with forced ingenuity and a very cool sound design to go with the concept.
Where towatch:
Netflix