"Campus Talk" with Geraldine M. Jones, president, California University of Pennsylvania, Spring 2019
Students ask questions in open forum
In the South Wing of the Convocation Center, President Geraldine M. Jones addressed the university in her Campus Talk. At 11 a.m. on Tuesday, students were able to ask Jones and different faculty members questions in an open forum, and Jones provided information on some of the upcoming events at Cal U for the spring semester. The wing was near-completely filled with students and faculty. 
After polling the students in the audience on class standing and status as an on-campus, off-campus, or commuter student, Jones opened the floor to student questions. Students either approached the microphone in the center of the aisle, facing the podium Jones spoke from, or simply asked from their seats.
One student inquired about the status of the parking garage and its future. Jones explained the on-going legal process and that there is nothing new to report yet. She promised to keep the university informed on new developments.
"We will not have that garage open until we know it's safe," Jones concluded. 
Another student asked, "What kind of programs or initiatives are being brought in to improve the four-year graduation program."
Jones answered by explaining how the program is working, and sometimes those involved in the four-year grad program graduate in less than four years. She then introduced Thomas "Dave" Garcia, the Vice President of Enrollment Management, to elaborate on the question. He highlighted how 2.8 percent of students that graduated last year graduated in 3 years. Garcia then talked about an accelerated program that allows students with a 3.0 G.P.A to take 40 percent of graduate-school credits, while paying undergraduate rates.
A student inquired about our status in the accreditation process. The Middle-States Commission on Higher-Education's accreditation visit, Jones explained, will be visiting next April. A team of individuals will be on-campus, looking at every aspect of Cal U. Cal U's accreditation team, as well as faculty and staff and student committees, has been working on updating the university standards. Jones explained how having an accredited program "is the reason you all have financial aid."
"Not only will be they be in scheduled meetings with faculty staff and students," Jones explained, in reference to the Middle States Commission on  Higher-Education accreditation team, "they will be walking around campus and they may just come up to any student and ask 'do you know about Middle States Commission?'"
A card providing information on the Middle States Commission was provided to the audience at the beginning of the Campus Talk.
A number of students raised questions about minority students and minority student retention rates and more diversity in student organizations. Jones and Daniel Engstrom, Associate Provost and Associate Vice President of Academic Success, assured the audience that their goal is to ensure all students who come to the university walk at commencement. Additionally, Jones and Sheleta Camarda-Webb, director of Multi-Cultural Affairs and Diversity Education, informed the audience of the existing African-American clubs and organizations on campus and encouraged more creation of African-American clubs and organizations through student government. 
"We want every student to leave with success," Jones said. 
Before Jones began answering questions, Director of the Office of Military and Veterans Affairs Robert Prah, presented the California University of Pennsylvania's Presidential Medal for Patriotic Service to three military-veteran students. Emma Gebrosky, Brandon Perridon and Logan Tantlinger returned from active-duty service in the National Guard and Army Reserves to complete their studies. 
Towards the end of the Campus Talk, Jones reassured the audience that this kind of event is in place, not only for the university to talk directly to the president, but to give the students ideas on what to ask the university how it can better accommodate their students and promote their success.
"It's not about me today, it's about you all," said Jones. 
About the Writer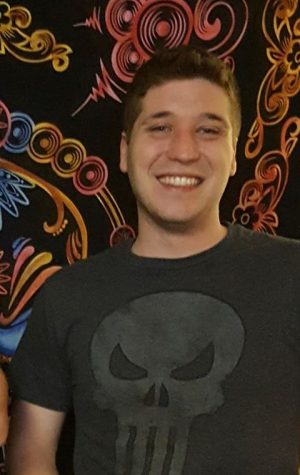 James Rudolph, News Editor
James Rudolph is originally from Pittsburgh and graduated from Central Catholic High School in 2011. From there, he went to Temple University and studied...