From Home to Harrisburg
A presentation and conversation on civic-engagement
Sean Crampsie, Director of Government Relations for the Association of Pennsylvania State Colleges and University Faculties, visited California University for a discussion and presentation on  March 28. At 12:30 p.m., Crampsie gave his presentation on the importance of civic engagement, before engaging in dialogue with an audience of students and faculty members. 
After introductions from Cal U professors Melanie Blumberg and Joseph Heim, Crampsie first asked the audience, "What upsets you about your town?" 
A myriad of answers responded Crampsie as students and faculty thought of issues around the school and community, as well as issues in their hometowns as well. Garbage and trash everywhere, fracking and construction, and a lack of a recycling program in areas like South Greensburg were all highlighted. Crampsie highlighted one specific issue facing small-towns, which the audience concurred with, as there is "nothing to do" in these towns.
Crampsie then posed the question, "Have you done anything about it." 
The presentation highlighted how civic engagement allows citizens to enact the kind of change they want to see in their communities. Issues such as crime, infrastructure, economic development, and town growth are all addressed in civic engagement. Crampsie explained the types of engagement: advocacy for or against a person or thing, or attention advocacy by bringing attention to public issues. Crampsie said the best ways to engage are by letters, phone calls, holding rallies, in-person meetings with your local government representatives, voting, and running for office. 
Crampsie highlighted how election participation is the best and most common form of civic engagement. Voting is important because your voice represent your voice, and when you don't use your vote, decisions are made for you, according to Crampsie.
"Our democracy and community falls apart when no one is engaged," said Crampsie. 
One area that Crampsie focused on was interest groups, and how those interest groups act as advocates for citizens' concerns. In the state of Pennsylvania there are 4,397 registered Political Action Committees (P.A.C.s) all advocating for interests in oil/gas, water, education, gaming, health care, unions, and more. 
Crampsie posed the question, "What comes to mind when you think 'special interest groups?" 
Some of the terms that came up as stereotypes for P.A.C.s were greed, secretive, unethical, corrupt, slimy, and corporate. Crampsie proposed we changed those to advocate, assists with policy, and offer insight.  He encouraged the audience to avoid the "House of Cards stereotype.
"My favorite interest groups, and I hope is with you, is students." Crampsie encouraged the student members of the audience to look to interest groups that promote student and education interests. Crampsie brought to the audience's attention two proposals in Harrisburg that are rallying students and faculty across Pennsylvania. 
One of the proposals is for the Pennsylvania Promise, which is a program dedicated to providing free and affordable tuition at public institutions of higher education. Crampsie explained how some of the issues facing state colleges, such as dropping enrollment and private schools' proficiency at recruiting prospective students. 
The other proposal is for the Pennsylvania Student Higher Education Lending Protection (H.E.L.P.), which is an effort to provide opportunities to refinance high-interest debt and provide tax credits for those with outstanding loan debts. Additionally, the plan provides incentives for employers to help pay down student loan debt of employees. 
"If you want to have a state system with 14 universities, you've got to back them up," Crampsie said.
Originally from Carlisle, P.A., Crampsie was elected to the Carlisle Borough Council in 2016. He serves as chairperson of Council's Community Planning and Smart Growth Committee, and serves as co-chair of the Budget and Finance Committee.
Sponsors of the event include the Campus Vote Project and the American Association of State Colleges and Universities.
About the Writer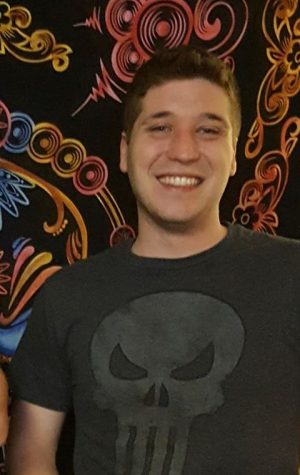 James Rudolph, News Editor
James Rudolph is originally from Pittsburgh and graduated from Central Catholic High School in 2011. From there, he went to Temple University and studied...