A Life Full of Marvel and Imagination, Looking back on the life of Stan Lee
It is amazing to see how one man's imagination in creating a world, filled with heroes, villains, and everything in-between, become one of the most powerful and inspirational forces of all time. The work of Stan Lee, one of the founders and writers for Marvel comics, has become some of the most recognized and influential creations around the world. Names and characters like Spider-man, Captain America, Black Panther, Thor, Wolverine, The Hulk, The Human Torch, Iron Man, and countless others, are known throughout the world, all thanks to the work of Lee and Marvel Comics. He revolutionized comic books, their stories, and their characters in a way that was unheard of during its inception. Lee has always been considered a giant in his field and a literary visionary that cemented his name in immortality. In the wake of his death, his legacy and work will continue to touch and inspire people for eons to come.
Born on Dec 28, 1922, Stanley Martin Lieber lived in the Bronx with his family of Romanian immigrants. At the age of 10, he read the works of Shakespeare, Arthur Conan Doyle, Edgar Rice Burroughs, and Mark Twain. He was heavily inspired by the movies of Errol Flynn as well. When he was 17, he graduated from DeWitt Clinton Highschool in the Bronx and set out in life to become a writer of great literature. After working at various jobs, he was hired at Timely Publications by Martin Goodman, a relative and future co-founder and publisher of Marvel. He wrote and edited stories that were generally in the superhero genre, making eight dollars a week.
While working at Timely, he met and worked with Jack Kirby, the legendary co-writer and artist for Marvel. At the time, Kirby and his writing partner Joe Simon, another comic writer and artist, created the character, Captain America, who would become a pivotal character in Lee's future career. When Simon and Kirby left Timely for a rival company, Lee was appointed chief editor. The company eventually became Timely Comics, which would evolve into Marvel Comics.
Lee used multiple pseudonyms to give the impressions that he had a plethora of writers at his disposal, including his first name broken into parts, Stan Lee, which he legally changed from Lieber in the 1970's.
When WWII broke out, Lee remained stateside in the Army Signal Corps, where he wrote training manuals while continuing his work in comics. In 1947, he married model Joan Clayton Boocock, and the couple moved to Long Island two years later. Their daughter, Joan Celia "J.C." Lee was born in 1950. Their daughter, Jan Lee was born in 1953, but died three days after her delivery.
The golden age of comic books reached a peak during the 1940's as sales boomed. However, comics began the target of censorship, as a Senate sub-committee held investigations into allegations that comics promoted immorality and juvenile delinquency. The Comics Code Authority was created, and they removed gore, moral ambiguity, wit, literary influences, and attention to social issues, were removed. Comics and their characters became boring, stale, and predictable, leading to a decline in sales by almost three-quarters within a few years.
Lee grew tired of this repetition and "cookie-cutter" formula seen in comics. He was encouraged by his wife and his boss to continue writing superhero stories. In 1961, Lee and Kirby, in the now Marvel, produced their first issue of The Fantastic Four. Filled with elements of self-torment, internal strife and non-secret identifies, the comic was a huge success. The Incredible Hulkheld the same success, as it offered a Jekyll/Hyde feel. In 1962, along with artist Steve Ditko, the essential and most recognizable hero in Marvel (arguably) was born.
Spider-man received backlash from Lee's superiors and fellow writers. Some felt that "spider" connotation wouldn't be popular with people, since people are so afraid of spiders. Other felt that the protagonist, Peter Parker, wasn't a strong enough character for the public to like, as he was a timid and scrawny teenager. Lee's determination proved them wrong, and Spider-man, with his quick-wit and introspective tendencies, became one of the most recognized fictional-characters of all time, creating movies, television shows, video games, and a Broadway musical. These kinds of deep characters with existential outlooks continue with characters like Thor and the Silver Surfer, who offer unique perspectives on mankind's impact in the universe.
In the 1980's, Lee moved to Los Angeles to help Marvel appear on the big-screen, but with little success. It wasn't until the 1990's did Marvel see a revitalization on screen, with Toy Biz reviving the X-Men animated series, which directly lead to the X-Men franchise that saw success since 2000.
In 2001, he started POW! Entertainment, but received nearly no income from Marvel movies and TV series', until he won a court battle in 2005. Walt Disney Company paid 4 billion dollars to acquire Marvel, and announced it paid 2.5 million to increase its stakes in PoW! After this, the historic impact, and financial rewards, behind Marvel movies became apparent.
On Nov 12, Stan Lee passed away at Cedars-Sinai Medical Center in Los Angeles. His cause of death was pneumonia. He was 95 years old.
The world mourns the passing of this literary legend. Multiple celebrities who worked with Marvel and appeared in Marvel films, including Ryan Reynolds, Chris Evans, Robert Downey, Jr., Dave Bautista, Scarlett Johansson, Chris Pratt, Tom Holland, Patrick Stewart, and endless others, have all expressed their sorrow at the icon's legend.
DC Comics, the longtime rival of Lee and Marvel Comics, issued this statement, "He changed the way we look at heroes, and modern comics will always bear his indelible mark. His infectious enthusiasm reminded us why we all fell in love with these stories in the first place. Excelsior, Stan."
During the 2010 documentary, With Great Power: The Stan Lee Story, Stan Lee said, "I want to do more movies, I want to do more television, more DVD's, more multi-sodes, I want to do more lecturing, I want to do more of everything I am doing. The only problem is time. I just wish there were more time,"
About the Writer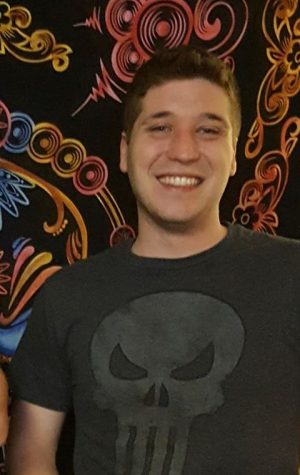 James Rudolph, News Editor
James Rudolph is originally from Pittsburgh and graduated from Central Catholic High School in 2011. From there, he went to Temple University and studied...