Facing Hate, Pittsburgh Remains Strong
Squirrel Hill community rallies after synagogue shooting
Hang on for a minute...we're trying to find some more stories you might like.
Pittsburgh was rocked this past Saturday by one of the most violent hate-crimes the city has ever seen. 
At 9:50 a.m., a man armed with an AR-15 and handguns walked into the Tree of Life Synagogue on the corner of Shady and Wilkins Ave. Five minutes later, two police cars were dispatched in response to shots fired from the lobby of the synagogue. 
The gunman fired at police with his automatic weapon, and police called for "every unit in the city" as some of the officers were wounded. SWAT teams responded at 10:05 a.m., and were given an update on the suspect, including a description and possible wounding by other officers. At 10:30 a.m., SWAT team entered the synagogue, finding a spent magazine, wounded individuals, and bodies. 
At 10:52 a.m., the gunman, who barricaded himself on the third floor, opened fire on the officers, hitting one of them. For the next ten minutes, police said they were negotiating the gunman, who was still barricaded with multiple weapons. At 11:04 a.m., the gunman surrendered and came out with his hands in view. Eight minutes later, he told an officer his chilling motive of "all these Jews need to die." 
In the aftermath, 11 people were killed, and six wounded, including four police officers. The names of the deceased are Irvin Younger, Melvin Wax, Rose Malinger, Bernice Simon, Sylvan Simon, Jerry Rabinowitz, Joyce Fienberg, Richard Gottfried, Daniel Stein, and brothers Cecil and David Rosenthal. The youngest of the deceased was 54-years-old, while the eldest was 97-years old.
The shooter was 46-year-old Robert Bowers, and, by 8:05 p.m. of the same day, he was prosecuted with 29 federal charges. U.S. Magistrate Judge Robert C. Mitchell signed the criminal complaint, charging Bowers with 11 counts of obstruction of exercise of religious beliefs resulting in death, 11 counts of use of a firearm to commit murder, four counts of obstruction of exercise of religious belief resulting in bodily injury to a public-safety officer, and three counts of use and discharge of a firearm during and in relation to a crime of violence. If Bowers is convicted for hate crimes, he could face the death penalty. 
From the Baldwin Borough, Bowers was described as "a ghost" by Jim Brinsky, a childhood friend of Bowers. His neighbors said he was rarely there, and never noticed him until he said "hello" to them on occasion. 
However, his online presence was drastically different. 
On Gab, a social media website that encourages free-speech, causing it to be embraced by white-nationalists, Bowers showed his anti-Semitic colors. A few months before the shooting, Bowers exploded with highly critical and abusive anti-immigration and anti-Semitic comments, weaving a tapestry of conspiracy theories involving these groups. He posted a link to a YouTube attached. He flaunted his collection of firearms, to which Bowers had 21 registered in his name, including the AR-15 and three video called "The Mass Migration Agenda," with the message "diversity for you but not for jew" handguns he carried out the massacre with.
The final tweet bowers sent out minutes before he opened fire attacked the Hebrew Immigrant Aid Society. It read, "HIAS likes to bring invaders that kill our people. I can't sit by and watch my people get slaughtered. Screw your optics. I'm going in."  
"This is the darkest hour in our city's history," said Mayor Bill Peduto during the Memorial held the following day, "But here's another thing about Pittsburgh. We are resilient. We will work together as one. We will defeat hate with love. We will be a city of compassion and he will be welcoming to all people." 
Even in the face of the worst mass-shooting in the city's history, the resolve of the Squirrel Hill Jewish Community, and the city of Pittsburgh, never faltered. Within six hours of the shooting, organizers from the Squirrel Hill community, including high-school youth, formed a memorial for the victims. 
The entirety of Wilkins Ave., from the CVS on the corner of Wilkins Ave. and Whiteman St. to the synagogue, was blocked off by police. Members of the community came down to the Tree of Life Synagogue, across the street from the Children's Institute of Pittsburgh, came to pay respects and establish memorials of flowers of their own. The street remained blocked off until late Sunday evening. Organizations from around the city, including two Muslim groups, CelebrateMercy and MPower Changed, raised thousands of dollars for the victims' families. Thousands of people gathered at Pittsburgh's Sixth Presbyterian Church for an interfaith prayer vigil just hours after the shooting. 
President Donald Trump denounced the attacks and planned to visit Pittsburgh in the wake of the attack. He tweeted on the day of the shooting, "All of America is in mourning over the mass murder of Jewish Americans at the Tree of Life Synagogue in Pittsburgh. We pray for those who perished and their loved ones, and our hearts go out to the brave police officers who sustained serious injuries…" Trump will visit, with First Lady Melania Trump, on Oct. 30. 
A memorial of flowers was made at the Survivor's Tree at the 9/11 Memorial in New York, showing how the country stands with Pittsburgh. As more memorials are made, and more vigils are held, we are reminded how Pittsburgh, even in the wake of tragedy, stands against hate, and stands together. 

About the Writer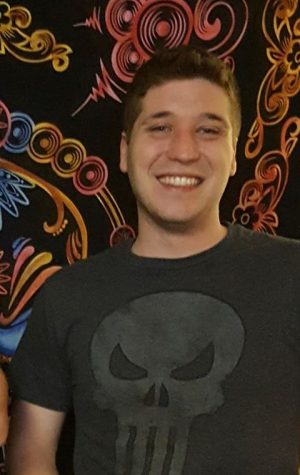 James Rudolph, News Editor
James Rudolph is originally from Pittsburgh and graduated from Central Catholic High School in 2011. From there, he went to Temple University and studied...