Cal U Liberal Arts festival spotlights arts and culture
The sound of Salsa Latino band Gavasbeat greeted high-school and college students alike as Cal U's Liberal Arts Festival began this past Tuesday. The celebration of arts and culture showcased work from Cal U's students, clubs, and organizations. People gathered to appreciate artistic work, forms of expression, history, and different food throughout the day.
Held in the Manderino Library, the Liberal Arts festival occupied the first, second and third floors. On every floor, a different culture and art form was represented, as art and various international flags were displayed everywhere. Out on the front steps, Gavasbeat, as well as the Young and Gifted Gospel Choir and an African Camara Drum and Dance Group performed for the entire event.
Attendants were greeted as soon as they entered the library with a center rack about censorship, which contained different books that were "Banned Books" at a point in time. Behind it, a table containing an essay on Trigger Warning was displayed with dresses designed to represent different aspects of mental health with the aim to promote mental health awareness. 
The rest of the first floor contained a large area with different food, and clubs set up tables to display their work and start a conversation with people interested in them. The Communication, Design and Culture department hung-up t-shirts to display their graphic prowess, and the Judo and Self-Defense Club were there to give demonstrations. The Forensic Science Club displayed blood-splatter analysis boards. The Jewelry and Metals Casting and Fabrication at Cal U displayed some of their fine work alongside the Chinese Writing and Cultural Club.
The second floor continued with food and cultural displays. While mainly containing the private dining area for high-school students, Latin and Arabic art and culture had the biggest presence. In one corner, Mola art, the traditional texture art of the indigenous people of Panama and Colombia, was displayed alongside a Huichol Yarn painting, an art form practiced by people in parts of Mexico. In the Arabic corner, a belly dancer, alongside students who jumped in, gave a performance. Additionally, a henna painting station stood alongside Middle-Eastern instruments.
On the third floor, two different exhibits on World War II were the attraction. One was presented by the Heinz History Center, which contained information and memorabilia about prominent figures from Pennsylvania that held national influence during the war. The other exhibit looked the same, but everything contained in the exhibit was information about local residents of California and surrounding towns and their roles in World War II. Everything was donated by a local historical society, such as the California Area Historical Society, the Donora Historical Society, the California Army Navy Surplus, the Fayette County Historical Society, and more. 
The festivities themselves lasted from 10:30 a.m. to 3 p.m.
About the Contributors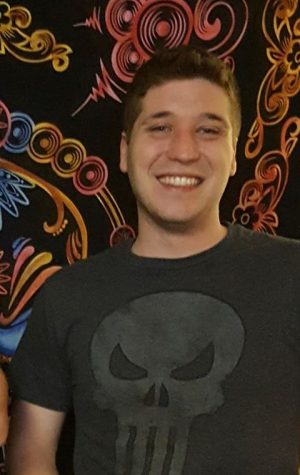 James Rudolph, News Editor
James Rudolph is originally from Pittsburgh and graduated from Central Catholic High School in 2011. From there, he went to Temple University and studied...