Belle Vernon blasts Greensburg Salem in CUTV's HSF Game of the Week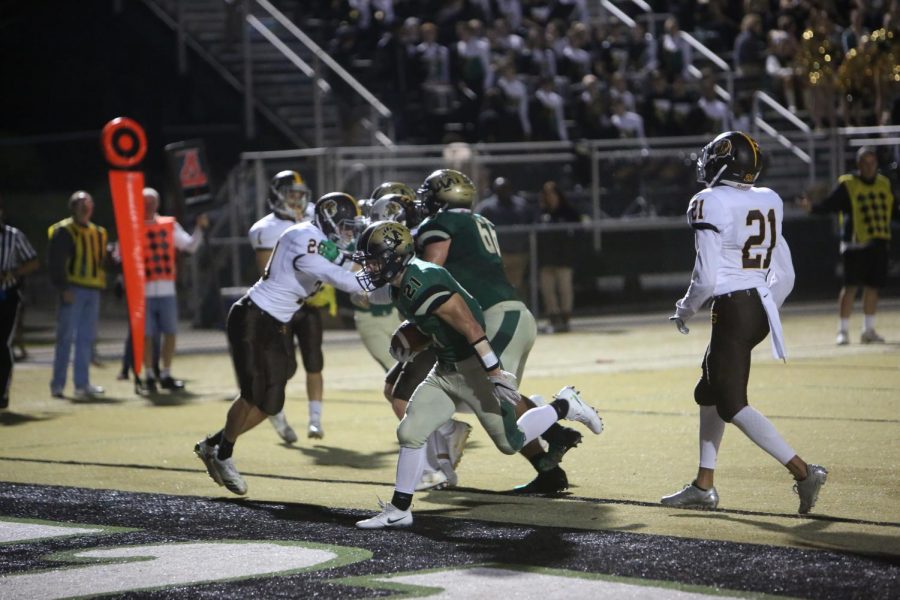 From the gold turf in Rostraver, the Belle Vernon Leopards played host to the Golden Lions of Greensburg Salem in a 4A Big Nine conference matchup. The crisp late September air made for a great football atmosphere and both of these teams were hungry to increase their win streaks in the middle of the season. Belle Vernon would get things started in the first quarter with a 48-yard rush from senior RB Mason Pascoe, making the score 7-0. Pascoe would get his team back into the score column with another touchdown rush, this time via a 70-yard TD rush, increasing the lead to 14-0.
Moving into the second quarter, Pascoe would score the hat trick with his third TD of the day, this time on a 6-yard rush inflating the score to 21-0. Later in the second quarter, junior RB Larry Callaway would rumble into the end zone for a 2-yard touchdown rush making the score 28-0 after the extra point for Belle Vernon. The Golden Lions would snag an interception and promptly score off it when junior QB Trent Patrick would connect with senior WR Dajauhn Hertzog on a 15-yard TD pass making the score 28-7 with only a few minutes remaining in the first half. Pascoe would score once again for the Leopards on a 48-yard TD rush, increasing the score to 35-7 at the half.
In the third quarter, Belle Vernon would pick up right where they left off when Callaway would rush for a 16-yard score, padding the large lead for the Leopards, 41-7. However, an extra point breakdown would turn into a failed two-point conversion attempt, keeping the Leopards off the board in a special teams sense. Greensburg Salem wouldn't roll over however, thanks to a scoring effort from senior Adam Cuccia who rushed for a 14-yard TD chipping away at the Belle Vernon lead 41-14. The final score of the contest would come from Belle Vernon, a 5-yard TD pass from junior QB Jared Hartman to junior WR Nolan Labuda making the final  score 48-14.
Belle Vernon would improve to (3-1) 4-1 with the victory, moving into a conference matchup next week when they host the Trinity Hillers. Greensburg Salem would fall to (2-1) 2-4 and will look to rebound next week when they head to West Mifflin for a matchup with the Titans. A full replay of the game is available on YouTube on CUTVSports1, and highlights will be shown on the Tuesday edition of CUTV's High School Football Roundup show which will also be uploaded to the same YouTube channel on Tuesday.