Childhood memories of Malcolm McCormick
Deceased rap artist Mac Miller was born and raised in Pittsburgh, Pa., and the writer of this story, from the same neighborhood, grew up alongside him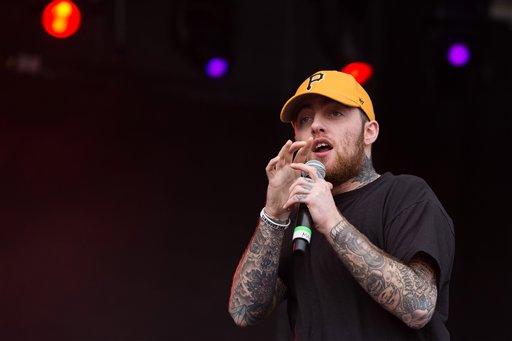 The music industry and, indeed, fans across the world were rocked by the death of Mac Miller on Sept. 7. At the young age of 26, Mac Miller managed to achieve stardom and influence most people only dream about. His fans have credited him with being a source of great inspiration, and his friends remind us of the joyful and charismatic person that he was at heart. As we mourn the loss of one of the more talented and enigmatic young-rappers out there, I would like to share with you a different story. This is my account of the Malcolm McCormick I knew from my youth.
   We grew up in the same neighborhood together, the Point Breeze neighborhood in Pittsburgh's East End. The McCormicks lived on South Lexington Ave., just four blocks away from my family's residence on Bucknell St. Both of our houses were close to the Frick Park Market, the small convenience store in our neighborhood that he brought to fame. The neighborhood we lived in was an interesting microcosm in the city. Despite being in the middle of the city, it was the kind of place you could walk out of your house at any time and meet up with your friends, as a kid, which is exactly what we did. 
   We both attended middle school at St. Bede School, a Catholic school right in front of the street I lived on. He was a year older than me and in the grade above me, but we knew each other and saw each other all the time. Malcolm and his friends, Jimmy and B.J., befriended my step-sister, Ashley, when she started attending St. Bede. Initially, I thought their intent wasn't the noblest, but they all eventually became close friends, a friendship that persisted past middle school. 
   Thinking back on it, I would never guessed Malcolm would begin rapping. One of my last middle-school memories is of him with long, curly hair with a guitar under his arm while singing some Dave Matthew's song to a girl at our school. I even think he was wearing a puka shell necklace, those bead necklaces that was a hallmark of the early 2000's, while doing it. I knew he listened to rap though. 
   One thing I can attest to, something that all his fans and friends discuss, is his energy and charisma. Even as a kid and early-teen, Malcolm's energy could fill up any space he was in. He would walk into a room and immediately command the whole situation just by simply being there and cracking a joke. He could get away with anything too, I mean he was just so charming to everyone. People wanted to be around him all the time, people our age and adults as well. And he was always smiling. Either some half-cocked grin, or a full-on, beaming smile, Malcolm always had a look of positivity on his face. Not to mention he was one of the funniest individuals I met in my youth.
   As he graduated before me, and I graduated the following year, our contact dropped. I didn't see too much of him while he was at Winchester-Thurston, and only a little more often when he went to Allderdice, because my step-sister went there as well. I would see him at the occasional party, but the most I would see him is when he was selling his first mix-tape. Under his first moniker of EZ Mac, he would have his CD's in his backpack as he biked past the Frick Park Market in Point Breeze, or the Smoke Wizard (another convenience store) in Squirrel Hill. 
   Those times in high-school were some of the last times I saw him for a while. I went to Philadelphia to try out Temple University, and he went on to pursue his career in music, to which he achieved fame and fortune. I was never fully into his music. Malcolm could write, and his tracks were good, but I could never get down with his voice. "Smile Back" and "Nikes on My Feet," however, were easily my favorite songs by him. What I loved was how he represented our area of Pittsburgh. Frick Park Market was a childhood hangout, and Blue Slide Park was a center for the kids and teens of Squirrel Hill and Point Breeze to come together. His music videos contained locations, like Allderdice or the nature trails in Frick Park, that only a person from our area would recognize. 
   The last I saw Malcolm was the summer before I attended Cal U. I just moved back from Florida and was with a bunch of my friends at the Squirrel Hill Sports Bar on Forward Ave. the six of us walked in and noticed that one area of the pool tables was shut-off from the rest of the bar. We approached the area and, lo-and-behold, the successful Malcom McCormick sat in a bar stool, with the same smile he always had. One of the other people I knew personally was Will Dzombak, another St. Bede graduate who was friends with my full-blooded sister, Alissa, and Wiz Khalifa's manager. The other person so happened to be Ed Sheeran. 
   I walked up to Will and caught up with him, then I walked up to Malcolm who looked up and me and said, "Jimmy! Holy shit you lost weight!" 
   Remembering how he teased me for being a chubby kid, I responded with, "Yeah, looks like you didn't get any taller." We both laughed and shook hands and we caught up. He even introduced me to Sheeran, which consisted of only a handshake and a comment on how I was wearing a Manchester United shirt. 
   And that was the last time I saw Malcolm McCormick. He continued with inspiring people through his music until the very end. It's comforting to know that Malcolm always got to do whatever he wanted to do in life and did it with such talent and energy. While my memories of him are within my youth, It's comforting to know that Malcolm will be remembered as the talented, energetic and personable person that he always was.