Cal U faculty-staff convocation addresses enrollment, new marketing efforts
On Sept. 13, in the Performance Center in the Natali Student Center, Cal U President Geraldine M. Jones gave the faculty important information about the upcoming year. The focus: our new marketing campaign and Cal U's brand. The faculty welcomed President Jones for her seventh "State of the University" address.
"I am beginning my address this morning with a reminder to our purpose," she said, "to empower students to reach their full potential, so they can graduate with the knowledge, skills and confidence it takes to build successful careers and rewarding lives. Nothing is more fulfilling than seeing our students graduate and set off in pursuit of life's infinite possibilities," said Jones at the Faculty-Staff Convocation.
Jones then reminded the faculty about the message behind the University's new marketing campaign with the slogan: "Build You." 
Developed by Carnegie Dartlet, a marketing company, Cal U's new marketing campaign "Build You" was part of the main focus of Jones' address. Through Carnegie Dartlet' s research conducted through focus groups and surveys, the marketing campaign is designed to highlight Cal U's "authentic character," according to Jones. The ads, tested in focus groups, are designed to deliver a clear message portraying Cal U's personality. Some of these ads are already on billboards displayed in the surrounding region along Route 70, on Liberty Bridge in Pittsburgh, and in other areas. 
Through research, the University has found that the biggest interest in Cal U is coming from high-school students and adults looking to attend college, which is becoming a larger demographic at Cal U. 
Jones explained how the marketing campaign is part of Cal U's "Strategic Enrollment Plan," to increase the numbers of incoming students, and the caliber of students who apply for enrollment. Jones noted that the number of students in upper-tier education performance levels enrolling at Cal U has increased, indicating more successful students are attending. 
"I maintain that keeping our academic standards is our approach," Jones said. 
One of the other aims of the enrollment plan, through the marketing strategy, is reaching a broader academic region. There will be an increased effort to reach students beyond the borders of Pennsylvania. Additionally, a new strategic approach to scholarship dollars is being utilized to encourage parents and students to choose Cal U. 
As far as current students, Jones gave the faculty the approximate number of 7,300 students enrolled for the Fall 2018 semester, which is a decline in headcount of about 6 percent, compared to the numbers on the same date of 2017. On the flip-side, the rate of incoming freshmen is higher, indicating the positive efforts of recruiting. Also, the amount of retaining students has remained the same as last year. 
"Every one percent increase in our student population gives us approximately, $740,000 additional dollars to work with," Jones added.
Jones explained how, during the 2017-2018 year, the state system gave Cal U more new programs than any other school in the state system. These will be utilized as part of the effort in recruiting students. 13 Faculty programs were created or converted into new concentrations, such as plant biology or public affairs. 6 new minors were added, such as gerontology and African-American studies. A brand-new program in molecular-biology was approved and will debut in Fall 2019. As new programs were added, new faculty has been added as well.  
This new marketing campaign is one part of Cal U's process of brand-building. In addition to that campaign, a new Vulcan logo for our athletics will be released later during the Spring 2019 semester.  
For a financial update, Jones discussed how the university closed 2017-2018 with a balanced budget, without dipping into reserves. The university closed with a balanced budget four out of the past five years. In fact, the year ended with a surplus. Jones highlighted, however, that challenges are still ahead, but guaranteed that lay-offs are "not on the table" this year. To maintain a balanced budget, areas such as Travel and Grant-Funded projects will be under the most scrutiny. 
Additionally, a case has been found against the original contractors for the Vulcan Garage, which has been closed since 2016. 
At the end of her address, Jones discussed two upcoming events for the university.  
Vulcan Fest, taking place from Oct. 12-14, or Homecoming weekend, will be the biggest attraction at Cal U. The University wants the event to span beyond Washington County, in the hopes of attracting attention on the University. 
During this event, the Alumni association is hosting an event at The Meadows Casino, where musician Joe Grushecky will perform. In addition to the parade and carnival in-town, a concert by country-band Lonestar will perform a concert. On Oct. 25, Dr. Dan Greenstein, the new Chancellor for the State Education System, will be visiting Cal U. 
Additionally, Dr. Craig Smith, president of Cal U's chapter of the Association of Pennsylvania State College and University Faculties, discussed union issues and information for the faculty. He discussed the importance of the contract and asked members of the faculty to re-commit to the union. He highlighted how important it is for faculty to "make your commitment" and to "protect your unit" during contract negotiations.
He noted how every new faculty hire this year "made that choice" and joined the union, and how some departments have fully committed, such as the Earth Science department, which has 100 percent memberships, including adjuncts.
During his presentation, Smith said there are three goals he wished to achieve. His first goal was "to protect our bargaining unit," where he highlighted how every member of the union falls under their bargaining unit, and the best way to strengthen that unit is to increase in membership.
The second goal was to "uphold the contract," and informed the faculty that "any contract violation is a contract violation," explaining how all contracts will be honored, and the more faculty in the union will strengthen the contract. "We are all partys to the same contract." 
His third goal was to "promote the union," and informed faculty that they should proudly display their union membership with a door tag they would receive for membership. He showed his support to the union and highlighted how the union has promoted education for 80 years. "We have the right to disagree, but I will never abandon this union." 
He closed with emphasizing union membership for all faculty, and ended with "Sign the card, make your commitment, and display your door tag." 
About the Writer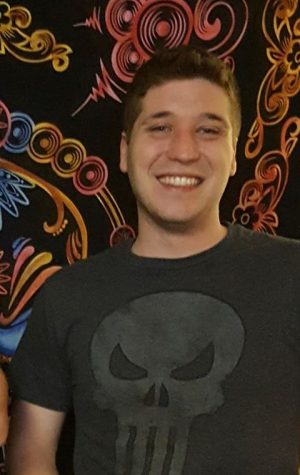 James Rudolph, News Editor
James Rudolph is originally from Pittsburgh and graduated from Central Catholic High School in 2011. From there, he went to Temple University and studied...