A Catholic Church scandal shocks the state of Pennsylvania
On Aug. 14, almost two weeks before the beginning of the Fall 2018 semester, Pennsylvania made international headlines. At 2:25pm, a Pennsylvania grand jury report was released that detailed a sexual abuse scandal, involving hundreds of priests and thousands of victims, mainly pre-pubescent children and teenagers, that spans a 71-year period. Christians across the state in all dioceses have been affected by these shocking events, and Christians around the world are in disbelief, as our state joins in on a sex-scandal that has been surrounding the Roman Catholic Church for decades. 
     The lengthy 884-page grand jury report identifies 301 priests involved with sexual-assault claims from over 1,000 victims. The grand jury report, that began two years ago, reviewed more than two-million documents from the church's "secret archives" that detail reports of abuse that go back to 1947. These documents contain complaints of sexual-assault against clergymen and a lengthy cover-up that involved at least $5.8 million spent by the church in legal fees and protective action.       
 The 18-month investigation covered six dioceses-Allentown, Erie, Greensburg, Harrisburg, Pittsburgh, and Scranton. The two dioceses of Philadelphia and Altoona-Johnstown were already subject to a grand jury investigation that reveled incriminating evidence of sexual-abuse and cover-ups involving priests and bishops in the area. 
     "We believe that the real number of children whose records were lost or who were afraid ever to come forward is in the thousands," the grand jury report says. "Priests were raping little boys and girls, and the men of God who were responsible for them not only did nothing; they hid it all."  
     The report contains horrifying details about priests' abuse of multiple children and a systematic method for covering up the accusations and reports. There was a long history and pattern towards how the church handled the accusations. An F.B.I report highlights how the reports intentionally used language to hide an accusation. Euphemisms were used; instead of "rape" say "inappropriate contact" or "boundary issue" The report identifies how proper investigations were not conducted by professionals, but rather fellow clergymen who were sympathetic or friendly to the priest. The church allowed individuals accused to submit themselves for psychiatric evaluation, to determine if they are a pedophile or not, based on their own reports.
  Whenever a priest was to be removed, because of accusations, members of the church were told very limited information, or none at all. The report found that accused priests were still allowed housing and payment from the church, even if they were using those resources to rape children. Finally, and above all, clergy were told to never talk to police. If an accusation was proven true, the priest was quietly removed and sent to another diocese, in the same state or another state, that would take them in. 
  And the accusations against the priests are heinous. The report describes systematic methods of grooming young children involving the utilization of alcohol, religion and shame to prey on their victims. 
      A 7-year-old boy in Erie was sexually abused by a priest who then told him to go to confession and "confess" his sins to the same priest. A victim in Pittsburgh was forced to pose naked as Christ on the cross while he was photographed by multiple priests. Priests gave the boy, and other victims of theirs, gold cross necklaces to mark them as "groomed" for other priests to abuse them. In Greensburg, a 17-year-old girl was impregnated by her priest, where her then forged a pastor's signature on a marriage certificate and divorced her months later. A priest in Harrisburg abused five sisters from the same family and collected urine samples, pubic hair, and menstrual blood.    
  A Scranton priest who served time in prison for abusing children was found to have been HIV-positive for years. One priest in Allenton, who abused multiple young boys, was given a recommendation to work at Disney World, the grand jury found. Another priest in Allentown admitted to sexually molesting a boy. According to different documents, he pleaded for help, but the clergy did nothing and allowed to him to remain in ministry for years after. The accusations and horrific details go on and on, and they all were covered up in an effort for the church to protect itself. Many of the victims, the oldest being 83, describe the long-lasting affects their trauma has had on them. Many of them turned to drugs and alcohol 
     After the report was released, Pennsylvania's Attorney General Josh Shapiro said the report is, "the largest, most comprehensive report into child sexual abuse within the Catholic Church ever produced in the United States." 
     The day before the report was published, Cardinal Donald Wuerl, former Bishop of Pittsburgh from 1988-2006, who is now the head of the Archdiocese of Washington, said the report "will be a reminder of the grave failings that the church must acknowledge and for which it must seek forgiveness." The grand jury report found that, while Bishop of Pittsburgh, he mishandled the accusations in an effort to increase his power and influence in the political realm of the Roman Catholic Church.  
     According to the grand jurors, almost every case was too old to be prosecuted. The statutes of limitation laws in Pennsylvania make prosecution difficult. In Pennsylvania, victims of child sex abuse have until they are 30 years old to file civil suits, while they have until the age of 50 to file for criminal charges. Additionally, many of the accused priests are dead. However, a priest in Erie and a priest in Greensburg had charges filed against them for child sex abuse.  
      For Catholics around the world, this is a call for massive reform of the Catholic Church. For an entity that covered up world-wide sexual-misconduct for years, many Catholics have had enough. While finishing a mass in Washington D.C. this past Sunday, Wuerl attempted to address the sex-scandal when a church attendant stood up and yelled, "Shame on you!" This was Wuerl's first public appearance in two-weeks. A petitioned was launched by LifeSiteNews that urges Cardinal Wuerl's resignation as Archbishop of Washington D.C.  So far, over 10,000 signatures are on the petition.
About the Writer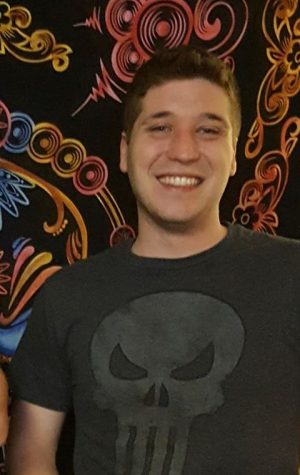 James Rudolph, News Editor
James Rudolph is originally from Pittsburgh and graduated from Central Catholic High School in 2011. From there, he went to Temple University and studied...