California softball: At home on the road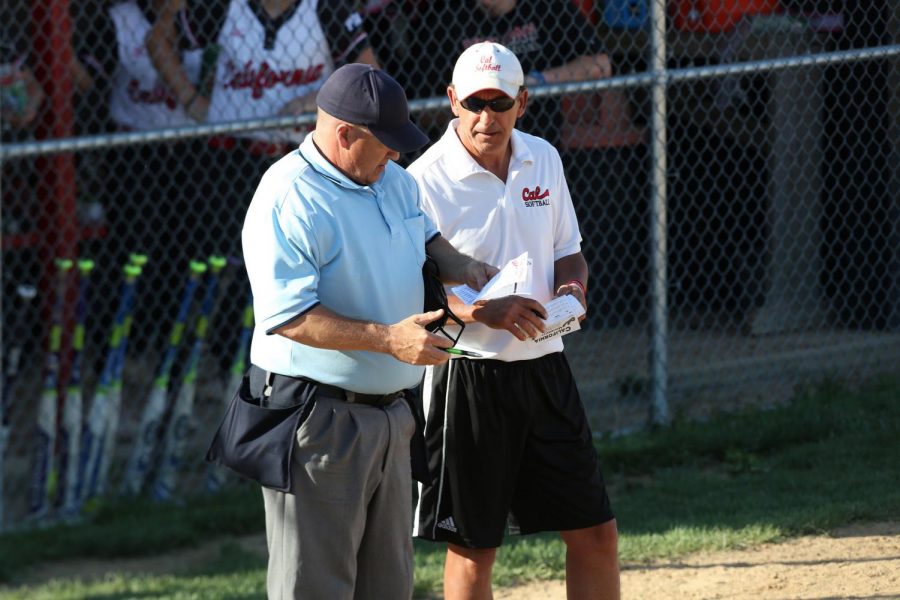 Danny Beeck, Sports Editor
April 11, 2018
Walking into the office of Rick Bertagnolli, the head softball coach at California University of Pennsylvania, you might think you are in a trophy room for multiple sports teams. At the helm for California, Bertagnolli holds a record of 844-270 while solidifying his squad as one of the perennial power houses in not only the Pennsylvania State Athletic Conference (PSAC), but the nation.
If you were to ask Bertagnolli about those accolades, or even his overall records, he would recite a quote from a former American Negro League and Major League Baseball player, Satchel Paige. "Don't look back, something might be gaining on you."
This is the same mindset that he takes onto the field each season, and especially with the challenges that he and his team are facing in the 2018 season. To put it into simple terms, Bertagnolli considers these hurdles as, "a process".
Opening their season without a home field to play on, due to structural issues, the Vulcans are faced with an uphill battle of playing every game this season on the road.
"This challenge can be compared to a hockey player since the NHL playoffs are coming up," Bertagnolli said. "If you were a hockey player and you didn't have ice to practice on, you would put your rollerblades on and practice on the asphalt courts with a round ball, instead of the normal puck. You can put on your pads, practice with your stick and all your gear, but when you hit the ice, that is the first time you are actually on the ice. That is what we are faced with this season."
Opening their season with two tournaments in both Texas and Florida, the Vulcans came back with a record of 6-8, but with their heads raised high.
"With the record that we have now, we might be the best 8-8 team in the country," Bertagnolli said. "With the success that we've had in the past, we want to take on some of the best talent in the nation, and that is what we saw in Texas."
A roster that boasts seven seniors, Bertagnolli utilizes their leadership and experience on the field and in the locker room, to keep the team focused on winning and "getting the job done."
"When we started out, practicing in September, we talked about how this is what is happening [Lack of a home field]," Bertagnolli said. "There are no excuses. We're not going to look back at the end of the year and blame our mistakes on this situation. As the old saying goes, 'If life throws you a curveball, you have to either learn how to hit a curveball, or cry about it'."
With four players from the 2015 NCAA Tournament team, Lilley Field holds a special place in many of the athletes who don the California script on their jerseys each season
"For the seniors, it's tough," Bertagnolli said. "Playing on Lilley Field, there was a lot of emotion, passion, sweat and laughter that was expressed. That parts tough, but they've embraced it."
The veteran presence also has a role on the coaching staff for Bertagnolli, with both Natalya Smarra and Meghan Uher helping to usher the teams success off the field, from the other side of an athletes progression.
"With both Coach Smarra and Coach Uher, they know what takes place with Cal softball," Bertagnolli said. "They know how to connect with the players, whether it's through Twitter, texting or anything dealing with technology, they bridge that gap. They are also pursuing their master's degrees while helping out with the team, so they can relate to the players in that aspect."
The success of Coach Bertagnolli spans far beyond the field, as he has mentored 12 Academic All-Americans, which is the most by any sport in school history.
"Each season when we sit down to plan our goals, our mindset is always 'do it again'," Bertagnolli said. "I don't want the players to look back on things that they did during their freshman years. I want them to always be looking for what they can achieve next."
As for the future, Lilley Field is expected to get a facelift that includes a "turf infield mix, new locker rooms, and bullpens for both dugouts". These renovations are expected to be completed by next season, but for now, California Softball is focused on the present.
"If you were to come to my house, you would never know that I coach softball for California," Bertagnolli said. "All of the awards and plaques that I have accumulated over the years are stored away in boxes. When the day comes that I retire, I am going to have one heck of a man cave, and I'm going to love it."