Concert Review: PVRIS at Stage AE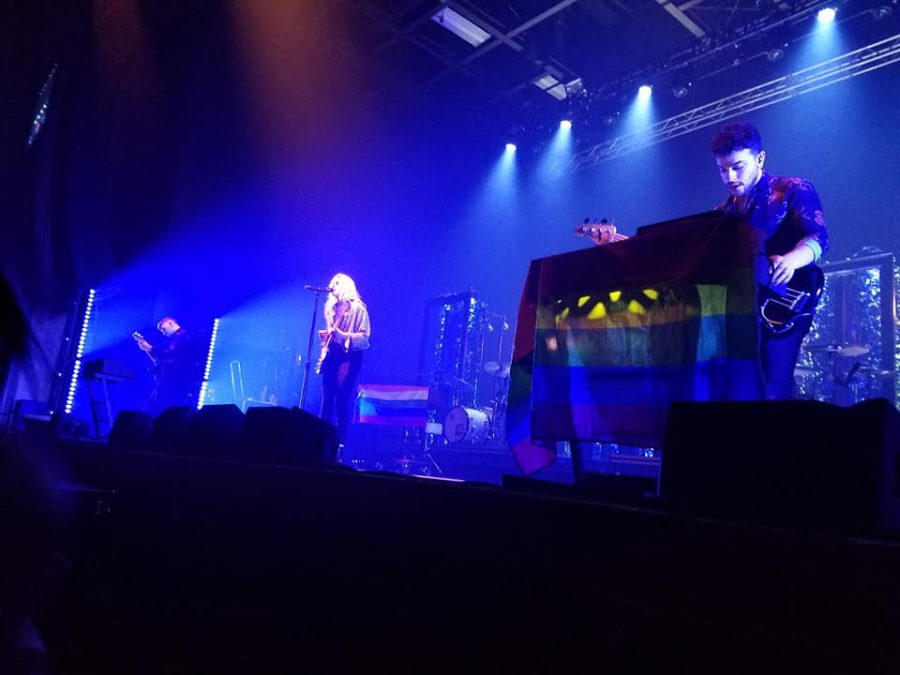 Shalene Hixon, Staff Writer
February 25, 2018
Stage AE welcomed alt-rock band PVRIS to Pittsburgh on Feb. 22.
This was the third time they had come to the Steel City, once in July 2016 as headliners at the Rex Theater and in August 2017 at the Keybank Pavillion as an opening act for 30 Seconds to Mars.
The Lowell, Massachusetts, trio of Lynn Gunn, Brian MacDonald and Alex Babinski are currently on tour in support of their newest album All We Know of Heaven, All We Need of Hell.
They brought along two opening acts: indie pop band Cherry Pools and indie rock/pop artist Flint Eastwood.
I've been a huge fan of the band for the last three years now, so I was super excited to finally see them live and meet them before the show.
Lynn was on vocal rest for the meet and greet (they had played in Buffalo the previous night), but I could tell she was still so appreciative for us being there. They were all sweet and welcoming and absolutely made my night before the show even started!
Afterwards, I got a pretty nice spot on the barricade and made a few new friends next to me. Shortly after, the doors opened and then Cherry Pools began their set.
They're a relatively new band, so their set was pretty short. They played a few of their songs, "Forever Young" and "Are You in Love," along with some covers. Overall, I thought they were pretty good and ended up downloading their songs a few days later.
Flint Eastwood was next and started off by telling the crowd that PVRIS sent her out here to hype us up for the next 45 minutes.
She definitely did not disappoint.
She brought a ton of energy and intensity to her entire set. She played some of her more popular songs like "Monster," "Find What You're Looking For," "Glitches" and "Queen."
I loved Flint, she has a commanding stage presence and her energy is infectious. She did a great job of getting the crowd ready for PVRIS and wasn't afraid to call out people who she felt weren't into it!
About 30 minutes after Flint finished her set, PVRIS came on stage and opened with "Heaven."
They then played three songs from their first album White Noise: "Mirrors," "St. Patrick" and "Smoke." Lynn's vocal rest seemed to have worked, because it was obvious early on that she was going to sound amazing all night!
"Half" was next, followed by two more White Noise songs: "Holy" and "You and I." Then Brian left the stage and Lynn started to talk to the crowd. She said she always stops and makes sure everyone is doing alright halfway through, joking that the next song was the "halftime show."
She also talked about how the first time they ever played in Pittsburgh was years ago at the Smiling Moose, jokingly saying that they drove home that night thinking, "What are we doing with our lives?" She always has this loveable shyness about her.
Then her and Alex performed an acoustic version of "Same Soul" before Brian returned so they could play "What's Wrong," "Winter," "Separate" and "Anyone Else," which are four of my favorite songs off the new album. The final song of the set was "My House" and then the band left the stage.
The crowd began to chant "One more song" shortly after, and they returned to play "No Mercy" as the encore.
Towards the end of the song, Lynn climbed down from the stage and stood on the center of the barricade. She then made her way to our side of the barricade and I was able to hold her hand for a couple seconds.
The band then threw their guitar picks and set lists into the crowd before leaving the stage one final time.
I was not disappointed at all after seeing PVRIS live; they put on an amazing show and had some pretty good opening acts. They don't need to have eccentric visuals behind them; their music and stage presence speak for themselves.
I liked how they played almost every song from AWKOHAWNOH and a good portion of songs from White Noise. They really don't have any bad songs, so whatever set list they would choose to play would be great regardless.
I also loved how Lynn always made sure to interact with the crowd and get us involved, telling us to jump and sing along during almost every song. Even Alex and Brian did the same when they could!
If you're a rock fan, you need to see PVRIS at least once. You won't regret it at all. I'll definitely be seeing them every time they come back to town!