The First Years Present: Harry's Hotter at Twilight
The First Year show is an annual production put on by the Cal U Theatre Department during their fall season. This show sets itself apart from the rest within the theatre department as the cast is made up entirely of first year students, meaning the only actors cast are freshmen and transfer students.
The department has found this show to be a very successful and fun way for students to step into what a collegiate production is like with a group of people all experiencing this for the first time.
Freshman Musical Theatre/English Literature major, Jeromy Mackey (Edward), explains how this show helps get students into the swing of how collegiate productions work,
"Being in a first year show was the social ice breaker that actually worked for me at college. At the beginning of the rehearsal process, the cast barely knew each other unless they went to high school together. Now, we all have a big group message and try to eat together as often as we can, because being close and understanding each other is important when you are striving to create art together."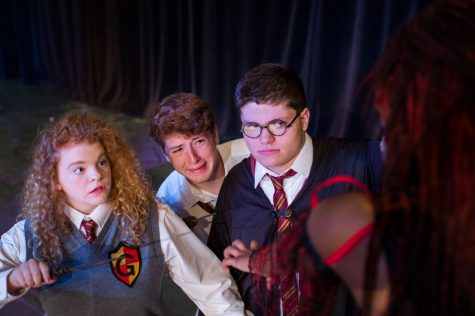 This year the first year students are taking on the quirky play "Harry's Hotter at Twilight" written by Jonathan Dorf under the direction of Dr. JP Staszel. This crazy show combines themes from the Harry Potter and Twilight series while also throwing references towards Lord of the Rings, Star Wars, Alice in Wonderland and many other current cultural events. Be sure to attend one of the shows this weekend to find out if the wizards and vampires can team up to save their town of Spork from the hands of the Fine Diner and bloodthirsty Euphoria.
Mackey shares how he has enjoyed developing his parody character of Edward from the Twilight series,
"I have absolutely loved playing Edward. For one, he is a character that a lot of people in my generation recognize, so when they come to see a parody of him, I try and work hard so that they can see his distinctive traits. It is because of those traits that Edward is an absolute blast to parody because of how over-dramatic and brooding he is. Since I am far from serious and brooding, though I am over-dramatic, I had to reach into a part of my acting that I hadn't really accessed before."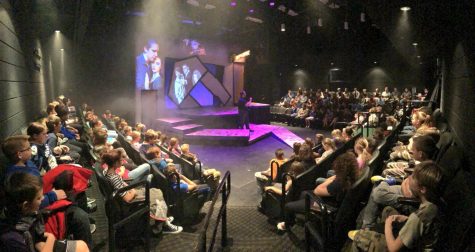 Senior Theatre major, Kitty Hoffman, was expected to be the Stage Manager for this production but instead has stepped into the role of 'Don Canary', a take on "The Godfather", due to unforeseen health issues requiring a member of the cast to have to drop out of the show. This change gave sophomore Secondary Education major, Hannah Burns, the opportunity to take on the role of Stage Manager with Assistant Stage Manager freshman Theatre major, Betty Kline, by her side.
Other members of the production team include Costume Designer Annabel Lorence, a Theatre Alumna from the class on 2016, Videographer Alexis Hawk a senior Theatre major, Props Coordinator Ayana Sicheri a junior Theatre major, Projections by Liz Andrews a senior Theatre major & CC Halpin a senior Theatre major and Assistant Lighting Designer Ryan Johnson a senior Theatre major.
The Theatre Department is also adding to the event by hosting a #TeamHarry vs #TeamTwilight food drive at every show. Audience members are encouraged to bring canned goods or nonperishable foods to the show and place their donation in the box for whichever team they choose. The box with the most food items will be announced at the end of each show and the overall winner will be announced after the Saturday evening performance.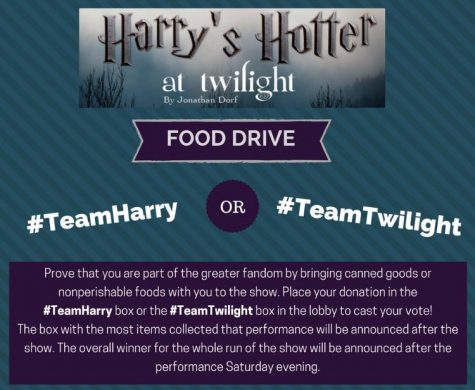 Mackey wants to leave readers with this final statement about the show,
"The reception that this show has received has honestly blown all of the cast and crew away. In addition to the four shows we did for the public, we did two shows for local elementary, middle and high school students. Seeing the kids love the silliness and cheesiness of it [show] really gave us the morale and energy boost we needed after a long tech process. We hope that the public enjoys it as much as the kids, and they seemed to on opening night!"
Shows are running at 7 p.m. Nov. 2-3, and at 2 p.m. and 7 p.m. Nov. 4. The event is open to the public and will be performed in the Gerald and Carolyn Blaney Theatre in Steele Hall.
Ticket price is $12 for adults, seniors and children. Cal U students with valid CalCards pay 50 cents, plus a $5 deposit that is refunded at the show. For ticket information, or to charge tickets by phone, call the Steele Hall Box Office at 724-938-5943.