"You Don't Know How It Feels": A Tribute to Tom Petty
There is no right answer to the question "who defines American Rock and Roll?"
There are countless success stories that all contribute to the story of the Rock and Roll genre, but there is one name that everyone agrees on that stands out as a prime example of an American-Rock legend, and that name is Tom Petty.
Inducted into the Rock and Roll Hall of Fame in 2002, Tom Petty was one of the best-selling artist of all time, selling more than 80 million records.
He worked and collaborate with dozens of other huge artists, like George Harrison, Bob Dylan, Stevie Nicks, Don Felder, Jerry Garcia and Lenny Kravitz. Petty played music his entire life, with his last tour ending on September 25th of this year.
It is safe to say that Tom Petty is part of the very definition of American Rock and Roll.
Born on Oct. 20th, 1950, in Gainesville, Florida, Thomas Earl Petty showed interest in Rock and Roll at a young age. A big Elvis Presley fan, Petty met Presley in 1961 while his uncle worked on the set of Presley's movie, Follow That Dream.
It was in 1964 that Petty knew he wanted to be in a band when he saw The Beatles perform on The Ed Sullivan Show. At 17, he dropped out of high school to play bass with his band. He also worked grounds at the University of Florida and as a gravedigger.
Petty's first band, called The Epics, became Mudcrutch, where Petty made his first single in 1975 with Mike Campbell and Benmont Trench. The band split and Petty tried his hand at a solo career.
Petty, Campbell, Trench, began to collaborate with each other, along with Ron Blair and Stan Lynch. Eventually, they formed the band that is iconic in the American Rock world: Tom Petty and the Heartbreakers.
Their first album saw more success in the UK than in the US, and their second album was the first to get into the Top 40.
Their third album, Damn the Torpedoes, went platinum. In 1981, the album Hard Promises contained Petty's first duet, the song Insider, with Stevie Nicks.
During this time (1977-82), Tom Petty and the Heartbreakers recorded several their hits, like "Breakdown," "I Need to Know," "Listen to Her Heart," "Don't Do Me Like That," "Here Comes My Girl" and "Refugee."
After a band line-up change in 1982, the band continued to release albums and tour. They played in the 1985 "Live Aid" benefit concert in Philadelphia to raise relief funds for the Ethiopian Famine.
Bob Dylan invited them to play on his "True Confessions Tour," and toured with The Grateful Dead in 1986 and 1987. In 1988, Petty joined the Traveling Wilburys, comprised of Tom Petty, George Harrison, Bob Dylan, Roy Orbison and Jeff Lynne.
In 1989, Petty's solo album, Full Moon Fever, was released, with mega-hits "I Won't Back Down," "Free Fallin" and "Runnin' Down a Dream."
Tom Petty and the Heartbreakers reformed in 1991, and released their album Into the Great Wide Open, featuring the hit songs "Learning to Fly" and "Into the Great Wide Open," with Johnny Cash and Faye Dunaway in the music video.
While still with MCA Records, Petty and the band produced "Mary Jane's Last Dance" and "Something in the Air" for their greatest hits album. In 1994, with Warner Bros. Records, Petty's solo album Wildflowers was released, which contained the ever-popular "You Don't Know How It Feels."
In 1996, the band joined Johnny Cash on his album Unchained, which would earn Cash a Grammy.
Their album, Echo, released in 1999, reached number 10 in the U.S charts. Petty's album in 2002, The Last DJ, hit number 9 on the "Billboard 200" chart in the United States.
In 2005, Petty began hosting his "Buried Treasure" show on XM Satellite Radio. In 2006, Tom Petty and the Heartbreakers were the headline act at Bonnaroo music festival. After this, they set out on their "30th Anniversary Tour" with special guests Stevie Nicks, Pearl Jam, The Allman Brothers Band, Trey Anastasio, The Derek Trucks Band and the Black Crowes.
Tom Petty and the Heartbreakers also performed during Super Bowl XLII. The band continued to tour and release albums and, in 2014, their album Hypnotic Eye became the first album for Tom Petty and the Heartbreakers to reach the number one spot.
Their final tour, the "40th Anniversary Tour," started on April 20 and ended with the last show Tom Petty and the Heartbreakers would ever perform. They final song played is, arguably, the most iconic Tom Petty song: "American Girl."
Tom Petty died on Oct. 2, in Santa Monica. He was found unconscious at his home and suffered a full cardiac arrest.
Tom Petty received a multitude of awards and recognition in his lifetime. He was awarded the George Gershwin and Ira Gershwin Award in 1999 for Lifetime Musical Achievement. He received the Billboard Century Award in 2005.
His equipment, which he donated personally, and exhibits at The Rock and Roll Hall of Fame in Cleveland were on display during his lifetime. Tom Petty and the Heartbreakers even got their own star on the Hollywood Walk of Fame in 1999.
As time moves on, and more music legends leave us, we must remember the power of music, and what that means for people. The way music speaks to our soul and makes us feel is not something to overlook, and the musicians who truly captivate us are not meant to be forgotten.
As we mourn for Tom Petty, think of his music and what it did for people and for American Rock and Roll. And if you aren't a fan of Tom Petty and the Heartbreakers, throw on "American Girl," and tell me how you feel.
About the Writer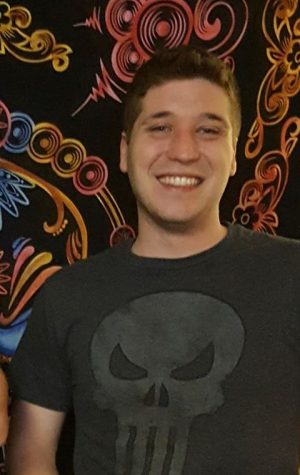 James Rudolph, News Editor
James Rudolph is originally from Pittsburgh and graduated from Central Catholic High School in 2011. From there, he went to Temple University and studied...