Cal U Holds First Festival of Liberal Arts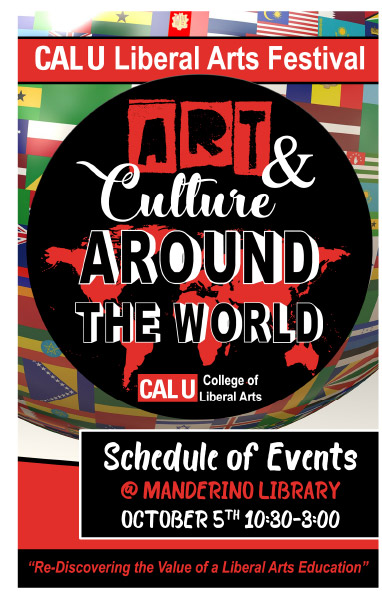 Hang on for a minute...we're trying to find some more stories you might like.
The normally quiet Manderino Library was transformed in to a celebration of culture, arts and diversity last Thursday for the first annual Liberal Arts Festival at California University of Pennsylvania.
The event was held as an effort to allow students and faculty from the college of liberal arts to present academic works as well as interactive experiences for over 400 local high school students.
"We reached out to 120 teachers, principals and superintendents," Andrea Cencich, professor in the Arts and Language Department and organizer of the event, said. "There was great interest and we eventually had to turn people away. We ended up with 11 schools coming."
Originally the event was meant to take place primarily outside, but when the forecast called for rain, the event had to be moved inside of the library.
"Luckily we had a rain plan," Sabrina Hykes-Davis, professor in the Department of Theater and Dance and another coordinator of the event, said. "It was crowded at times but less than expected. We had most of the high schoolers on the second floor."
High school students first attended academic lectures from Cal U faculty and a presentation by the theater department before the festival began in the library at 10:30 a.m.
"We had two purposes for the festival," Cencich said. "First, we wanted to help these schools districts because many don't have a large connection to a cultural environment. Second, we wanted to show what we offer as a university and show that we are open to different cultures and value diversity and tolerance."
While musical acts such as a salsa band, an African rhythm group and Cal U's own Young and Gifted Gospel Choir still performed outside in front of the library, students were welcomed inside where they could try different ethnic foods and work craft projects, such as screen-printing on to T-shirts.
"For some this might have been their first time on a college campus, Hykes-Davis said. "We wanted to show young students that, even though a lot of colleges are going towards technology, a liberal arts or humanities education is still available at Cal. We're here and we're providing an education that's still valid in the world."
Student volunteers and presenters were on-hand to serve food, present academic research and entertain the students visiting campus.
"I'm so proud of our Cal U students," Cencich said. "You have no idea how much of the event depended upon them. They were all so willing to help. All the faculty I heard from after the festival said they were so impressed by our students and I want to say 'thank you" to all those who presented and volunteered to help make it a special day."