Band Spotlight: Oh Wonder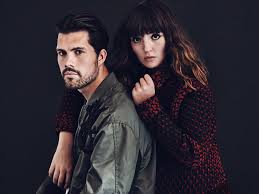 Shalene Hixon, Staff Writer
October 4, 2017
Next up on our spotlight series is the band Oh Wonder.
The London duo of Josephine Vander Gucht and Anthony West have been together since 2014. Originally, Vander Gucht performed as a solo artist under her name and also, LAYLA. West had been with three bands before joining Oh Wonder: Tonight is Goodbye, Futures and We The Wild.
After writing their debut album, the two wanted to create a unique way to release it. Starting on Sept. 1, 2014, they would release one song off the album every month on SoundCloud. This trend continued until the duo released their self-entitled album, Oh Wonder, on Sept. 4, 2015. The album included all of the previously released songs as well as two unreleased songs.
The album was met with positive reviews and peaked at 16 on the Canadian Albums Chart as well as 26 on the UK Albums Chart. Since its release, the album has sold over 500,000 copies and has been streamed over 500 million times. In addition, it has also been certified silver in the UK.
On Jan. 20, 2016, Oh Wonder performed for the first time on television on the US talk show Conan.
After their album released the duo toured all over the world, hitting cities in countries such as Australia, Netherlands, Russia, UK, France, Sweden, Norway, Germany, Denmark, United States and Canada. They were also the opening act for a portion of the final installment of Halsey's Badlands Tour. They opened for her from July 21 to Aug. of 2016.
Also in 2016, they performed at their first set of music festivals. They played at Bonnaroo, Lollapalooza and Firefly in the United States, WayHome Festival in Canada, Live Out in Mexico and Electric Picnic in Ireland.
On Mar. 31, 2017, Oh Wonder released their first single off their second album, "Ultralife". Similar to what they did with their first album release, the duo released a new song off of the album every few weeks. They then released their sophomore album, Ultralife, on July 14, 2017. The album was met with positive reviews and peaked at 5 on the New Zealand Heatseekers Albums Chart, 8 on the UK Albums Chart and 11 on the US Top Alternative Albums Chart.
They are currently on the Ultralife World Tour which will see them play in cities in 31 countries across the world, which includes United States, Canada, Russia, Europe, Australia and Asia.
Oh Wonder has the kind of sound that can go from calm and relaxing in one song to upbeat and cheerful the next. If you're into alternative/indie pop, this band is the right choice for you.
Check out Oh Wonder on Spotify and iTunes, as well as their social media sites:
Twitter- @OhWonderMusic
Facebook- @ohwondermusic
Instagram- @ohwondermusic