Season Preview: Pittsburgh Penguins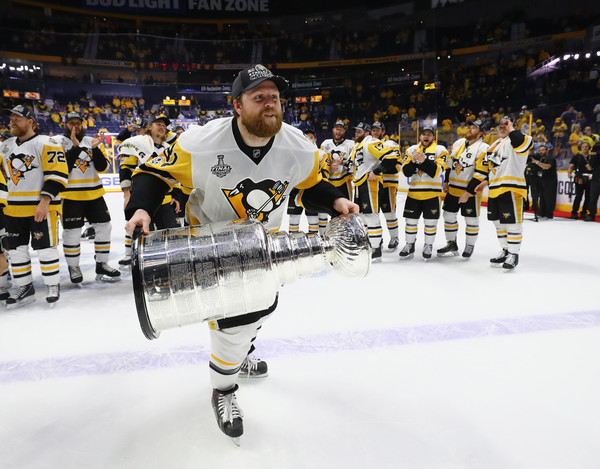 Shalene Hixon, Staff Writer
September 18, 2017
It's safe to say that it's good to be the Pittsburgh Penguins and their fans right now.
The past two seasons have seen the team win back to back Stanley Cup Championships, a feat that hadn't been done since the Detroit Red Wings did it during the 1996-97 and 1997-98 seasons.
Now one question has been on everyone's mind ever since the Pens lifted the Stanley Cup for the second straight year back in June: Can they pull off a three-peat?
This is not an easy task to accomplish. The last team to win at least three consecutive Stanley Cups was the New York Islanders, who won four straight from 1980-83. There will be a lot of factors that can make or break the Penguins' chance to make history.
Here are a few that are especially important:
Injuries and fatigue
It seems as if the Penguins get bit by the injury bug more than most NHL teams throughout the season.
They have been one of the top teams in man games lost due to injury for a few years now, but the loss of Kris Letang just before the playoffs began last year almost dashed their hopes entirely.
On Apr. 5, the team announced that the star defenseman would undergo surgery for a herniated disk in his neck. With a recovery period of 4-6 months, this meant that he would miss the entirety of the playoffs.
This created a lot of doubt about whether or not the Penguins had what it took on the blue line to go deep in the playoffs. Add that to losing Matt Murray, Sidney Crosby, Nick Bonino and others in some capacity throughout the playoffs and a lot of experts were changing their tune on the Pens' Cup hopes.
But if there is one word to describe this team, it's resilient. Penguins Head Coach Mike Sullivan always preaches the "next man up" mentality and has been very successful in his short tenure with the team. The Penguins utilize their strong minor league system to bring guys up to fill positions while others are recovering.
Another factor to consider this season is fatigue. The Pens have played more games in the last two seasons than any other team. Will they be tired and worn out by the end of the regular season, or will they hit their stride at the right time in early April?
Re-signings/Acquisitions/Departures
When the Penguins start the season, they'll have quite a different look in terms of their roster.
While they re-signed defensemen Brian Dumoulin and Justin Schultz, as well as forward Conor Sheary, quite a few players were lost to free agency this past offseason.
Among those who went elsewhere include Nick Bonino (Nashville Predators), Chris Kunitz (Tampa Bay Lightning), Trevor Daley (Detroit Red Wings), Ron Hainsey (Toronto Maple Leafs) and Marc-Andre Fleury (Vegas Golden Knights).
The Penguins also added a few players to their roster in the offseason. They signed goalie Antti Niemi, defenseman Matt Hunwick and acquired forward Ryan Reeves in a trade with the St. Louis Blues.
General Manager Jim Rutherford said that he won't rush into a trade for a third line center. He's willing to wait until the right player comes along, whether it's before the season starts or by the NHL Trade Deadline in March.
It should be interesting to see how all of these new pieces fit into the Penguins roster and what Rutherford can do to help strengthen the team.
Star Players
Perhaps the most important factor that can help the Penguins three-peat are their star players. The core of Sidney Crosby, Evgeni Malkin, Phil Kessel, Kris Letang and Matt Murray will all be returning for the Pens this season.
Crosby finished second behind only Connor McDavid in points during the regular season, with 89 points scored in 75 games. He also was named the 2017 Conn Smythe trophy winner for playoff MVP for the second consecutive year, scoring 27 points in 24 games.
Malkin had another great season, putting up 72 points in 62 games as well as 28 points in 25 playoff games.
Kessel again showed why he still belongs in the conversation as one of the NHL's elite players. He put up 70 points in all 82 regular season games, and while he was criticized for being silent in the playoffs, he still racked up 23 points in 25 games.
Murray was injured in warmups before Game 1 of the first round of the playoffs against the Columbus Blue Jackets, so for the first two rounds Fleury was the starting goaltender for the Pens. But when Murray returned in Game 3 of the Eastern Conference Finals against the Ottawa Senators, he took the starting position and never looked back.
Murray finished the playoffs with a 7-3 record, three shutouts, a 1.70 goals against average, a .937 save percentage and a second Stanley Cup as a rookie.
If all of these players can stay healthy and produce, as well as Letang remaining one of the NHL's best defenseman upon his return, this can be a very dangerous Penguins team.
Having a chance at making history once again is a very tempting thought, but the Pens must stay focused and, as Coach Sullivan famously says, "just play." If they can stay healthy, make sure their new players fit in and keep their stars playing like stars, then who's not to say this team can raise the Cup for a third straight season in mid-June?
The only way to find out is by watching the Penguins' 2017-18 season, which opens at PPG Paints Arena on Oct. 4 when they play the St. Louis Blues and raise their 2016-17 Stanley Cup Champions banner.