Josh Bell shines in Pirates' down year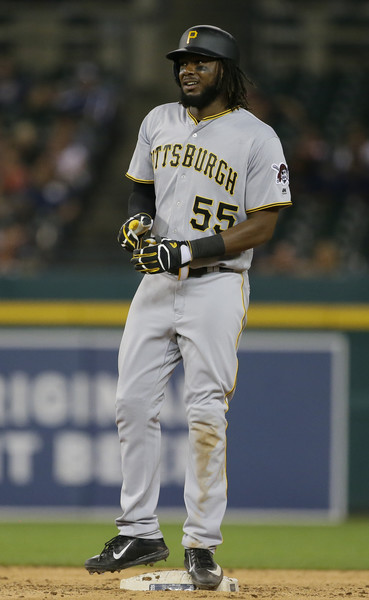 Hang on for a minute...we're trying to find some more stories you might like.
The 2017 season has been a tough one for the Pittsburgh Pirates and their fans.
With the team currently in fourth place in the National League Central Division and the Cubs, Brewers and Cardinals all playing at a high level, there is not much hope for the Bucs making the playoffs. However, there is one bright spot in what seems like a disappointing year: rookie first baseman Josh Bell.
Following knee surgery in February of this year, many were not sure how healthy the Pirates' second-round 2011 draft pick would be going into spring training. Not only that, but the Pirates were planning on having him move to first base.
Bell had played the outfield for most of his playing career, but the Pirates' star outfield of Starling Marte, Andrew McCutchen and Gregory Polanco meant that he would almost never get to play there once he got to the majors.
Another reason for the switch was the Pirates' desperate need for a first baseman. After a few moves and trades didn't produce much result, the team needed to find an answer within the organization.
After playing 15 games for the Pirates in spring training, Bell was able to make the 25-man roster and earned the starting spot at first base for Opening Day. Ever since, he has been one of the team's most consistent hitters.
He has already broken the Pirates' rookie record for most home runs before the All-Star Game, which was held by the great Ralph Kiner for almost 70 years. Bell then became the fifth Pirates rookie to hit 20 home runs in a season, with the other four being Johnny Rizzo, Kiner, Jason Bay and most recently, Garret Jones.
Now he is moving towards breaking MLB records. Bell currently has 25 home runs on the season. If he gets to 28, he would break the record for most home runs hit by a switch-hitting rookie in the entire league.
If Los Angeles Dodgers' sensation Cody Bellinger wasn't in the majors right now, Josh Bell could easily make his case for National League Rookie of the Year. His offensive power is impressive for a switch-hitter and while his defense can be shaky at times, it will improve the more he gets comfortable at the position.
Regardless, he has made quite the impact for the Pirates this season. It is looking like he will be the Pirates' first baseman for many years to come.