Clybourne Park to Close Cal U Theatre's Spring 2017 Season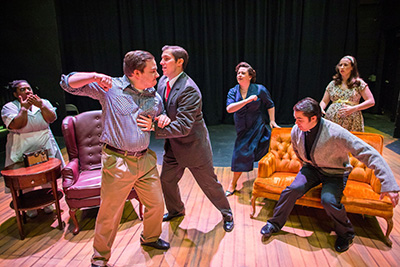 The Cal U Theatre department is closing their spring season with a performances of Clybourne Park this weekend. The show opens Thursday April 27 at 7pm and runs through Saturday April 29 with performances at 7pm on Friday and both 2pm and 7pm on Saturday.
Clybourne Park was written by Bruce Norris as a spin-off to Lorraine Hansberry's drama A Raisin in the Sun, which was performed earlier this semester in a one-night-only event in preparation for Clybourne Park.
Act One is set in 1959 and follows the story of a black family looking to purchase a home in a white neighborhood. The second act takes place in the same neighborhood but is set 50 years later in 2009, where the roles are basically reversed as a white family is looking to build a home in the now predominantly black neighborhood.
The first act follows the story of Russ (Nick Franczak) and Bev (Kitty Hoffman) who are trying to move after their son, Kenneth (Michael Mastandrea), died. The drama picks up when a couple neighbors of Russ and Bev, Karl (Tristan Bartolomucci), Betsy (Katie Cerda) and Jim (DJ Miller), stop over and inform the couple that their house was sold to a black couple. Throughout the drama of the first act characters Francine (Brittany Martin), Russ and Bev's maid, and Albert (Reese Williams), Francine's husband, are forced to awkwardly watch the drama unfold.
In act one senior, Katie Cerda, plays the role of Betsy who is pregnant and deaf. Cerda explains how she went about learning sign language and how to speak as if she was deaf,
"JP had us meet with the professor of sign language in Morgan Hall and we went over different lines that we had and perfected them along the way once we learned each line. That was actually the easy part. Trying to talk deaf is very difficult especially because everyone who is deaf sounds different because they can't hear themselves. I talked to Dr. Pagen and she told me it's all in your velum which is what makes the monotone voice so I worked with her and actually listened to the TV show, Switched At Birth. The main character, Daphne, who is deaf is a little exaggerated but I used that and my knowledge of Estill Voice Training to get the full effect and sound for my character."
After intermission, the same actors took to the stage but they were all portraying different characters due to the time lapse that occurs. The roles are reversed as Steve (Bartolomucci) and Lindsey (Cerda), a white couple looking to build on a lot in the now predominately black neighborhood, are confronted with concerns by neighbors Lena (Martin) and Kevin (Williams). This act also involves two lawyers, Kathy (Hoffman) and Tom (Miller), who try to keep the peace between the couples while also trying to get a contract signed for the lot.
Hoffman (Bev/Kathy), a junior theatre major, shares what it was like to play two very different characters within the same show,
"Personally it was easier for me to tap into some of the emotional aspects for Bev because I have had a personal similarity with a friend of mine losing their life due to suicide. So personally, I could tap into that easier but putting on that face like everything is okay was very much a struggle for myself because I've never had a son so I've never lost a son. By being able to tap into the emotional aspects I believe that helped build the character. As for Kathy, she is more like me, she is outgoing and likes to jump in and make people laugh but sometimes it is not at the best times. For her I just wanted to be a little bit obnoxious but at the same time try to manage everyone. I wanted to be the leader and in control but it never really happens that way for her."
At the end of the show, it is intended for audience members to realize the story has made a full circle. This show deals with strong adult context such as racism, suicide and adult language. With that being said, this show may not be suited for young children.
Tickets for the public are $12 and are 50 cents for Cal U students with valid CalCards. For ticket information, or to charge tickets by phone, call the Steele Hall Box Office at 724-938-5943.