Roll Over, Beethoven, and tell Tchaikovsky the news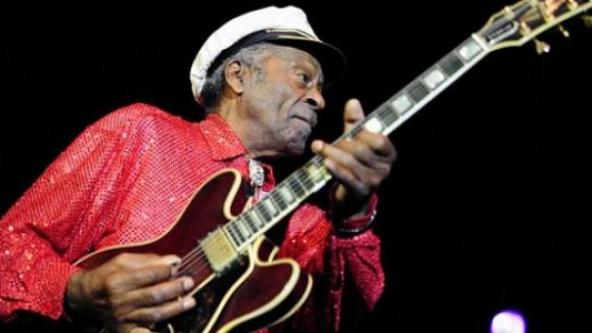 It's hard to imagine being considered one of the greatest of all time in whatever world you are involved in, it's even harder to imagine witnessing your greatness impact the world in your lifetime.
Surely, Charles Edward Anderson Berry, born on October 18th, 1926, in St. Louis, Missouri, did not believe he would achieve any of this. However, he became one of the pioneers of rock 'n roll, and one of the most influential American musicians of all time.
Beginning to play with bands in St. Louis in the early 1950's, Berry played guitar, sang, and wrote songs. He showed influence from blues music, which was seen in his guitar style and showmanship. He combined rhythm and blues music elements with elements of country music into his own unique style. This brought the attention of both white and black audiences. Throughout the 1950's, Berry's songs exploded into mainstream pop music.
His countless hits are still played today. "Johnny B. Goode!" is recognized by almost anyone, even today. "Maybellene" his first released recording, sold over a million copies in 1955. Songs like "Roll Over, Beethoven," "Sweet Little Sixteen," "My Ding-A Ling," Promised Land," and "Memphis, Tennessee," all hit the "Top 10" charts on the radios, their release dates ranging from the 1950's-1970's. He has 18 studio albums, his first one entitled After School Sessions was released in 1957, and his last one Chuck is to be released sometime in 2017.
He played with and directly influenced dozens of rock stars and bands, all almost as ionic as Berry himself. One of his most famous hits, "Rock N' Roll Music," became a track on The Beatle's album, Beatles for Sale. His songs have been covered and recorded by bands like The Rolling Stones, The Beach Boys, The Sex Pistols, Bob Seeger and the Silver Bullet Band, AC/DC, The Cheetah Girls, David Bowie, the Grateful Dead, Elvis, and Joan Jett. He has personally performed with a variety of artists, including Bruce Springsteen, Tina Turner, The Steve Miller Band, Shabba Ranks, Eric Clapton, and Eta James.
Berry performed, at President Jimmy Carter's request, at the White House on June 1st, 1979. He was recruited to perform at both inauguration ceremonies for Bill Clinton, who Clinton described as "both utterly original and distinctly American."
Not only did Berry change the music, but the spirit as well. His fast-paced, high intensity guitar riffs and performances defined what it meant to "rock." His lyrics reflected a story of fast living and full experiences. He sings of whisky, women, cars, and consumerism. He speaks about a vibrant young culture that gives life to the music of America, which helped re-define the spirit of American music. His lavish and fast lifestyle reflected his music, making Berry the embodiment of a true rock star.
Chuck Berry was found dead on March 18th, 2017, in Wentzville, MO. Police were called to his house, where he was found unresponsive, and announced dead at the scene. He was 90 years old.
Among his peers and the rock community, there is no question to his legacy. Since his death, dozens of artists and public figures have publicly stated, discussed in interview, or related of social media the deep respect and admiration they felt towards Chuck Berry. Bruce Springsteen Tweeted, "Chuck Berry was rock's greatest practitioner, guitarist, and the greatest pure rock 'n' roll writer, who ever lived." Arnold Schwarzenegger said, "When I was 10 years old and I dreamed of moving to America, Chuck Berry played the soundtrack." Ringo Starr, Keith Urban, Questlove, Lenny Kravitz, Bruno Mars, and countless others have all acknowledge and shared the influence brought on by Chuck Berry's music.
It may be difficult to see his influence on modern American music today, especially since most people may not have heard of him. When not looking at rock perspective, it may not seem anything that resembles Berry, or his music. While it may not be the same sound, the spirit and content behind Berry's music carries over to today's mainstream music.
Looking at modern rap, country, rock, and pop music, there is a consistent theme behind most songs of these genre's. A lot of the subject matter consists of living fast, living, and thriving in consumer culture, following a lavish lifestyle, and doing as you feel. Even in a different era, the spirit and mentality created by pioneers of music, like Chuck Berry, carries on. Despite a different time, the same kind of content and fast, high-energy music style is still popular.
Regardless of being a fan of his music or not, the impact and legacy Chuck Berry has on the world of music in undeniable. He shows what It really means to be a rock star, and stands as an example of how we, as people, can transcend our very own time, and have our own mark on the world.
About the Contributor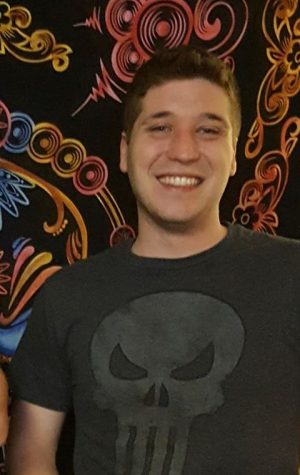 James Rudolph, News Editor
James Rudolph is originally from Pittsburgh and graduated from Central Catholic High School in 2011. From there, he went to Temple University and studied...