Department of Theatre and Dance takes on The 25th Annual Putnam County Spelling Bee
Blaney Theatre has officially been transformed into the Putnam High gymnasium for the 25th Annual Spelling Bee.
California University of Pennsylvania's Department of Theatre and Dance is performing The 25th Annual Putnam County Spelling Bee this Thursday and Friday at 7pm as well as Saturday at 2pm and 7pm. Tickets are $0.50 for students with a valid Cal Card and $12 for non-students.
This show provides audience members with upbeat songs and dance numbers that are sure to keep you on your toes. However, unlike many shows you may have seen or heard of, this performance will offer four audience members the opportunity to join the cast on stage to take their shot at becoming the 25th Annual Putnam County Spelling Bee champion. Before audience members enter the theatre for the show, they are able to fill out an application with a few questions on it to apply for the chance to be on stage.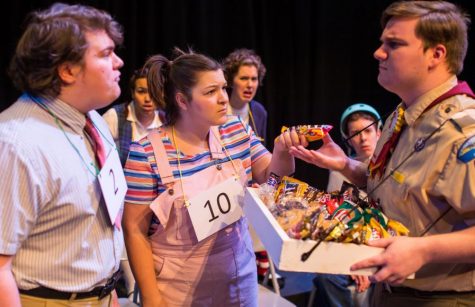 All of the cast members play elementary school children ranging from ages seven to twelve who all are thriving with bright minds to get them through various mature situations. Senior, Annabel Lorence, performs as seven year old Logainne Schwartz… (Logan Schwartz for short) who is the youngest contestant in the bee and also has a speech impediment. This performance is Lorence's final on the Cal U stage and will also be her thesis.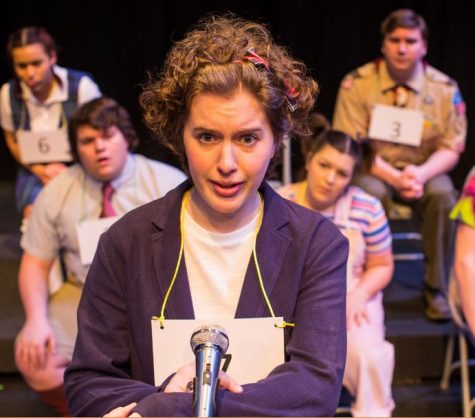 Lorence explains how she develops her character below,
"Logan, despite being very young, is very savvy to the world. She's got two dads and her one dad, Carl, drills words into her and she kind of has anxiety from it now. I just try to make everything as tense as I can, like my neck and facial muscles … because she [Logan] is the child of two dads she is very liberal and very politically inclined, considering I have to do a political speech every night when she [Logan] gets fired up as the rules of the bee are being broken due to her strong sense of justice, I had to write a new speech every night depending on the political climate and memorize it before the show starts. It's really crazy and luckily I am pretty good with memorization but it has definitely been quite the challenge."
Many of the cast members in this show have very specific characteristics that have challenged the actors throughout the development process of the show. There are two hosts to the spelling bee, Rona Paretti (Kayla Grimm) and Douglas Panch (Trevon Kiser), who have to base a lot of their responses off of what the audience members participating in the show that night do.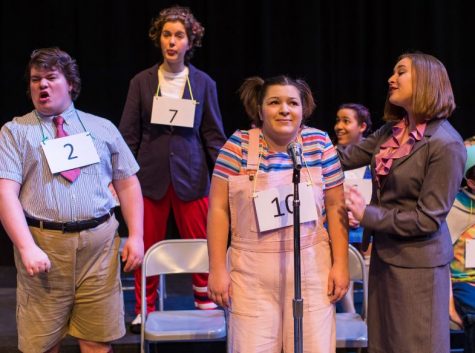 "Whenever you improv you have to look at a person and think okay what can I use, can I use something about their image, can I use things that I know about them that the whole group could chuckle at. Also in the back of the book there are a list of things to help with that … I try to challenge myself to write a couple down that I memorized from book and also when I look at a person go based on their clothes or something that pops out the top of my head. Another thing is the sheets people fill out before the show and if they have something I like, I will use it…" Junior, Kayla Grimm, explains how she has to use improv in her role. "It's challenging because you have to try to not sound stupid by doing improv that makes no sense as well as not stumbling over what you're saying. If you stumble it looks like you don't know your stuff when you really do so I write out everything so I don't just improv completely."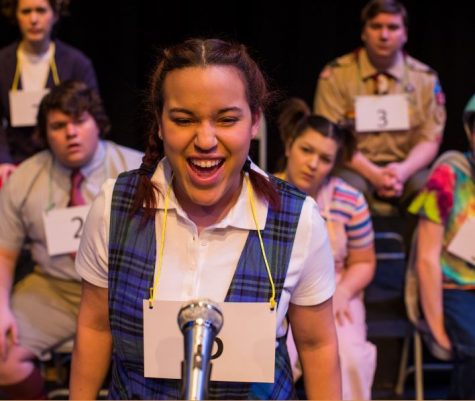 The show is directed by Dr. Michele Pagen and stage managed by junior, Alexis Hawk. The dance numbers have been choreographed by Maria Gismondi with music being conducted by Brian Eisiminger. With a team of professionals, such as the ones mentioned above, it is clear that this show is set to be a hit.
An appearance by Jesus, free candy and a new spelling bee champ are all things you are sure to see at the 25th Annual Putnam County Spelling Bee.