A Twist on Funny Freaking Friday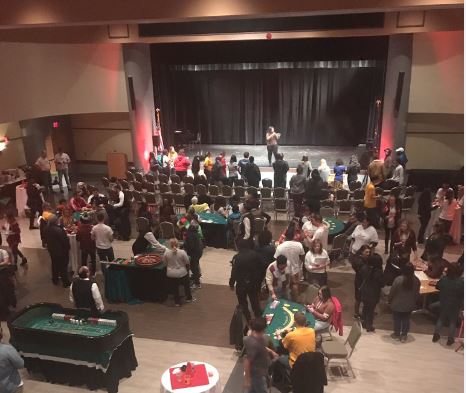 Kena Dunn, Contributor
March 5, 2017
This past Friday, was full of energy and laughter as Casino Night, sponsored by university housing, kicked off with the Student Activities Board's Funny Freaking Friday performance by comedian, Aarona Lopez. Lopez has previously been seen on season seven of MTV's Wild 'N Out and is the creator and host of the musical and comedy show, Velvet Circus.
"It was really nice to be able to team up with housing to put on an awesome event like this one was," explained the Student Activities Board's Evenings Chair, Jessica Crosson. "I think everyone really enjoyed being able to hang out and play a variety of casino games with no real risks involved. Hopefully they [housing] were able to get some renewals out of the event as well."
Lopez concluded her show with some original parody songs to leave the audience on a high note. She included the audience by having them dance and chant along as she sang about shopping at Ross and wearing granny panties.
Just when everyone thought things couldn't get any more interesting, community assistant Jana Barnhart's fiance, Ryan Brooks, stole the show. He showed-off some eccentric dance moves causing the crowd and even Lopez to cheer him on.
"I wasn't too surprised when he started dancing because he does it all the time," shared Barnhart. "I saw him slowly back up to start and I knew that was the end of it. He loves to dance even if it means making a fool of himself. He loves to make people laugh and I guess dancing is his favorite way of doing that."
With close to 200 people in attendance, the show began at 7pm in the performance center and ended an hour later officially kicking off the casino part of the night.This event was created to encourage students to renew their housing contracts for the next academic year.
A large assortment of food and beverages were provided and free for anyone in attendance; what more could you ask for?
Prizes were given out periodically throughout the night for anyone who signed-up to renew their housing at either Vulcan Village or the residence halls. 4K Televisions, an apple watch, a Keurig, and an iHome were among the many amazing giveaways that evening. There were also an assortment of gift cards given away at the end of the night for those who cashed in their chips for raffle tickets.
There was plenty to do between the food, music, and casino games including; blackjack, let-it-ride, slot-machines, roulette and poker. Casino Night ended later that night leaving many students with full stomachs, awesome prizes, and a great start to the weekend!