Cal U presents "An Evening of Creativity" in Blaney Theatre
CALIFORNIA, Pa. (Feb. 9, 2017) … California University of Pennsylvania's Department of Music and Theatre opens its spring season with "An Evening of Creativity" featuring a one-act play and two dances selected and performed by Cal U students.
Performances are scheduled at 7 p.m. Feb. 23-24, and at 2 p.m. and 7 p.m. Feb. 25 in the Blaney Theater in Steele Hall on the Cal U campus.
The show opens with a 20-minute one-act play, Post-its® (Notes on a Marriage), written by actor, writer and comedian Paul Dooley and his wife, dramatist and screenwriter Winnie Holtzman.
Emily Smith '14, a graduate student in school counseling, directs the play about a contemporary long-term relationship.
"This one-act really spoke to me through the emotions and nuances that were presented in the relationship between the two characters," said Smith, who was an undergraduate theater major and now works as a graduate assistant in the department.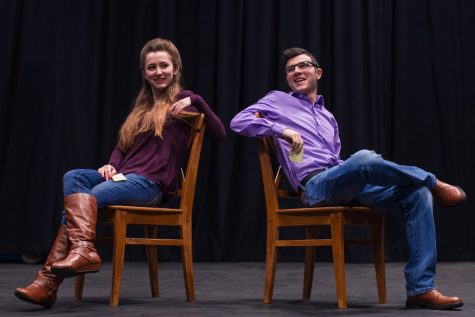 "I thought it would be important to display all the ups and downs of a relationship. It's also really unique in the way it is performed. "
The "Evening of Creativity" also features "Finding Your Way," a student-choreographed piece by the Cal U Dance Ensemble, and "Behind Closed Doors," a dance choreographed by faculty member Diane Buffington.
Junior Kitty Hoffman, a theater major, is the production's stage manager. The Sound Designer is Senior, Jeffrey Higgins and Assistant Sound Designer is John Boldt.
"An Evening of Creativity" is open to the public. Ticket price is $12 for adults, seniors and children. Cal U students with valid CalCards pay 50 cents, plus a $5 deposit that is refunded at the show.
For ticket information, or to charge tickets by phone, call the Steele Hall Box Office at 724-938-5943.