Cut It Out: 'Uncle Joey' Brings Nostalgia To Cal U Students
Before winter break, the Student Activities Board announced that comedian Dave Coulier would be performing at California University of Pennsylvania during the spring semester. Coulier, best known for his role as Joey in Full House, lived in the homes of many Cal U students who grew up watching the show on TV.
Opening up for Coulier was Cal U alumni and Comedy Central's newest search, Derrick Knopsnyder.
"Doing shows are always fun but tonight [Friday] meant so much to me because I got to perform at a place that is basically home for people who are family," exclaimed Knopsnyder. "It was the greatest feeling in the world."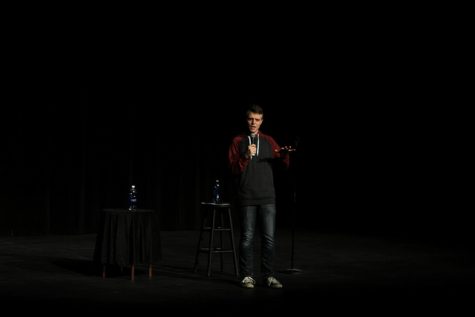 Doors opened at 6 p.m. for those who waned to get the best seats in the house. As showtime approached, Steele Hall's main stage seating became fuller and fuller until the sold out show reached its capacity.
"There is a lot of work that goes into just preparation for a show like this so selling out is a huge accomplishment," shared Student Activities Board president, Jonathan Hershey. "It also proves that our university is capable of bringing in a class act comedian like Coulier which sets us up for future performances."
Knopsnyder opened the show and had the audience bursting with laughter, introducing Coulier to a very warm crowd.
"Watching Full House and Fuller House, I've always loved Joey so having the opportunity to hear him in person was awesome," explained senior Kelli Bollinger. "A lot of his jokes were ones that us as adults could understand. I'm happy that he could come my senior year."
Coulier was able to not only provide students with a stand up routine but he was also able to do what he loves about live comedy and poke fun at some of the students in the audience including a woman who got up to use the restroom during his set and junior meteorology major, Adam Andresen, who tried to explain to Coulier that the weather that was occurring outside during the show was called "graupel".
"I never thought I would be able to see Dave live, personally," admitted Andresen. "But to be roasted by one of my favorite Full House characters was amazing. I wasn't embarrassed at all, despite how the audience was laughing at me. It is actually a moment I will remember for a long time and will be a great story to tell my kids and grand-kids!"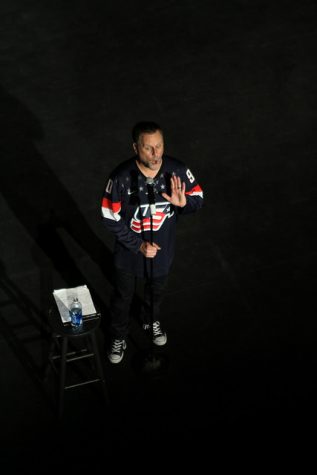 After the show Coulier explained how he got his start in comedy,
"Well I have a very funny family and we enjoy laughing so I was around funny people my whole life. We talked about comedians and comedians that appeared on The Tonight Show and my family is just naturally funny. I have a lot of really funny characters in my family."
He also went on to explain how he learned how to do impressions from his brother, Dan.
"We used to lay in our bunk beds at night and he [Dan] would do these incredible impressions of family members and neighbors and it used to make me laugh so hard that I started doing my own impressions," Coulier said. "He really had such a funny ear about picking out nuance in the voice, it used to make me laugh. We would sit on our front porch, we used to call it 'narrating the neighborhood', and people would go by and we would do their voices … That's kind of how I learned how to do voices."
Coulier was modest about his fame explaining that there is no way to know whether or not a show (Full House) is going to become a hit until it becomes just that.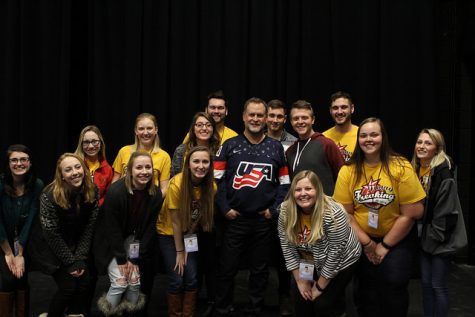 "There is no way to calculate that formula or else every show would be a hit," Coulier said. "Speaking for the whole Full House cast, I don't think we ever saw Fuller House 30 years later. We had really kind of resigned to the fact that we weren't going to come back and do the show. We had already done 192 episodes and we knew we had this great audience and syndication and we didn't want to come back and tarnish that nice feeling that audiences have when they watch an episode of Full House."
However, after winning a People's Choice Award for Favorite Premium Comedy Series, it is pretty clear that Fuller House has not tarnished audiences feelings towards the show.

This sold out show at Cal U provided both Knopsnyder and Coulier with a "full house" to perform for and a strong start to the spring semester for students.