The Happy Elf Hits Mainstage
Things are a little bit different in the theatre department this holiday season. Instead of performing the traditional Miracle on 34th Street, the department decided it was time for a change as they announced the musical this season would be The Happy Elf.
Junior Theatre and Public Relations major, Sidney Popielarcheck, took on the roll as stage manager for this new production.
"It is very, very exciting to do a brand new show that nobody has ever seen before because there are no rules. There is not a past set cue sheet that has already been made. There are no set pieces so everything is brand new for us, for the actors, for the designers and for everyone so we can really have free reign to do whatever we want to do with it which is super exciting," shared Popielarcheck.
Directed by Dr. Michele Pagen, The Happy Elf tells the tale of Eubie (Jeshua Myers), the happy elf, as he tries to get the naughty children of Bluesville off of the naughty list. He must outrun Norbert (Jordan Brooks), a very angry elf, his mini-me (Shaeliyah Clendaniel), and the Pol-ice. With the help of his friends, Hamm (Mark Barrett) and Gilda (Kayla Grimm), Eubie might just be able to pull off that task.
This hour and a half long musical provides the audience with a variety of jazzy, bluesy, and a little bit of funky songs.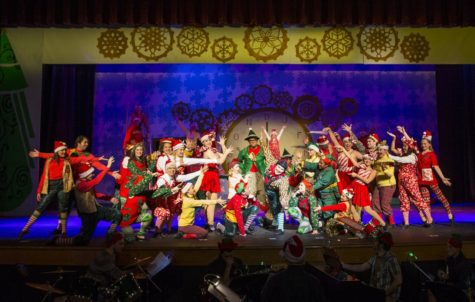 Myers, playing the happy elf himself, explains what it was like to get into character,
"If you come and see the show and you know me at all you'll realize that me and Eubie are very similar. When I'm in my really good mood, me and Eubie are almost identical so my problem was being Eubie 100% of the time. Dr. Pagen and I talked during tech and she told me I was at a 30% Eubie and a 70% Jesh and then I had to figure out how to go 100% Eubie and not bring Jesh into it," admitted Myers. "That was my real struggle because I thought it would be easy since we are so similar but Jesh isn't Eubie. I really needed to focus on becoming Eubie for this. I would focus on how Eubie would do things and only answer to Eubie during tech because I had to do that for myself to make sure I could stay in character for the show."
This show features not only students enrolled at California University of Pennsylvania but also alumni, students from the Mon Valley Performing Arts Academy and members from the community.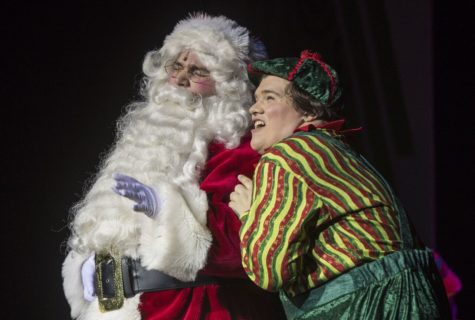 Myers wanted to leave this information with those who many be pondering whether to attend the show or not,
"I really think people should come and give it a chance. It's a cute Christmas show. If you're looking for something to get your mind off of things, like finals and stuff like that. Come, have fun and enjoy a Christmas show that really does make you think about what Christmas really is all about. It's a great family show and I think it is a great distraction for our students to not focus on stuff we have going on right now."
The Happy Elf opens tonight, December 8 at 7pm. Shows will also be running on December 9 at 7pm, December 10 at 2pm and 7pm and closing on December 11 at 2pm. Tickets are $0.50 for students and $12 for non-students. Tickets can be purchased at the Steele Hall Box Office. Call 724-938-5943 for more information.