Should college athletes be paid?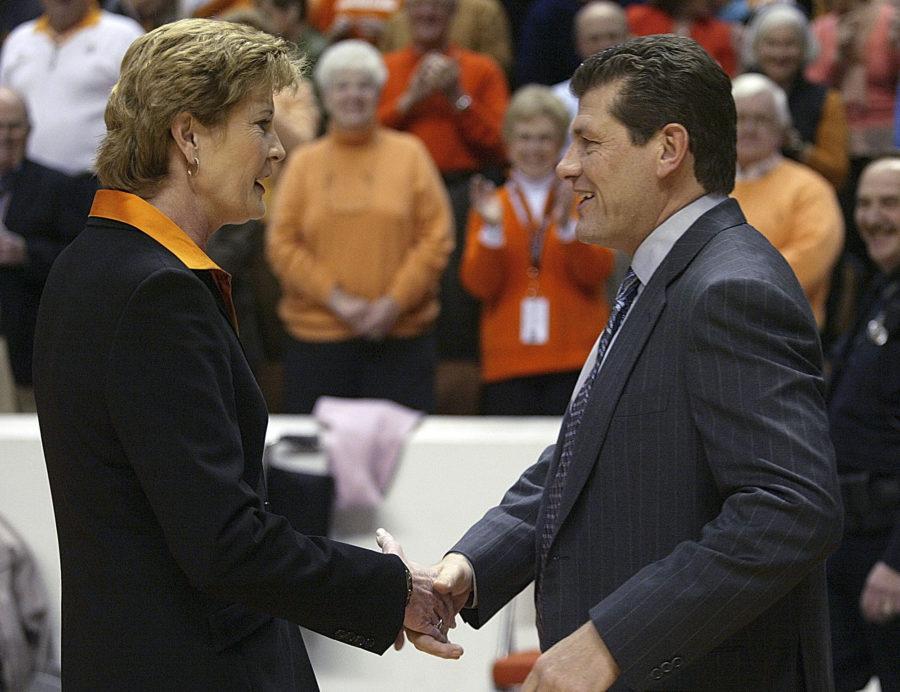 If you wanted to watch the 2012 BCS National Championship game from the stands of the Mercedes-Benz Superdome, you would have to fork over a cold $1,808 per seat (on average). According to ESPN.com, Geno Auriemma (Head coach of the UConn women's basketball team), signed a $10.86 million dollar contract in 2013 to keep him at the school until the 2017-18 season.
The players that are on their respective playing fields of these events, are paid nothing.
Those on the side who dispute this fact might say that, "Their scholarships are enough" or, "Paying the athletes could take away the sportsmanship of the game" bring up great points. There are arguments for either side of this discussion, and no matter what we as consumers think, the players deserve compensation. I could go into pro's and con's of every single aspect, however, I will attempt to explain my idea, while supporting both sides.
The first idea that I support when it comes to paying athletes is the fact that these student-athletes help their institutions rake in a ridiculous amount of money, without having their pockets lined with the same cash that the university is getting. In playoff tournaments such as the "March Madness" games, large TV companies televise games online, on tablets, on TV, and countless other formats. The contract between the NCAA and CBS/Turner Sports for the March Madness tournament was reportedly worth 11…billion…dollars. That deal alone shows how much the NCAA is gathering through just one month. If these athletes are putting their blood, sweat, and tears on the line to hopefully make the leap to the professional game, shouldn't there be some compensation?
The next aspect that I researched was the fact that if these players eventually go to the professional level, in most cases, they receive a pretty penny for playing the sport they love. Time in and time out, these players do not know how to manage their money, and end up bankrupt in a few short years after leaving their league. Names such as Terrell Owens, Lenny Dykstra, Mike Tyson, and Olympic athlete Dorothy Hamill have all declared bankruptcy after getting careless with their money when they made it pro. Would introducing these college athletes with financial literacy help them in the long run? Even if those athletes that decide not to go pro, go out into the world and get a job, the teachings that they received in college would benefit them. How much pay would be enough though? What would be too much? That is the real question.
On the flip side of this topic, the scholarships that those same athletes receive give them a large advantage when it comes to student debt. The traditional students that go to school may come out of the same university with an enormous amount of money that they need to pay back. Most Division I schools are endorsed by a company like Nike, Under Armour or Adidas who gives them apparel to wear while playing. The scholarship gives these athletes free gear that before would cost a lot of money, again, for free. Aside from the various methods that could vie for or against paying athletes, the real question is, how much should the salary be if the NCAA decides to go through with paying them.
I decided to ask a few athletes here on campus to see what they had to say about all of this. Marisa Fanelli, a sophomore libero of the Vulcans Volleyball team, agrees with getting paid, due to the amount of work day in and day out that her and her fellow teammates put into the preparation for games.
"Technically we get paid through scholarships but I believe that Division I athletes should get at least 30 dollars an hour, DII should get 20 and DIII, 10. Those numbers would just include hours put in during workouts and practice. Games could be increased by 10."
I also got in contact with Jordan Gessner, freshman guard on the Men's Basketball team, who stated a differing opinion from his fellow athlete, believing that college athletes should not be paid.
"Me being a college athlete makes me want to say that college athletes should be paid because I know how much time goes into each sport, but honestly I don't think they should be paid." He goes on to say, "If you pay your major sport athletes (Football and Basketball) the money that they are worth, then there will be nothing leftover for the university to pay the other deserving athletes from various sports."
While both brought up great points about their reasons why college athletes should or should not be paid, this question still leaves me questioning just how they would do it.
Make sure to vote on this question via www.caltimes.org to weigh in on the conversation!
About the Writer

Daniel Beeck, Editor-in-Chief
Daniel "Danny" Beeck is currently a senior at California University of Pennsylvania, studying Communication with a concentration in Radio/TV. Along with...