'Tis the Season to Give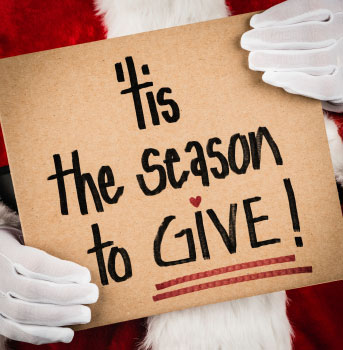 As the holiday season begins to roll around, many organizations on campus are reaching out to the student body for help in giving donations to various charities in the area. Below is a list of ways you can give back during this time:
Toys for Tots
Donations will be collected November 1-22
Stuff a Bus will be on December 1
Student Government has begun their yearly mission to stuff a bus full of toys to be donated to Toys for Tots. Boxes wrapped in Christmas themed wrapping paper have been placed all around campus for new toy donations. You can drop your donation in any of those boxes or bring your gift to the Org Suite located in the Natali Student Center next to the Vulcan Theater. If you wish to donate money instead of a new toy, bring your money to the Org Suite by November 22 and Student Government will put that towards buying new toys.
Contact Amber Shepherd for more information at [email protected].
Greene County Humane Society Christmas Gifts
Donations will be collected November 17-December 9
The archery club is making sure that our furry friends are not forgotten this holiday season by placing boxes around campus for donations to the local humane society. The humane society has asked for the donations to not be from China to ensure the safety of the animals in their care.
Donations can include: Purina, Pedigree and Alpo food for dogs and Purina, Pedigree and Friskies food for cats as well as kongs, dog toys, cat toys and the plastic tops and rings from milk jugs. The humane society will also accept USED towels, wash cloths, sheets and blankets so instead of throwing out your old stuff, donate it this season.
$5 donation can pay for 50 pounds of cat litter
$5-$8 can feed one kitten
$10-20 feeds two adult dogs or cats
$12 buys 30 days worth of copy paper
$20 buys one week of laundry expenses
$15 buys one bottle of antibotics
$15 buys one box of needles
$25 covers internet for a week
$15 covers grooming supplies for a week
$20 buys dish soap and bleach to clean
For more information about donating contact McKenna Greene at [email protected]
The archery club will also be holding their fundraiser shoot from November 18 at 7pm, November 19 at 9am, 1pm, and 7pm and November 20 at 9am and 1pm at the Charleroi Archery Club. It is $12 to shoot and there will be a box there for humane society donations as well.
Beverly's Birthday Drive & Gamma Sigma Sigma and Habitat for Humanity Food Drive
Donations will be collected from November 1-20
Beverly's Birthday provides birthdays to children in local shelters. The drive is part of Hunger and Homelessness Awareness week. Boxes have been placed in buildings all over campus wrapped in birthday themed wrapping paper. You can also turn your donations into Natali room 119. Food drive donations that are not donated to Beverly's Birthdays will be donated to the Cal U Cupboard and the Greater Washington County Food Bank. All items donated must be new and unopened.
Donation List:
Non-perishable food items
Giant Eagle, Target, Five Below, ITunes and Walmart gift cards
Juice boxes/Capri Sun
Individually wrapped snack/movie theater size candy
Beauty and makeup gift sets (Ex. Bath & Body Works)
Board Games
Baseball cars
Headphones/Earbuds
Toddler toys
Books (Infant-Teenager)
Pittsburgh Team Merchandise (Ex. Hats, Posters, Scarves, etc.)
Gifts appropriate for boys ages 9-15
Toothpaste and toothbrushes (children and adult)
For more information contact Leah Seader at SEA300[email protected]
These various student organizations would love to have any help from the student body as well as the staff, faculty and community members. There is no donation too small and all is welcomed.