Cal U Theater presents "Wiley and the Hairy Man"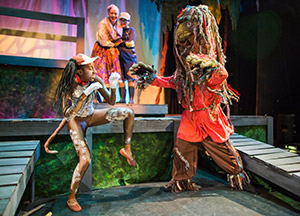 Ready or not, here comes the Hairy Man. California University of Pennsylvania's theater department premiered their annual first year student production on Thursday with their rendition of Suzan Zeder's "Wiley and the Hairy Man."
The first year productions have been a staple of Cal U's theater program for 21 years. The students get a chance to display their skills in front of an audience, something that does not always happen for first year students.
Sabrina Hykes-Davis, professor of technical theater at Cal U and the scenic designer on "Wiley and the Hairy Man" said, "Most schools do not allow students to perform in their first year. We require it."
The process of creating this production is intensive. According to director JP Staszel, the cast and crew spend about three to four hours per night together, four nights a week, for six to seven weeks.
"The first year show is meant for all incoming first year students, so not just freshmen," Staszel said. "The goal of it, as much as it is artistry, is really about developing artistic community for first year students and getting them interested and acclimated into the arts program here."
"Wiley and the Hairy Man" is a children's play about a young boy who overcomes his fear, aka the Hairy Man, by realizing the courage he possessed all along.
The playfulness of the show seemed fitting for the first year production.
"It's an absolutely lovely experience and I love everyone involved in the show, it's so much fun and I've never met a group of such loving and amazing people," said Sarah Sproul, who played the role of Mammy in the show. "It was an absolute blast and I can't wait to continue theater with Cal U."
Her enthusiasm was shared by others involved in the production.
"All around, even when rehearsals were stressful…I had fun the entire time. Every rehearsal was a new adventure for me," said Kaitlyn Kunz, a chorus member. "Now we're doing the actual performances, it's honestly the best show I've ever done thanks to the amazing work of the directors and all the designers and all the stage crew."
The first year student productions are popular all around and seem to be of great value to all of the cast and crew involved.
"It continues to be a success and it continues to feed and develop the department and the area," Staszel said.
"A lot of students, even ones that aren't art or theater majors, come and participate and take their experiences and their art elsewhere, whether professionally or just personally, so I think that's one thing that really excites us about the first year show."
Hykes-Davis pointed out the value of the relationships formed in the first year productions.
"I love spending time getting to know them on and off the stage," she said. "I love watching them form relationships that will help them grow and thrive in their time here."