The Circus Came to Town
Last night, the Convocation Center was transformed into a one ring circus attraction for both the students of Cal U and the public to enjoy. Beginning at 6pm, those in attendance were able to enjoy free balloon animals, face painting and friendly clown sightings in the lobby of the Convocation Center before the circus festivities began.
All activities that occurred during the pre-event were produced by students at Cal U. Volunteers from the Theatre department dressed up as clowns to hand out balloon animals, made by the Assistant Director of Recreational Services Tom Hasbrouck's mother, to the many excited children that filled the lobby. Art major, McKena Dunn, also took part in the pre-circus fun by offering those in attendance a variety of face painting designs.
"I had a lot of fun making the poster and talking to the kids," shared Dunn. "I think it was a great turnout. That was the first time I ever did face painting so it was a new challenge. I think the kids really enjoyed that aspect on the pre-show."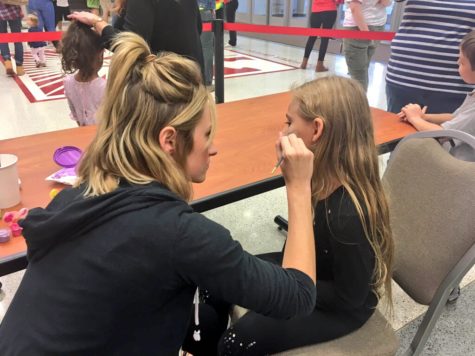 As 7pm rolled around, everybody found their spots in the stadium seats with anticipation for the show to begin. Many children were excited to be able to line up right around the stage border and sit in the closest seats to the performers. The Cincinnati Circus Company performed a variety of high energy acts such as juggling, magic, aerial acrobats and low flying trapeze.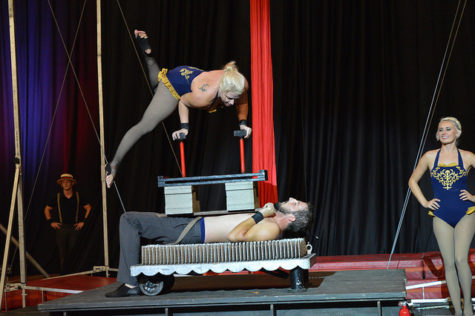 "For what Cal can bring in, it was a really great show. We've never had something like this before for homecoming and it was really nice to have a big event like this." senior Megan Cook exclaimed.
Following their performance, the circus team invited people to come into the ring to talk and take photos with them. As students and families left the Convocation Center many had nothing but nice things to say as they discussed what they had just witnessed.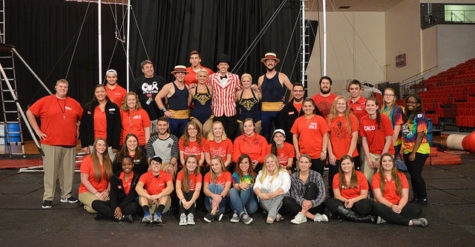 This event was the midway point for this week's homecoming festivities. Tonight at 9pm the Underground Café is hosting a 90s themed band, Nine Deeez Nite, in the Performance Center inside of the Natali Student Center. Nine Deeez Nite has performed at Penn State's THON, UCONN and Villanova. Be sure to check out their upbeat and interactive performance for a chance to win some throwback prizes and relive you childhood.