Just in time for Halloween, Cal U presents 'Wiley and the Hairy Man'
CALIFORNIA, Pa. (Oct. 18, 2016) … Families looking for a silly, spooky Halloween treat can meet "Wiley and the Hairy Man" at California University of Pennsylvania.
First-year students appear onstage when the Department of Music and Theatre presents this family-friendly adventure at 7 p.m. Oct. 27-28, and at 2 p.m. and 7 p.m. Oct. 29.
All performances are in the Gerald and Carolyn Blaney Theatre in Steele Hall, on the Cal U campus.
"This is fun, silly, scary and a great show that addresses the human universal of overcoming your fears and succeeding even when you think the odds are stacked against you," says director John Paul Staszel, an assistant professor at Cal U.
"This is a must-see over Halloween weekend."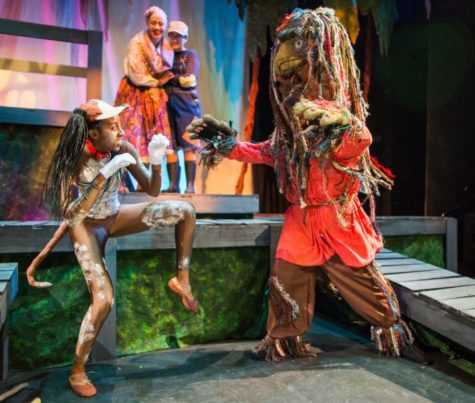 The tale centers on a fatherless boy, his conjure-woman mother, his faithful dog and the Hairy Man who haunts Wiley's days and dreams. Through rhythm and rhyme, a chorus creates the mystery of the swamp.
Playwright Suzan Zeder's drama is the 20th annual first-year student show at Cal U.
Cost is $12 for patrons of all ages. Cal U students with valid CalCards pay 50 cents, plus a $5 deposit that is refunded at the show.
For ticket information, or to charge tickets by phone, call the Steele Box Office at 724-938-5943.