Vulcan offense firing on all cylinders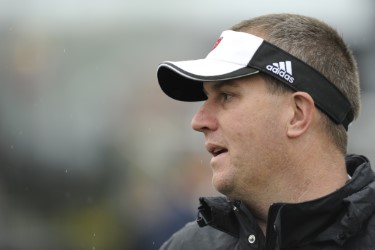 In the first two games to start the season, the Vulcans have scored a combined 140 points. First year Head Coach Gary Dunn, a former offensive coordinator at Duquesne, has this team playing at an extremely high level.
   Coach Dunn kindly offered me some of his time for an interview regarding his team's success. I asked him the simple question. How were you able to put up so many points in just two games?  "Preparation by the players and the coaches," Dunn said. "The guys have done a great job of executing the game plan. But it's definitely going to get harder starting this week." What's very interesting about the Vulcans offense is that they use multiple running backs. They have three backs that each have double-digit carries and over 100 yards on the ground through the first two games. I asked Coach if this was part of his plan coming back to his alma mater or if the talent here is just abundant. "It's our situation at tailback," Dunn responded. "It's our deepest position on the team. We feel like we have 4 or 5 guys at that position that can play. So we are trying to keep everyone fresh and it just happened to work out that way the first 2 weeks. We feel great about our depth at tailback." Having talent at multiple positions, mainly running back, has been a great asset for this team so far.
   With Dunn's experience as an offensive coordinator, I was curious to see if he calls the plays for his team on Saturdays. We have all seen many coaches on different levels who do things of this nature, but Dunn trusts his staff. "Coach Salisbury calls the plays. He and I collaborate all week and game plan. But he's done a tremendous job so far" said Coach Dunn when I posed the question. But with the schedule only getting harder for this team, I asked Coach if preparation changes as compared to the previous two weeks. "It doesn't. We try to focus on ourselves," Dunn replied. "We respect every opponent. But we try to put our effort into making California the best California that it can be."
   One thing I can tell you, is that Dunn is about preparation. It was the word most used during our interview, and you can tell he believes in his players and his game plan.
One thing you may not know about Coach Dunn is that not only does he have his bachelor's degree from Cal U, but has also earned his master's degree. So how important it is for Coach Dunn to see his players get out of Cal U with their degrees? "It's the number one thing we do is talk to these guys about earning their degree to give them options when they get out of school," Dunn said. "I tell our guys that I wouldn't be sitting in the chair I am without my two degrees. No matter what you do in life, you want to give yourself options and a degree is going to help you do that."
   The 2016 Vulcans look poised with talent and have been off to fast start. It's hard to argue that just looking at the statistics. But besides the talent on this team, they seem to really have a coach that believes in them. Coach Dunn seems to care about his players and the University as a whole. Talent alone doesn't win football games. It takes leadership and discipline. And this football team is certainly striving for success each day.