2016 Fall Sports Preview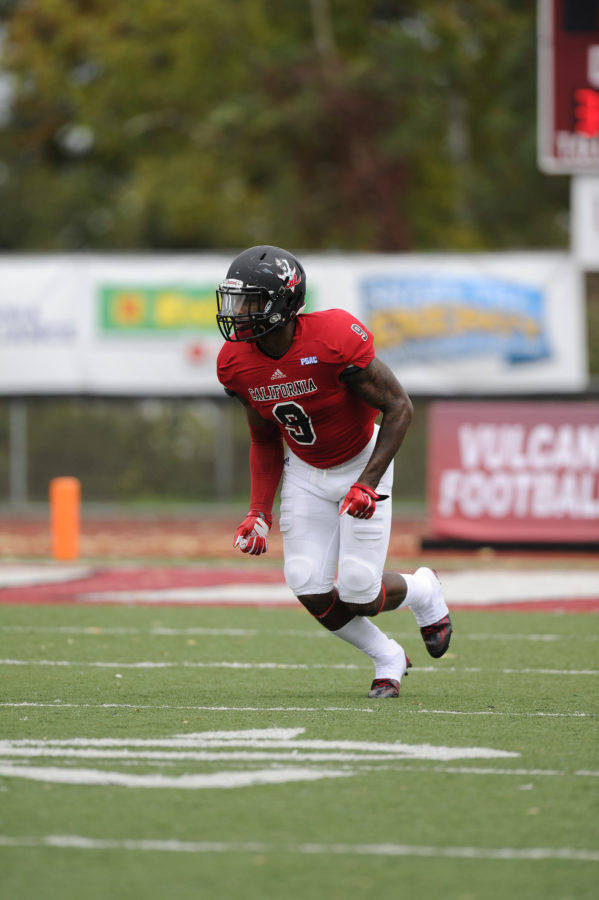 With fall sports beginning this upcoming week, Vulcan fans can start marking their calendars for key games. Whether the teams have fresh faces, or even new coaches, the athletes sporting the university's letters are looking forward to getting out on their respective playing fields to open their seasons.
Football
As aforementioned, a new coach for the Vulcan Football team, Gary Dunn, will be calling the plays this season. Coming off of an impressive 8-3 record last season, Coach Dunn is hoping to improve their record, and even make a run for the PSAC West title. With a handful of seniors leaving last year, the relatively young Vulcan team is only going to get better as time passes. A strong running back core, along with wide receivers who have talent to match, California will hope to exceed last years total of 33 points per game.
Coach Dunn's play style differs from previous coach, Mike Kellar, focusing more on a balanced offense that can run the ball, but also have explosive pass plays to exploit the defense. Finishing with the top-ranked offense in the Northeast Conference (NEC), and also leading his team to the program's first appearance in the FCS playoffs, the Vulcans fans are anticipating what the season holds for this team.
Key additions for the Vulcans this season include, freshman defensive back from Laurel Highlands, Jimmy Pierce, who made a splash in high school last season, leading the Mustangs to their first winning regular season in 20 years. Pierce was a quarterback for the Mustangs but is listed as a DB for the Vulcans. One other addition to the Vulcans this season is the freshman tight end Nathaniel Scott from Ambridge (Pa.). The addition of Scott will aid in the passing game, providing a 6 foot-2 inch target for the quarterback to throw to. Scott will also be a key blocker on the outside, allowing the running backs to bounce the play outside the hash marks.
Men's Soccer
The Vulcan Men's Soccer team is hoping to improve on a 9-7-1 record from last season, with a conference title in their forefront. Finishing third in the PSAC last season and averaging just under two goals a game, the Vulcans are hoping to stump their competition and make some moves in the standings with offensive production.
With an average of 16 goals scored in the first half of play, the Vulcans score fast and score early. Hoping to keep that trend alive is freshman midfielder Cooper Amos from West Allegheny. Amos led his team to a 7-10 record last season and with the scoring ability of the Vulcans midfielders, Amos will be a great addition.
Women's Soccer
After falling just one point shy of qualifying for the PSAC Tournament, the Women's Soccer team is out for revenge this season, trying to improve on their 9-6-3 record just this past year. Being that seven seniors graduated last fall/spring, the team with just 4 seniors is hoping to better every stat, being that they scored just 20 goals last season.
Out of the three freshmen that joined the team this year, Luisa Holzapfel, a midfielder from Columbia will hope to continue the winning ways of the Vulcans. Joining Holzapfel, Danielle Kearns will resume her ways of contributing to the team, coming off of a season in which she had one goal, three assists, and five points. Women's soccer starts their season off against a conference foe, Shippensburg, on September 1.
Volleyball
A talented group of athletes is looking forward to stepping back onto the court this fall, as the Vulcan Volleyball looks to get back to the winning side of the score column. A record of 16-17 this past season doesn't do this team justice, being that only three seniors helped to adjust the young talent into the college game. Now that this team has one year together under their belt, look out for the Vulcans as they try to shake up the PSAC.
Key components of this team are Taylor Solo and Megan Litoborski but don't count out Seairra Barrett, who doubles as a National Champion for California in basketball. Barrett ranked second on the team last season with 70 blocks, as well as 1.83 kills per set. With many accolades to her name, she is used to the pressure and arises when needed. The Vulcans will look to her experience this season as well as other seniors, Danielle Hayes, and Litoborski.
Freshmen that will also be able to see their first sets this season are, Rachiel Priore and Samantha Raidt, who have experienced individuals in front of them to adapt into the fast-paced style of play that the college game possesses.
Men's & Women's Cross Country
The Men's Cross Country team will continue to top their dominant times this season, as Morgan Huegel, who registered the "second-fastest time in the PSAC 800-meter run during both the indoor and outdoor seasons" looks to continue his pace and set more records.
As a team, the Vulcans have a strong group of individuals that look to compete with the best teams in the PSAC throughout every event. With two true freshmen added to the roster this season, the experience and skill that this team has , they will make their mark at each meet.
With the women's cross country team beginning their season at the same time, everyone will be running around campus, practicing and getting their legs ready for the season. With Alex Zanella formally announced as a nominee for the 2016 NCAA Woman of the Year award in late July, there are role models on this team and fierce competitors as well. Look for the Vulcans to accomplish great feats this season, as they start their season on September 3 at Roadman Park.
Men's & Women's Golf
The Men's Golf team gets back out on the links this year led by three-time starter Kirby Manown who averaged just under a 75 each round he played. From his sophomore year to his junior year, he shaved about three strokes off his game and is only getting better. Being that the roster has not changed since last year, the team knows how to work together and how to put each other in the best spot to succeed.
The Women's Golf team is also starting to get perfect their swing, as the season starts for them on the September 5. One freshmen added into the mix for the 2016 season will have great teachers, as a majority of the returning athletes are either seniors or juniors. Carla Maestre is the leader of the Vulcans, with team lows in eight of the 11 tournaments this past season.
About the Contributor

Daniel Beeck, Editor-in-Chief
Daniel "Danny" Beeck is currently a senior at California University of Pennsylvania, studying Communication with a concentration in Radio/TV. Along with...